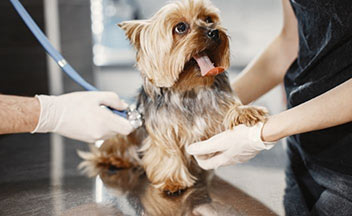 Whether you're currently working in a veterinary practice while you're a student or you're in another profession and can't wait to switch careers, one of the most exciting parts of studying to become a veterinary technician is the externship experience. In your two required externships at Penn Foster, you'll have the opportunity to work with vet techs and veterinarians to help animals while completing skills and practicing what you know in the real world.
But what happens after the externship, besides finishing your degree and graduating? Can an externship turn into a paying job? We spoke with Megan Chadwick, Director of Penn Foster's Veterinary Academy, to get some advice on how to turn your externship into a job offer.
What's the best way to not only pass your externship but impress the veterinary practice staff while you're practicing your skills?
Megan: Make a good first impression. Arrive a little early or on time for your first day, wear proper attire (clean scrubs, closed-toed shoes) and act in a professional and friendly manner. You'll also want to:
Prepare ahead of time! While you are waiting for your site to be approved, take advantage of the time and review all the skills that you will be completing during externship. Brush up on your knowledge of the skills that you are going to be doing. That way when you go to perform them hands-on you will have the book knowledge to support you.
Be enthusiastic and interested! Let your site see that you are excited, ready to learn, and grateful for the opportunity to learn from them.
Read more: The Difference Between a Vet Tech and a Vet Technologist
If you're not currently an employee at the practice you're completing your hours at, what's the best way to let the practice manager or veterinarian know you'd be interested in a job there after graduation?
Megan: Let them know how much you enjoyed doing your externship at the practice and thank them for the opportunity. Ask them if you can grab a few minutes of their time to talk about your professional goals and, in that conversation, you can mention that if there is an open position with the practice that you would appreciate if you would be considered.
How can veterinary technician students create strong relationships with the other staff at the practice they're completing hours at?
Megan: Building relationships with fellow staff at your site is something I think is important. Many practices function as a team and you are more likely to get a job offer if you fit in well with the culture of the practice. Again, I think that it comes down to being respectful of the people you are working with. Stay away from gossip and work to gain the trust, and eventually respect, of the staff.
Read more: What Does a Vet Tech Do? (Career Guide)
What advice would you give to our veterinary technician students about turning their externship into a job opportunity?
Megan: I think the best way [to turn an externship into a job] is to be respectful and check your ego at the door. Everyone on the team is going to have different skill levels, experience, etc. Be open to hearing and learning from other people. You also need to have a bit of a thick skin in this field and be open to constructive criticism. Don't take offense if a vet tech or veterinarian corrects you or tries to give you tips; be open, listen, and remember they are trying to help you. Managers want to hire staff that fit in well with the team.
What if a student isn't sure that the practice they're doing their externship at is right for them even if they do have a job offer?
Megan: Great question! It does happen that sometimes the site isn't a great fit. You want to go somewhere that facilitates and supports your career growth. Other important things to consider include pay, benefits, work-life balance, and the culture of the clinic.
Read more: 6 Secrets to Impress to a Veterinary Practice Hiring Manager
For students who haven't started looking for an externship site yet, what advice would you give to them on finding the right fit/finding a site in general? Are there any resources they can use?
Megan: For students that haven't started looking [for an externship site] yet.
Do research in your area to see what clinics are near you. A simple Google search will typically bring up some results. If you aren't familiar with the site, do some research, look at their website or Facebook page. Read reviews left by clients. This should give you some idea on fit. While not required by the program, you could always ask to come in and shadow for a few hours.
Check the Penn Foster Vet Tech Facebook group, it's a great place to connect and network with alumni, current students, and veterinary professionals. There are often posts in the group from practices that are looking for externs or employees!
Learn more about Penn Foster's AVMA-accredited veterinary technician program.
If you're passionate about working with animals and have questions about becoming a veterinary technician, reach out to our expert Admissions Specialists at 1-888-427-6500! They can answer any questions you have about the program, tuition, what to expect in an externship, and more! If you need help locating a vet tech externship you can find out more on our veterinary externship page.