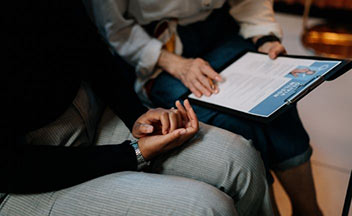 If you're on the hunt for a new job or want to take the next step in your career at your current company, you need your resume to stand out from other applicants. A strong resume is the first step in promoting your skills to potential employers or your boss, but it's not the only thing you need to keep in mind! You can best promote your skills by
Knowing what skills you need for the job
Creating an effective resume
Writing a strong cover letter
Using professional social media
Furthering your education in a relevant industry
1. Know what skills you need for the job
Before applying for jobs, it's helpful to know what you're interested in doing and what skills you need to do that job. The best way to figure that out is to do some research. Look up job posts that are similar to the field you want to go into to see what skills and qualifications employers are looking for. You should also research what kind of education, experience, and credentials you may need to qualify for an entry-level job in the industry.
2. Create an effective resume
After you have an idea of what kind of jobs you'd like to apply for, it's time to update your resume or write a resume for the first time. To write a resume that stands out, you want to customize it for each job you're applying for. That doesn't necessarily mean creating a completely new resume for every application you submit. Instead, you'll make small changes that allow you to use the keywords and phrases from the job posting in the descriptions of your previous work experience. You may also want to prioritize how you list your skills and experience, to show the most relevant ones first.
3. Write a strong cover letter
Not every job will require you to submit a cover letter when applying, but it's never a bad idea to include one. A strong cover letter allows you to explain your qualifications in more detail, share experiences you didn't include on your resume, or highlight additional skills. It can be a great way to promote yourself and stand out from other applicants as it shows you really care about getting the job.
4. Use professional social media for networking and promotion
An easy way to start promoting your skills to potential employers is through professional social media and networking opportunities. Through a LinkedIn profile, you can share your work experiences, skills, awards, and more. You can also have your skills endorsed by others, such as coworkers or bosses, showing potential employers that you do have the right skills for the job!
You can also use a site like LinkedIn to network with other people in the field you're interested in, learn more about different employers, and even find jobs.
5. Earn a diploma or degree in the field you're interested in
One of the best ways to promote your skills to employers is backing up your knowledge with a degree, diploma, certificate, or other credential. While not every job requires you to have formal education in the field, having a relevant credential on your resume can show you have the skills employers are looking for.
Develop the skills employers want with Penn Foster
Whether you're looking to start a brand new career or you want to qualify for a promotion at your current job, furthering your education can help you promote your skills and stand out! With Penn Foster's online training programs and degrees, you can learn essential skills and prepare to take the first steps toward the career you want on your schedule, from home. Learn more about which program might best fit your career goals or get started today by contacting our expert Admissions Specialists at 1-888-427-6500!