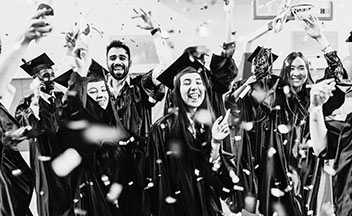 As we reflect on the past year, so much has changed in 2021. Before we fully dive into all the things we're looking forward to accomplishing together in 2022, we wanted to take a moment to look back at what we've accomplished together to get inspired for the new year. Despite the ups and downs, we've had a lot to be proud of. Check out the full list below!
We celebrated YOU, our students and graduates, and your stories
In 2021, we had the opportunity to hear the stories of our students and graduates. Not only do these stories inspire us to keep doing what we do, we share advice and insights from alumni to help inspire prospective and new students like you to reach their goals. Some of our favorite stories from our Student Life Blog include
High school alumna, Adriana. Adriana graduated from Penn Foster High School then earned her medical assistant associate degree. Now, she's working toward her bachelor's degree in health sciences, minoring in psychology. Read more about her journey.
Student Ambassador and pharmacy tech student, Daiana. Daiana worked in the pharmacy industry in her home country, Brazil, but knew that working at a pharmacy might be a little different in the United States. With that in mind, she enrolled in our Pharmacy Technician Program to refresh her skills and learn how being a pharmacy tech in the U.S. works. Read more about her experience.
We also had the pleasure of interviewing graduates for our Alumni Spotlight Podcast! Some highlights include
An interview with IT Support Specialist grad and lifelong learner, Kimmie. Kimmie first enrolled in a Penn Foster program in 2009. Since then, she's completed six of our programs, earning her designation as a lifelong learner. Learn more about her experiences!
A Q & A with Penn Foster High School parent, Jana. Considering enrolling your child in an online high school? Learn more about how it works from a parent's perspective! Through the program, Jana's son, Cason, was able to study on his schedule and improve his grades. Hear their full story in this podcast episode.
A chat with early childhood education graduate, Izabella. A graduate of our online high school, Izabella knew Penn Foster could also allow her to earn a college degree while working. After graduating, Izabella then enrolled in our self-paced Early Childhood Education Associate Degree Program. Once she graduated, she was promoted to Head Teacher at Apple Montessori Schools. Listen to the full interview.
Want to hear from more of our alumni? You can check out all of our Alumni Spotlight Podcast episodes here!
Our 2nd digital yearbook was bigger than ever
Full of quotes and advice from graduates, our digital yearbooks highlighted the accomplishments of our 2021 graduates in high school, career school, and college! Get inspired to tackle your studies and graduate this year by looking back at the thousands of 2020-2021 graduates.
Check out the Penn Foster High School Yearbook and the Career and College Yearbook. You can also see some of our favorite highlights in this Facebook Live episode.
We chose our 5 graduate of the year finalists - and our 2021 winner, Amanda
Each year, we choose five finalists out of hundreds of applications for Graduate of the Year. It's always so hard to choose just five because each story our graduates submit is inspirational and unique. Out of over 1,000 submissions, our finalists were:
Amanda Boucher, Medical Billing and Coding Program.
Brianna Jones, Pharmacy Technician Program.
Dontay Long, Penn Foster High School.
Julia Kaha, Veterinary Technician Degree.
Braxton Warren, Penn Foster High School.
Read their stories on the Student Life Blog!
From these amazing finalists, one winner was chosen: Amanda Boucher!
We updated our programs
In 2021, we made updates to several of our programs. These updates included adding new content, videos, and interactive simulations to help you better understand what you're learning. Courses we updated include the
We launched a new look for our website and logo
You may have noticed a big change in how our website looks. In 2021, we updated our website to make information easier to find than ever for those who are considering enrolling in a program. Even if you're a current student who wants to find more information about the program you're enrolled in, the newly designed site has everything you need. And, along with the updated pages, we updated our logo to represent an open door leading to limitless possibilities! That also means new gear to show off your Penn Foster pride. You can check out all our new Penn Foster merch.
Celebrating our successes together through 2022 and beyond
From celebrating your milestones – the day you enroll, your first successfully passed exam, completing your program – to always working on improving the Penn Foster student experience, we're here for you! We're proud of all you achieved in 2021 and can't wait to see what we can accomplish together in the upcoming year.
Want to share your success with others? Make sure to follow us on Facebook, Instagram, and Twitter to see photos of other students hitting their goals and share yours to inspire current and future students!