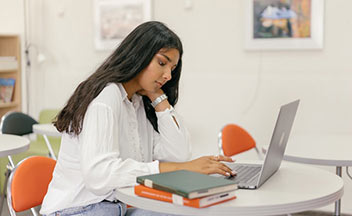 Whether you're exploring high school programs or are currently a student, the feat of finishing your diploma can seem overwhelming. We know that at times, a little motivation and encouragement can help to keep you on track and continue forward to the finish line. Here is some advice from our high school instructors with tips on how to be a successful high school student and make the most of your time in your program.
1. Take your time and be patient with yourself
"Give yourself a whole, full opportunity to work through this exciting stepping-stone. Customize a study plan that works for you. Reach out to teachers if you feel stuck, take exams only when ready, and aim to take small, but steady steps to progress in your path. Be kind, patient, and fair toward yourself before judging your abilities, skills, and potential." - Mariam D., High School Instructor
2. Focus on your end goal and use the resources around you to help get you there
"Remember why you started this academic journey and always keep a focus on your end-game goal. Remember that you are not alone on this journey. Your teachers are here to help with any questions you have about your studies, and they continuously create many helpful resources to assist you with the coursework. Please utilize both the assistance of your teachers and their resources, and you will be well on your way to achieving your academic goals. Always believe in yourself. Never let anyone else take you off of the path you have created for yourself. You can do this, and we want to help you make your academic dreams come true!" - Daniel S., High School Instructor
3. Embrace every part of your journey
"Never forget that a journey often takes detours, instead of fighting it, enjoy the changes in scenery and embrace the lessons learned along the way. Your journey is your own, it is what makes you unique, and you brought yourself to this new opportunity, so be proud of yourself. Then embrace it with open arms and know that we are here to cheer you on and help you with any new obstacles and changes that come your way!" - High School Instructor
4. Be open to growing as a learner
"There are two pieces of advice I like to offer to all students, no matter where they are in their educational journey. Both are critical factors in growing as a learner. 1. Never be afraid to ask for help. You are not alone on this journey. Asking for help is never a sign of weakness, it is a sign you are striving to grow. 2. Welcome mistakes. Mistakes are proof that you are trying. Mistakes are how we learn and grow." - Alyssa S., High School Instructor
Work towards your goals by achieving a high school diploma
At Penn Foster, you can feel confident knowing that you'll have a support system guiding you along the way, including your instructors and an engaging student community. Our online high school program provides flexible, self-paced courses so you can take control of your learning.
To learn more about the Penn Foster High School Diploma Program and whether it's the right fit for you, contact an Admissions Specialist today at 1-888-427-6500!