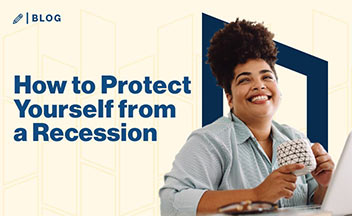 When the economy seems like it's heading toward a downturn, one of the first thoughts on your mind is likely "will I lose my job?" After all, a bad economy can lead to companies laying off workers, downsizing their business, or closing altogether so it's not unreasonable to worry that you could lose your job in a recession. There are ways, however, that you can protect yourself from a recession – at least when it comes to your job. Here's what you should know.
What does a recession mean?
A recession is usually defined as a period of economic decline during which trade and industry activity are reduced. Essentially, a recession affects income for individuals, employment, production, and retail and sales across all industries. There are also higher rates of unemployment and costs can increase for everything from groceries to rent. Usually, a recession can last 6 months or longer, making a pretty big impact on our daily lives.
For most of us, a recession can mean losing hours at work or being laid off, having to spend more on essentials, and less on the non-essential expenses in life like going out to eat and buying new clothes.
Right now, experts can't agree on whether the United States is actually in a recession at this time. However, even those who don't think we're in one now agree that we're heading toward a recession soon.
Can a recession affect my job?
Yes, a recession can affect your job. It doesn't just mean getting laid off; a recession can potentially cause your hours to be cut, hiring freezes even when you desperately need more workers on the team, and affect pay raises. Depending on what industry you're working in, it may have a bigger impact than in other industries. For example, someone working in retail may feel the impact of a recession on their job more because it is an industry that relies on people buying goods on a regular basis. During a recession, we tend to spend much less on non-essential items, so businesses that sell those items aren't making as much money, which could then translate to a cut in hours for workers or even layoffs.
Some industries may not feel much of an impact from the recession at all, such as healthcare workers, IT professionals, workers in the veterinary industry, and legal professionals.
6 steps you can take to help prepare you for recession layoffs
If you work in an industry that may be vulnerable to layoffs during a recession, the best thing you can do to protect yourself and your job is to be prepared. While there's no guarantee that a recession won't affect you, these 6 steps can help you do your best to avoid losing your job.
1. Watch for signs of layoffs
It's not always easy to get a sense of whether or not your employer is considering layoffs, but there are some warning signs that might raise a red flag. These signs can include things like hiring freezes, hours being cut, more than one or two bosses leaving for other jobs, and how well the company is doing financially. Keeping an eye out for these signs can help you prepare, emotionally and financially, for a career change.
Career Guides for You: In-Demand Technology, Business, and Creative Careers for 2022 | What Healthcare Careers Will Be in Demand for 2022? | Top Careers for 2022 (VIDEO)
2. Keep your resume up to date
Even when you're not worried about a recession and losing your job, it's important to keep your resume up to date. Refreshing and updating your resume on a regular basis can help you prepare for any future opportunities that come your way. It's also a good way to remind yourself of all that you've accomplished during the year.
Savannah Reed lost her retail job during Covid – but pivoted to start a new career in the veterinary industry (VIDEO)
3. Update your LinkedIn profile
LinkedIn is a great place to build connections, network with other professionals, and find jobs. Keeping your LinkedIn profile up to date can help you better stand out to recruiters and professionals in your industry, and help you with your job search if you feel like layoffs are coming your way soon. On LinkedIn, you can indicate that you're open to work and let hiring managers know they can reach out to you about jobs in your desired field.
4. Look for opportunities to stand out at work
When a company conducts layoffs, the first people to go are usually the newer hires and those whose performance isn't as strong. If you're concerned about potential layoffs at your job, one way to limit your chances of being on the list of those they're planning to let go of is to make sure you stand out at work – in a good way. This could be taking on new projects, working to come up with innovative solutions to old problems, or asking to take on more responsibilities and step into a leadership role.
How working parent of two Eiliana Garcia earned an online career diploma, certification, and a pay raise (VIDEO)
5. Brush up on your skills/learn new skills
If you've got strong skills that really benefit your company, it's often less likely that you'll be laid off. If it's been a while since you've brushed up on your job-relevant skills, make time to refresh your knowledge. It can also be beneficial to develop some new, in-demand skills that can help you stand out and could make a positive impact on your job or company.
Despite struggling with math, Kimberly Quinonez went back to school online to earn her high school diploma and a promotion...while working full time (VIDEO)
6. Go back to school
Sometimes, no matter what you do, a layoff is inevitable. If it feels like you may be next in line to lose your job or you're just worried that your current career isn't as stable as you'd like it to be, going back to school to prepare for a new job could be the best way to make sure you're ready. And, depending on what you go back to school for, you may even find yourself qualifying for promotions at your current job.
Learn more about online school: Are Online Courses a Good Investment? | How to Study for an Online Course | How to Balance Working Full Time With Online School
Start a recession-proof career
One of the best ways to protect yourself from a recession is to make sure you have a career that is almost recession-proof. That means that, no matter what happens with the economy, you'll more than likely have a stable, well-paying job. Some great recession-proof jobs include
Build in-demand skills with online school
Whether or not a recession is around the corner, it's never a bad idea to strengthen your resume with new skills and prepare for an in-demand career. With Penn Foster, you can build the skills employers may be looking for from home, all on your own schedule. Learn more about our self-paced online programs by speaking with an Admissions Specialist at 1-888-427-6500!