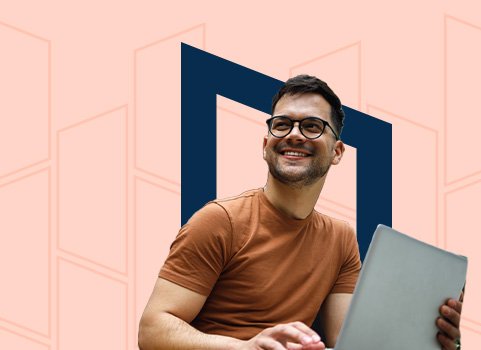 Career Advice
Your Guide to a Midlife Career Change
Figuring out your dream job can be difficult, and many people may not find the work they're passionate about until later in life. After all, most of us aren't lucky enough to find the perfect career right out of high school or college. Or maybe you did find your perfect job and, after years of working, it just doesn't feel like the right fit anymore. Either way, you may be thinking about changing careers – but is it too late? Never! Whether you're 25 or 55, it's not too late to find and start a new career, especially if you're willing to put in the work to get there. Here's what you need to know about making a midlife career change and how to take the next steps toward the perfect job for who you are now.
We follow strict quality and ethics policies to make sure our content is honest, accurate, and helpful. Learn more about our editorial guidelines.
You may be thinking about changing careers – but if you've already had a career or struggled to find the right fit, you might wonder if it's too late? Never! Whether you're 25 or 55, it's not too late to find and start a new career, . Here's what you need to know about making a midlife career change and how to take the next steps toward the perfect job for who you are now.
Is it a good time to change jobs in 2024?
Yes! The last few years have been a rollercoaster of ups and downs with the pandemic and the economy, so you may worry that it's just not the right time to make a big career switch. But, despite the changes in the economy, 2024 may actually be the best time to switch jobs. Right now, there are over 9 million job openings in the United States and not enough workers to fill each one. That means it's a job market that puts a lot of power in the workers' hands, with employers competing for skilled employees.
"There's a lot of opportunities out there," says Kristen Schenck, a Talent Acquisition Associate at Penn Foster, "especially with the way that that technology has advanced. We have industries and trades that we didn't have before."
Watch this: Top Careers for 2022
Can you make a midlife career change without a degree?
It depends on what career you want to have! There are plenty of great jobs that don't require a degree, but many well-paying careers may require you to have some formal training or recognized certifications to qualify for the role. If you don't want to pursue a college degree, look for careers that don't require them. Many healthcare jobs, for example, only require a career diploma and/or certification to get your foot in the door.
However, having additional education and training on your resume, no matter what career you're hoping to pursue, is never a bad thing and can only help you. It can also help you stand out to hiring managers.
"What I'm looking for," says Schenck, "and most of the managers are looking for is, do you have the credentials? Do you have that degree? What have you learned? Not only that, but furthering your education shows that you are motivated and determined."
Read more: What Careers Can I Train for in 6 Months or Less?
Best jobs for a midlife career change
While there aren't any particular jobs you can't do in a midlife career change, there are some that could be a better fit or offer you a smoother transition. Jobs that could be best for a midlife career change include
Need Help Deciding on a New Career? Explore in-demand careers and find a field that's right for you
What is the best age to change careers?
While a Google search may tell you that the best time to switch careers is in your 20s or early 30s, the truth is that there is no right answer. It really depends on where you are in your career and what your goals are. Many people don't even find a "career" in their 20s, but instead jump from job to job every few years searching for the perfect fit. However, if you're worried you're "too old" to make a big change now, don't! There are many adults who are just now taking the first steps toward the career they want.
For example, 33% of Penn Foster College students and 54% of Penn Foster Career School students are 35 or older – making a career change later than their 20s.* That means, whether you're in your 30s, 40s, 50s, you're not alone in deciding it's time for a change. In fact, changing careers later in life is more common than ever.
"It's very common, actually more common than it was even 10, 15 years ago, to change careers," Schenck agrees. "It's very common for people to want to grow, to want to do something different."
Read more: How to Protect Yourself From a Recession
How to make a midlife career change in 5 steps
Depending on your current career and how long you've been working in the same industry, making a midlife career change can seem tough – but it is possible and doable. If you're unsure about where to start, try following these 5 steps.
1. Think about why you want to change careers
Before jumping into any big life changes, taking some time to think about why you want to make this move can help you avoid making a mistake or changing your mind down the road. Consider what's motivating you to find a new job. Are you bored? Burnt out? Are you looking for a higher paying job? Maybe you've finally found what you're really passionate about and know it's time to go after it. Whatever the case, your motivation will make a big difference to the process you follow and help you make decisions based on your goals.
Read more: Top Careers in Allied Health (and Why They're Popular)
2. Find your dream job
So you've really thought about why you want to make a career change and you're sure this is the right move for you. The next step is finding that dream job, or at least figuring out what industry you most want to work in. It's a lot easier to do as an adult than when you were in high school! After all, you know yourself better now, you know what you like to do, and what you're good at. If you already know what you want your next career to be, that's great! If you're not sure, try exploring your options by taking career assessments (you can find a lot of quick, simple quizzes through a Google search that can get you started) or even do a search for jobs in your area to see if any open positions spark your interest.
Another helpful tip? Make a list of the things you're interested in, the skills you have, and the skills you want to learn. Do any of those things match up to a certain career or field? For example, if you love animals, like working with others, and enjoy learning science, becoming a veterinary technician could be your next best career!
Read more: How to Find a Job After Being Laid Off
3. Do your research
You've figured out what job you want to go after. The next step is doing your research. What duties would you be responsible for on the job? What kind of skills do you need to qualify for an entry-level job in the field? Is there an education or certification requirement? Once you have a better idea of what you can look forward to and what you need to do to prepare for your new career, you can move on to the next step.
Read more: How to Balance Working Full Time with Online School
4. Get the training you need
If you're starting a new career, you more than likely need more education or specific training to help you prepare and stand out when you're applying for jobs and succeed in actually doing them. But even though you want to start a new career, you also don't want to lose your current job until you've secured a new one. How, then, can you manage to learn what you need for your dream career while still working, taking care of your family, and having a life?
A great solution can be going to school online for your new career. Online classes can help you learn the skills and knowledge you may need to excel at a new job without holding you to a strict schedule that could interfere with your work hours. Whether you pursue a degree or career training online, most programs are self-paced, so you'll be able to prepare for a career change on your schedule.
5. Believe you can do it
Changing careers after you've been doing the same job for years can be scary, especially when you're older. You may be worried you won't be able to keep up or that it's just too late to "start over." But it's never too late to change careers if you're passionate about what you want to do and you're motivated to get things done. You can absolutely make your dream job happen, so while you're going through the process of preparing for your job switch, remember to believe in yourself. You can do it. You've got this!
Learn more: Are Online Courses a Good Investment?
Prepare for a career change with online training
If you're ready for a career change, you probably need to consider going back to school to further your education or getting new certifications to help you prepare. But as an adult with a full-time job and other responsibilities, you may not have the time to go to an in-person college or technical school. That's where online education can help! Through an online school like Penn Foster, you can prepare for a career change around your schedule, while still working and living your life. If you're not sure online school is right for you or aren't sure what new career is the best fit for you, you can learn more about the benefits of online classes and how to find your dream job on our Student Life Blog.
Have questions about a specific program or want to get started today? Reach out to our Admissions Specialists at 1-888-427-6500!