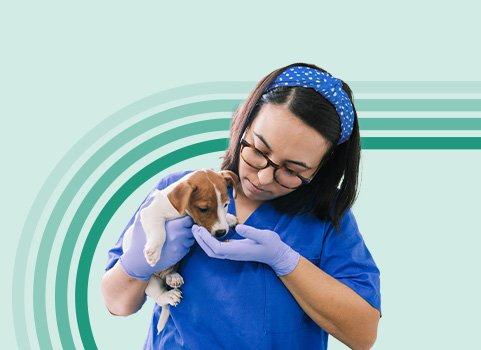 Veterinary
Penn Foster FAQs
Does My Vet Tech School Have to be AVMA-CVTEA Accredited?
To become a credentialed vet tech, it's important that you graduate from an AVMA-CVTEA accredited program. In this blog, learn why AVMA accreditation is important and how to find the best vet tech school for you.
To become a credentialed vet tech – which is a requirement in many states if you want to work in the veterinary field – it's important that you graduate from an AVMA-CVTEA accredited program. Proof of graduation from such a program is required to sit for the Veterinary Technician National Exam (VTNE), which is an important step in becoming credentialed. Every veterinary technician who wants to become a certified, licensed, or registered vet tech will need to pass the VTNE.
Not sure what AVMA-CVTEA accreditation is all about? Read below to learn more about why AVMA-CVTEA accreditation is so important to students, faculty, and employers, and exactly what it means for a school to be AVMA-CVTEA accredited!
What is AVMA-CVTEA accreditation?
Accreditation by the AVMA-CVTEA represents the highest standard of achievement for veterinary technician schools in the United States. AVMA-CVTEA accredited institutions go through a rigorous and comprehensive review to determine whether they meet the high standards of quality set required for accreditation. This means that your accredited veterinary technician program has met a high level of quality and that graduates of the program are well-prepared to enter the workforce and provide high-quality veterinary care in the eyes of the AVMA.
What does it mean to be AVMA-accredited?
Being AVMA-accredited means that your veterinary technician program meets national and industry standards, providing you with an education that covers the knowledge and skills that you'll need -on the job. It also means that you'll meet the requirements to sit for the VTNE when you graduate!
How many AVMA-accredited schools are there in the U.S.?
In the United States – including Puerto Rico – there are 225 AVMA-accredited veterinary technician programs. Out of these 225, there are only 10 AVMA-accredited online vet tech degrees, including Penn Foster. That means that Penn Foster is one of the few online programs to meet the high standards of the AVMA!
Is Penn Foster accredited by the AVMA?
Yes! Penn Foster's online Veterinary Technician Associate Degree and Veterinary Technology Bachelor's Degree are both fully AVMA-CVTEA accredited! In fact, our program has been accredited for almost 20 years – we first earned AVMA accreditation in 2006.
Read more: 6 Things No One Tells You About Being a Vet Tech
Why is AVMA-CVTEA accreditation so important to your career?
Today, most states require veterinary technicians to be credentialed to work. Even in states that don't require credentials to get a vet tech job, having them on your resume can show potential employers that you've proven you have the skills and knowledge you need to do well on the job.
If you're serious about becoming a vet tech, the first step is often finding a school that can help you prepare for the job. You'll want to make sure to take that step with a school that is AVMA-accredited so that you can be confident that what you're learning meets industry standards and is relevant to the job you're preparing for.
While you're researching your veterinary technician programs, it's important to verify that the program is accredited. There may be vet tech programs out there that seem to fulfill what you're looking for in a school, but if they're not AVMA-accredited, you may not be able to become credentialed. Still not sure why it's important to attend an AVMA-accredited program? Here are just 5 reasons that that accreditation is necessary to future success in the veterinary field!
1. AVMA-CVTEA accreditation helps you become licensed and certified
Graduating from an AVMA-CVTEA-accredited institution is a requirement for becoming a licensed or certified veterinary technician through the majority of state licensing boards and credentialing agencies. In most states, vet techs are required to be credentialed and, in order to earn their credentials, they need to sit for the VTNE. While the process for being credentialed can vary by state, those that require techs to be credentialed also require that you pass the VTNE to earn that credential.
2. It shows that you're serious about your career path
A major part of a school's AVMA-CVTEA-accreditation process is showing that they hold their students to a high standard. Working in veterinary medicine isn't easy, so the training and education you receive should be challenging and cover everything from animal anatomy and physiology and pharmacology to surgical nursing. Besides curriculum standards, a veterinary technician school also needs to have a strong staff, grading policies, and more.
3. It shows employers that your skills are relevant
When becoming AVMA-CVTEA-accredited, schools must show that they provide a well-rounded curriculum that is up to date with current industry guidelines and regulations. Graduating from an AVMA-CVTEA-accredited veterinary technician school shows employers that you have met specified learning goals and are ready to work in a professional setting.
4. It matters to clients
One requirement for AVMA-CVTEA accreditation is that schools must heavily emphasize the importance of animal health and welfare. Clients can rest assured knowing that their pet's health is the top priority when dealing with a veterinary professional that has graduated from an AVMA-CVTEA-accredited institute.
5. It ensures that you'll receive a quality education
Aside from benefiting employers, clients, and other veterinary technicians, AVMA-CVTEA-accreditation protects you, the student! Making the decision to further your education is a major step, and AVMA-CVTEA-accreditation provides the stamp of approval on a school that shows they can help you take the first steps on your career path.
Read more: Vet Assistant to Vet Tech: Advancing Your Career as a Working Parent
Is a vet tech degree worth it?
Yes, a vet tech degree is worth it! In order to work as a veterinary technician in many states, you'll need to be credentialed and one of the first steps toward that goal is to graduate from an AVMA-accredited vet tech degree. Completing your degree is a requirement if you want to sit for the VTNE.
"I personally feel like [the program] built my self-confidence...I know how to do my job, I can help others, I can train, I can confidently explain to somebody or a client what may be wrong with their pet or what the doctor may suggest."
- Nicole Gonzalez, Penn Foster Vet Tech Graduate and 2022 Graduate of the Year
Is vet tech in high demand?
Yes, skilled vet techs are currently in demand! Right now, it's projected that jobs for vet techs will grow by 20% over the next decade – much faster than average for most jobs. It's expected that there will be about 15,000 new vet tech jobs opening each year for the next 10 years. This means that there will be plenty of opportunities for skilled, passionate people to find a job in the field.
What is the best school to become a vet tech?
The best school to become a vet tech is one that is AVMA-accredited, includes an externship, and works the best for you and your life. When choosing the right vet tech program for you, you should think about things like
Accreditation
Accreditation is important when you're considering going to school for any type of degree, but it's especially important if you're working toward becoming a vet tech. While having other accreditations and licenses are pretty important, if you're planning to become a vet tech, AVMA-accreditation is what's most essential.
Cost
When you're looking at vet tech programs, cost is going to be one of the big things that influence your final decision. Make sure that the program you choose fits your budget before enrolling. It's also not a bad idea to compare prices for different schools to see which, overall, is the best fit for your budget! With Penn Foster's Vet Tech Degree, you'll have low monthly payment plan options that can help you manage your tuition, for example.
Schedules
If you already have a job, a family, and a life, squeezing in classes can be tough. You'll want to make sure whatever vet tech school you go to fits with your schedule. A lot of programs – especially those at in-person colleges – will have set application deadlines, semester start dates, and class times. However, an online vet tech program can offer more flexibility. For example, Penn Foster doesn't have any semester start dates, due dates, or deadlines, really. You can get started learning as soon as you're ready. And once you're enrolled, your online classes are completely self-paced so you can study and take exams around your schedule.
"I got a taste of what it was like being a licensed technician, but I was missing that [credential] and the only way I was able to do that was to go to school. Unfortunately, I couldn't work and go to school, so I had to find a different avenue [in online school]."
- Coty Feest, Penn Foster Vet Tech Graduate
Start your path toward becoming a vet tech with Penn Foster
When choosing an online vet tech school, choose one that has met the high standards of AVMA-CVTEA accreditation. While most AVMA-CVTEA-accredited schools are traditional, brick-and-mortar colleges, Penn Foster College is one of only a few online institutions offering a Veterinary Technician Associate Degree that is fully AVMA-CVTEA accredited. Speak to our expert Admissions Specialists to answer any questions you may have by calling us at 1-888-427-6500 or enroll today to get started on your career path as a veterinary technician!