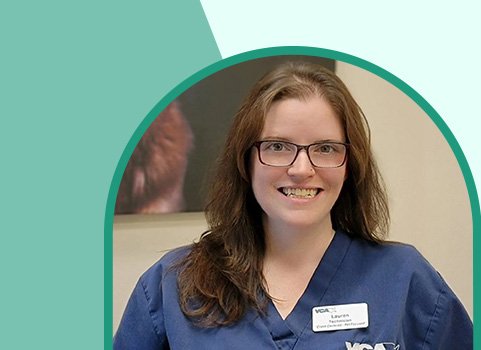 Veterinary
Career Advice
Student Stories
Vet Assistant to Vet Tech: Advancing Your Career as a Working Parent
Lauren Campion was a vet assistant in a small animal practice, but knew she wanted to move up in her career to become a veterinarian technician – and to do so, she'd have to pass the Veterinary Technician National Exam (VTNE) and become certified. Here's how Lauren went to vet tech school online, passed the VTNE on the first try, and got promoted – all while starting a family and working full time.
Lauren Campion was a vet assistant in a small animal practice, but knew she wanted to move up in her career to become a veterinarian technician – and to do so, she'd have to pass the Veterinary Technician National Exam (VTNE) and become certified. Here's how Lauren went to vet tech school online, passed the VTNE on the first try, and got promoted – all while starting a family and working full time.
How to become a vet tech
Lauren knew for a while that working with animals was her dream job. She grew up around them and always had pets when she was younger. This led her to a job in a pet store. While she enjoyed her job, it wasn't the perfect fit. She was always more interested in the medical side of pet care and passionate about helping pets get well and stay well. Lauren also loved science, which led to her earning a bachelor's degree in biology from Widener University. From there, she started working in veterinary medicine as a vet assistant in small animal practices. But she wanted to do more and knew the next step was to become a veterinary technician.
Becoming a veterinary technician, however, involves more than just applying for and getting a job in the field. In many states, you need to be certified and, in order to become a certified, registered, or licensed vet tech, you need to meet a few requirements.
How to get certified as a vet tech
"You're held back if you're not certified," Lauren said. "People are more inclined to give you more responsibility if you're certified."
Without that official designation, Lauren and others working in veterinary medicine as vet assistants, receptionists, or even uncertified vet techs, aren't allowed to take on more clinical tasks and may be limited in what responsibilities they can take on in a veterinary practice. Becoming certified, however, can open doors to more career opportunities in the field.
To become a certified veterinary technician in your state, you need to follow a few steps.
Earn an accredited vet tech degree. You need to take and pass the VTNE to become certified, registered, or licensed as a vet tech. But, in order to qualify to take the exam, you need to first graduate from an AVMA accredited school. In an approved school, you'll learn both the academic and hands-on knowledge that is essential to being a successful vet tech.
Apply to take the VTNE. You can't earn your vet tech degree and take the VTNE right away. You'll need to apply to take the test before you can actually register and sit for it. To apply, you'll need to complete an application through the American Association of Veterinary State Boards (AAVSB) and include a copy of your transcript to verify you completed the education requirement.
Register for and take the VTNE. Once your application is approved by the AAVSB, you'll be able to register to take the exam. There are three windows of time the exam is given, so you may have to wait a bit before your test date. That's okay, because it gives you more time to prepare! Taking a prep course and reviewing your study materials from your degree program can be super helpful in passing the exam the first time.
Pass the VTNE. The VTNE isn't an easy exam. It's designed to challenge you and measure your competency in essential vet tech skills. The exam is computer-based and includes 150 questions. Test takers are given 3 hours to complete the exam. Many don't pass the test the first time, so don't get discouraged if you're one of them. Graduates of Penn Foster's Veterinary Technician Degree, like Lauren, currently have a 78% pass rate on the first try; the national three-year average pass rate for all schools was 70% as of 2018.
Register with your state board. Once you pass the VTNE, you'll wait for a letter that verifies you passed the exam. You'll need that to submit to your state board when you register. Depending on your state, once your registration is accepted, you'll be able to call yourself either a certified, registered, or licensed veterinary technician!
Maintain your credentials. To stay certified, you'll need to regularly renew your credentials. The good news is that you don't have to take an exam to do that! While states may have different requirements for the number of hours you need, you just need to complete continuing education (CE) hours and pay the license renewal fee. Lauren, who lives and works in Pennsylvania, will be required to complete 16 CE hours to qualify to renew her certification every two years.
Read more: What Does a Vet Tech Do?
Can starting as a vet assistant help you to become a vet tech?
Having experience in the field isn't necessary to start a vet tech degree and work in the field, but it can be very helpful! Lauren worked as a veterinary assistant for a long time before she decided to take the next steps toward advancing her career. Her eventual goal was to specialize in emergency and critical care, but in order to do that she'd have to become a certified vet tech first.
Besides allowing her to get her foot in the door of the veterinary medicine field, starting her career as a veterinary assistant allowed her to build foundational skills and pick up industry knowledge that would help her later on while she was working on her degree program.
By starting your career as a vet assistant, you can get a feel for all the jobs in an animal clinic, learn some basic skills that can apply to another career in the industry, and even decide if you're happiest as a vet assistant or it's time to move ahead in your career.
Read more: Your Veterinary Assistant Career Guide
How important is getting certified to being a vet tech?
Certification is very important to becoming a vet tech. Most states require certification, licensing, or registration for veterinary technicians to even work in the field. Even if you live in a state that doesn't require credentials for the job, getting certified can help you qualify for promotions, earn a higher salary, and stand out when you're applying to new positions.
Becoming a certified veterinary technician helped Lauren take the next step toward her goal of working in emergency vet medicine. "Because I got my certification, I got promoted as a lead tech at the place I've been working at since before the program," Lauren mentioned. "It's been a steppingstone for me. And now that I am certified I can do a specialty certification now."
Pros and cons of online veterinary technician school
An AVMA accredited degree is necessary to take the next steps toward certification as a veterinary technician, but not everyone has the time to attend a traditional in-person school. The good news is that there are several recognized online vet tech schools that can help you reach your goals, including Penn Foster. Just like in-person vet tech programs, the curriculum must meet the standards of the AVMA in order to become accredited so that means that the education you get is the same as learning in person – it's just a different way to go about it.
If you're considering an online vet tech school, you might be wondering what the pros and cons of taking this path toward certification and a new career are. Here's what you need to know about the benefits – and potential downside – of earning your veterinary technician degree online with a school like Penn Foster.
Pros
It's self-paced
No set start dates, due dates, or exam dates
Lots of flexibility
AVMA accredited
Hands-on experience through 2 externships
Online resources
Dedicated and experienced instructors
78% VTNE pass rate
Cons
You need to be self-disciplined
No classroom setting
Some people don't think online school is valuable
Finding your own externship site
There are many pros to earning your degree from an online vet tech program, including the fact that it's self-paced. That means you are in charge of when you enroll, when you study, and when you take exams. You have a lot of flexibility to work around your life, job, and family!
For Lauren, the flexibility of online school was a must. She was already working full time in a busy veterinary practice and was working on starting her family. In fact, just as she was about to finish her second externship, which falls at the end of the fourth semester, she had a baby on the way.
"I was about to have a baby so I kind of had to wait a month or so to finish my last externship. Because I had room to play with, I was able to have my child and recover and still was able to keep my timeline good. I finished on time, and everyone was very supportive," Lauren said of her experience with putting her externship briefly on hold.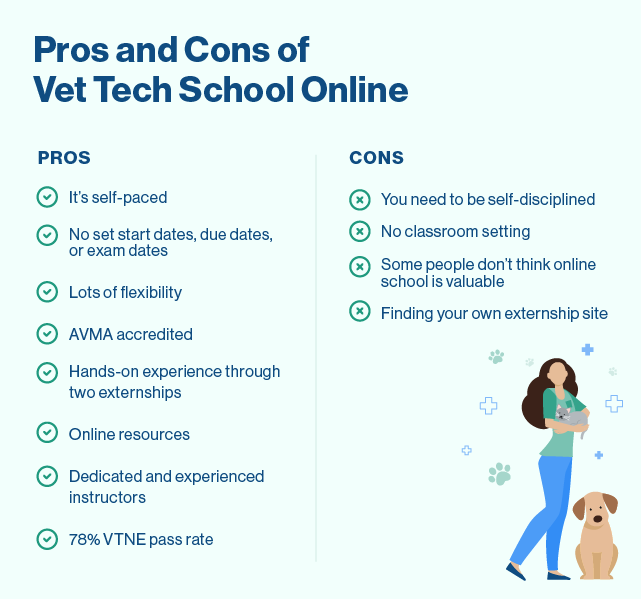 Lauren was also very self-disciplined prior to having her first child, which made staying on track easier and gave her some wiggle room when it came to delaying her externship a bit. Because there are no deadlines and due dates, staying on top of your studies and keeping yourself motivated can be tough if you don't keep your end goal in mind.
But the most important thing when it comes to becoming a credentialed vet tech is the school's accreditation, whether it's online or in-person. That AVMA accreditation is what is going to allow you to sit for the VTNE.
Lauren, however, didn't let anyone stop her from reaching her goals. "A lot of people who didn't know about the program were discouraging about it," she said, "and now that I graduated from the program, I'm like yeah Penn Foster is great. I'm certified just like that person who went to in-person school 7 days a week."
What you need to know about vet tech school (and yourself) before you start
Online school can be a great way to earn your vet tech degree and prepare for certification. But it may not be for everyone. Before you enroll, you want to make sure that an online program is the right fit for you.
One thing to keep in mind that can be challenging for many students is the fact that, while being self-paced allows you to work on your studies around your life, it also means you need to be dedicated, determined, and stay on top of your classes – with no due dates or teachers pushing you to finish by a certain time. You need to be able to work independently and manage your time.
As an independent online student, you can set your own schedule and it can be as loose or strict as you want it to be. However much you plan on studying, it's important to just have a plan and stick to it as much as possible. If you're not sure how to create a study plan, Lauren has some great advice: using the suggested deadlines in your program as a guide to keep you on track.
"I'd do one section a week if I could. Whatever the section was, I'd work on that for a week or two. So that was kind of my strategy. I usually set a time, 1 to 2 hours at least every other day so I didn't stress myself out with work and stuff. I'd also give myself room for catch up time or review," she said.
But even the most self-disciplined student may get off track – and that's okay! By sticking as close to a set study schedule as possible, you also give yourself some room to work with for those times when life gets too overwhelming or you just don't have the motivation to log in and study.
It's also important to remember that, even in an online school, help is available when you need it. You've got supportive instructors available by email or phone, online resources available 24/7, and even other students and alumni who are active on our social media pages. When you're stuck on something that just doesn't seem to make sense to you, no matter how many times you reread your study guide, don't hesitate to reach out. Everyone is rooting for your success, so take advantage of the support that's available to you!
Read more: Tips and Tricks to Help You Stay Motivated in School
Parenting and going back to school: what to do when you're discouraged
Online school can come with its own particular challenges and those challenges can seem even more difficult to overcome when you're working full time, a parent, and going back to school all at the same time. It can be especially difficult when you're a new parent and it's the first time you're juggling a baby with your other responsibilities. Even Lauren, who powered through her vet tech degree and passed the VTNE on her first try, had a moment when she found herself discouraged and wondering how it was possible for her to finish her education under the circumstances.
"When I first had [my daughter]," Lauren said, "I thought I would never finish. But it's all about the support you have around you and how dedicated you are. Just keep to a plan and realize that if you can't finish what you planned to do, finish the next day or the next week. Just leave it open, keep going. You can always get an extension if something happens, there's options [to help you]. If you have a plan and keep going, eventually you'll get it done!"
Read more: How to Balance Working Full Time with Online School
Learn more about Penn Foster's Veterinary Technician Degree from real students like Lauren
If you're considering pursuing a vet tech degree but aren't sure an online program is the right fit for you, learn more about the experience from students who've been there. In our Alumni Spotlight Podcast, we talk to graduates from all programs about their experiences with the school, their studies, and how graduating from Penn Foster helped them achieve their career goals. You can listen to the full interview with Lauren Campion and check out what other vet tech graduates have to say on SoundCloud!