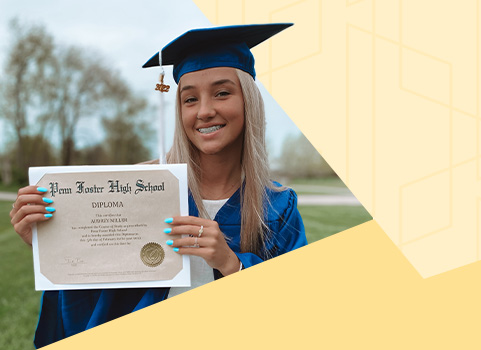 High School
Penn Foster FAQs
Are Online High School Diplomas Legitimate?
Are online high school diplomas legit? Will they help you reach your goals, like get hired for a job or earn a promotion that requires a high school diploma? Here's your guide to legitimate online high school diplomas.
Earning a high school diploma is a major milestone. It's also a requirement for many employers when they're looking to hire. Whether you're an adult who couldn't attend a traditional high school and now needs to finish your diploma for a job or promotion, or a traditional student who doesn't feel a regular schedule at a public school is right for you, there are so many options online to earn a high school diploma. But is an online high school diploma legitimate? Will it help you reach your goals? Here's everything you need to know about what's backing your online diploma.
Don't Miss: Graduate Stories from Real Students
How to know if your online high school diploma is legitimate.
With so many options out there to finish up your high school education, online courses are often the best fit for busy adults or those who need flexibility. The biggest worry that students often have, though, is whether or not the money and effort they put into online school will pay off. You don't want to study hard and graduate only to learn that your diploma wasn't what schools and employers were looking for.
Before enrolling in an online high school program, you want to find out if the school you're interested in is accredited and licensed.
Accreditation and licensing are two of the most important things a school should have to make them legitimate. Accreditation is the recognition from specific agencies and organizations that a school meets or exceeds the educational standards decided by the group. Licensing ensures that the school you're attending is approved by the licensing body or board to provide classes and diplomas or degrees to graduates.
Licensing ensures that the school you're attending is approved by the licensing body or board to provide classes and diplomas or degrees to graduates. Penn Foster Career School is licensed by the Pennsylvania State Board of Private Licensed Schools. Penn Foster College is licensed by the Arizona State Board for Private Postsecondary Education and is authorized to award Associate of Science Degrees, Bachelor of Science Degrees, Undergraduate Certificates, and Career Diplomas.
You might also enjoy: Going Back to School as an Adult (FAQs)
Is Penn Foster High School accredited?
There are two types of accreditation that a school can earn: regional and national. Regional accreditation is awarded through one of seven regional accrediting bodies in the United States. National accreditation is awarded by independent accrediting bodies that often focus on career-specific education or vocational schools, as well as online schools and colleges.
Penn Foster High School is both regionally and nationally accredited, ensuring that the diploma you earn online is legitimate. We're regionally accredited through the Commission on Secondary Schools of the Middle States Association of Colleges and Schools and nationally accredited by the Distance Education Accrediting Commission. The high school program also has national accreditation through Cognia. Cognia is the world leader in providing improvement and accreditation services to schools and emphasizes constantly working to improve the student experience.
Accreditation is renewed on a regular basis and involves reviewing a school's courses and materials to make sure students receive the best education possible.
You might also enjoy: How to Choose an Online High School
How does online high school work?
Online high school is almost like a regular school — without the set schedule, deadlines, or due dates. The flexibility allows you to learn at the pace that works for you, wherever you're comfortable. Online classes can work for a variety of personalities and grade levels. You can expect to study independently, though you will have faculty, student support, and more on hand for help if you need it.
In Penn Foster's online high school, you'll have access to lessons from 9th to 12th grade — and if you've completed classes at a previous school, you can see if you're able to transfer those credits and pick up where you left off.
You might also enjoy: How to Transfer to an Online School
Do colleges accept online high school diplomas?
Colleges have a variety of admissions requirements, and can decide what they do or do not accept from prospective students. However, in general, most schools do recognize regionally accredited high school diplomas whether they're earned online or at a traditional school.
Like with any high school graduate, colleges will also make admissions decisions based on your grades, your extracurricular activities, or any additional application requirements like essays. While we recommend confirming that an online high school diploma from Penn Foster meets a school's requirements before enrolling, you can also review a list of schools our alumni have said they've been accepted to.
In fact, many of our graduates have been able to go on to college after completing their high school diploma with us. For example, Penn Foster alumna Adriana Guy was able to pursue her dreams after finishing her diploma, earning an associate degree in medical assisting and is currently enrolled in a health sciences bachelor's degree program!
You may also like: How to Prepare for College in High School (a Checklist for Online High School Students)
Do employers accept Penn Foster High School diplomas?
Since Penn Foster High School is regionally and nationally accredited, it should be accepted by most employers! Unlike colleges, which may have varying requirements regarding accepted diplomas, most employers just want to see that you graduated from a legitimate high school. Since Penn Foster is legitimate – it's regionally and nationally accredited, and licensed – you shouldn't have any issues when you use your diploma on your job applications!
Take Penn Foster High School graduate, Dylan Benavidez, for example. Dylan, who is from a rural community, wanted to be able to finish high school at an accelerated pace and get a job while he was still working on his classes. He worked part-time while balancing online courses and still graduated high school early.
"Once I finished, I actually entered the workforce full time," he said. "I was very fortunate. When i turned 17, I was promoted to shift manager at a local restaurant. The day that I turned 18, I got promoted to assistant store manager."
What does a Penn Foster High School diploma look like?
A lot of high school diplomas look pretty similar! Your Penn Foster High School diploma will look just like one you'd receive from a public school. It will include the name of the school, your name, and when you graduated! You will also receive a digital copy of your diploma that you can share on social media sites like LinkedIn to show off your accomplishment to prospective employers. Take a look at the diplomas some of our graduates have shared in our 2022 Penn Foster Digital Yearbook!
Is Penn Foster High School worth it?
Yes! Earning your high school diploma is always worth it. Besides having the opportunity to qualify for more jobs as a high school graduate, you'll also be able to further your education if that's your goal. And, even better, earning your diploma can allow you to earn more money, which can make a big difference. On average, someone with a high school diploma can earn more than $8,000 per year than someone who hasn't graduated.
With affordable tuition, self-paced classes, and the support of your peers and instructors, Penn Foster High School can be a great option to help you take the next steps toward success!
Check out what graduates have to say about Penn Foster.
If you're not sure what the online student experience is like and want to make sure that Penn Foster is right for you, don't take it from us – hear from real Penn Foster students and graduates instead!
Maybe you're worried that you're too old to go back and earn your high school diploma like Penn Foster graduate, Brent Nelson or you know you want to move up at work, but need to get your diploma first, like . Or maybe you're a parent who's looking for a high school option that can help your student excel when they're struggling like Penn Foster parent, Jana Hitson! Whatever your story, you can find inspiration and learn more about whether or not Penn Foster High School is right for you in
Once you're ready, you can reach out to our expert Admissions Specialists at 1-888-427-6500 to get started.