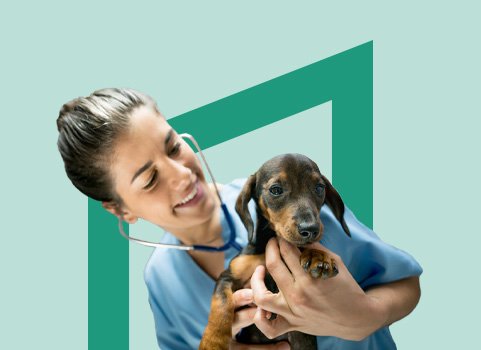 Veterinary
5 Ways to Earn More Money as a Vet Tech
Being a vet tech is a rewarding job, but it often doesn't pay as well as similar roles in human healthcare. Learn how you can earn more money as a vet tech in our latest blog!
Veterinary technicians play a vital role in a vet clinic, assisting veterinarians with administering medications, laboratory work, exams, and surgeries. It's a demanding – but rewarding – job! However, despite all the work that goes into the job, many vet techs are often paid less than you'd think, at least starting out. That doesn't mean there aren't plenty of opportunities to make more money working in the veterinary field. Here's what you should know about increasing your vet tech salary.
How much do veterinary technicians make?
The average salary for veterinary technicians in the United States is $38,819 per year as of 2022. Vet tech salary can vary depending on where you live, whether or not you're credentialed, your experience, and other factors.
There are a few different ways to earn more money as a vet tech, including gaining experience and becoming credentialed as a CVT, LVT, or RVT if you aren't already. Here are five ways you could potentially increase your salary!
Read more: What Does a Veterinary Technician Do?
5 Ways to Earn More as a Vet Tech
1. Get credentialed
If you're not already credentialed as a vet tech, doing so may help you earn more. And, for many states, vet techs are required to be credentialed before they're able to work in the field. Licensing is different in each state, so it's important to find out what your particular state requires before taking the first steps toward becoming a vet tech. To become a Licensed Veterinary Technician in Texas, for example, you'll need to graduate from an AVMA-accredited vet tech program, take and pass the VTNE, take and pass then TLVTE, and then apply for your license through the state board.
2. Further your education
One of the most effective ways to increase your earning potential as a vet tech is to further your education. In general, to become a veterinary technician, you already have earned an AVMA-accredited vet tech associate degree. But many vet techs choose to eventually pursue additional certifications or degrees, such as a bachelor's degree in veterinary technology or specialty certification in areas such as anesthesia, oncology, or dentistry.
Having specialized certification and skills can help you stand out to employers in the field and even be a more valuable employee at your current job, which can make a difference when you're being considered for raises or bonuses. For example, veterinary technologists can make an average salary of $50,395 per year, or $24 per hour.
Read more: The Difference Between a Veterinary Technician and a Veterinary Technologist
3. Specialize in a high-demand area
Another way to increase your earning potential is to specialize in a high-demand area of veterinary medicine. For example, if you become an expert in animal behavior or nutrition, you may be able to earn a more competitive salary. There are also different vet tech career paths that can allow you to advance your career, take on more responsibility, and earn more money!
If you're interested in taking on a more management-focused role, becoming a practice manager could be a great next step! Veterinary practice managers make sure that the practice runs well, including creating and maintaining work schedules, hiring new vet techs and assistants, and overseeing scheduling. The average practice manager salary was $54,401 as of 2023.
Read more: How to Become Fear Free Certified as a Vet Tech Student
4. Work in a specialized setting
While most vet techs work in animal hospitals or clinics, there are other options for skilled veterinary technicians who'd like to earn more money. Though not necessarily an option in areas that don't have them, some vet techs work in research facilities or zoos, which can potentially pay more. If there aren't research facilities or zoos where you live, another option that could allow you to make more money is an emergency vet clinic or hospital.
Emergency veterinary hospitals focus on seeing patients that have issues or injuries that need to be taken care of immediately and are often open outside of "normal" vet clinic operating hours. Keep in mind that, if you do choose to work in this setting, the job can be even more demanding and require you to work longer or later hours than you'd find at a standard clinic. Emergency veterinary technicians can make an average of $41,334 per year, or $20 per hour.
Read more: Vet Tech Career Guide: 5 Places You Can Work as a Vet Tech
5. Negotiate your salary
Finally, it's important to remember that you have the power to negotiate your salary! While negotiating with your current employer or potential employers doesn't work every time, it can often make a difference in what you're offered as your starting pay. And, many employers and hiring managers these days expect people to negotiate when it comes to salary and have a budget range with that in mind.
Do your research on average salaries for vet techs in your area and be prepared to make a case for why you're worth more! Remember, you're a valuable member of the healthcare team and you deserve to be compensated fairly for your work – and the more you can bring to the table, such as experience, credentials, and specialized skills, the more you could likely make!
Read more: How to Turn Your Vet Tech Externship into a Job Offer
Further your veterinary education today
In a field like veterinary medicine, you're constantly expected to learn new skills and keep up to date with what's going on in the field. As a veterinary technician, you can also take the next step in advancing your career and earning more money by pursuing more relevant education. If you're thinking of leveling up your vet tech career, the next step could be enrolling in a bachelor's degree like Penn Foster's online Veterinary Technologist Bachelor of Science Program! To learn more about furthering your career or to get started today, reach out to our expert Admissions Specialists at 1-888-427-6500!