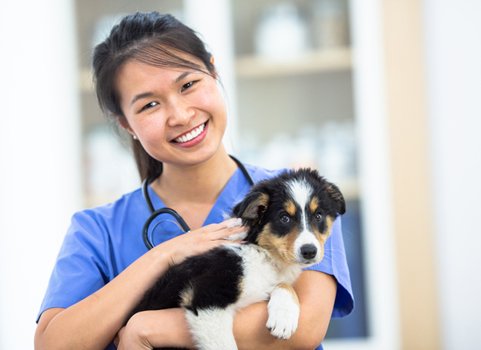 Veterinary
Student Stories
Penn Foster Helps Vet Tech Student Find Direction and Purpose
Stay at home mom, Kristy Donovan, wanted a job she was passionate about. The problem was that the closest program to her was a nearly two-hour drive away. Penn Foster's self-paced, online Vet Tech Program allowed her to pursue her career goals without having to sacrifice time with family.
Ready to find something new for herself, stay-at-home mom, Kristy Donovan, knew she wanted to pursue a career but not at the expense of her happiness. Veterinary medicine seemed to be a natural fit thanks to her love of animals, but there were no programs in brick-and-mortar schools nearby.
"I wanted to do something that didn't leave me feeling miserable. I liked that Penn Foster's Veterinary Technician Associate Degree was fully accredited through the American Veterinary Medical Association and their Committee on Veterinary Technician Education Activities, as well as partnering with a few veterinary hospitals as well." In addition to industry accreditation, Penn Foster's self-paced scheduling worked to Kristy's advantage, allowing her to reserve time for her daily obligations and activities instead of planning life around a class schedule.
Read more:
How to Become a Veterinary Assistant (Career Guide)
Though self-paced scheduling appealed to her by giving her flexibility, there was a bit of a learning curve in the beginning for her to meet her ambitious goals. "I got hung up in the beginning of my course by studying every day for two or three hours. That wasn't nearly enough time to finish my semester. I didn't realize that I needed to dedicate more time each day to finish in time, versus studying for a couple of hours each day and moving through my course at such a slow pace," Kristy explained. She remedied this by setting a daily schedule for studying, including a timeframe for how long to do it, and talking with fellow students to figure out how many hours she would need each day.
This camaraderie she found with her peers within the Student Community is what she considers one of the best parts of studying with Penn Foster. "Everybody is constantly motivating and inspiring each other every single day. This is a tough program and it's easy to find yourself sometimes feeling overwhelmed or even incompetent while studying for an extremely complex class. To know that present and past students are there at your fingertips to help lift you up and regain your determination and help you to refocus and remember why you started this program is absolutely a truly phenomenal feeling."
Paying it forward, Kristy now serves as a Student Ambassador. Student Ambassadors are a group of awesome students who go above and beyond in their studies, mentorship, and goal-reaching.
As an ambassador, one of her duties is to offer mentoring services and advice to students who may be facing struggles in their academic journey, similar to her own. For instance, she advises students unsure of their career path to job shadow within their field to see what it's like as well as considering possible career advancements. She explains that having an idea of what types of jobs one can apply for with their degree can help to further shape the direction of their careers.
Read more:
How to Become a Vet Tech
As for her own career plans, Kristy plans to work in an emergency animal hospital or with a traveling large animal veterinarian once she finishes her program, with an eye on animal research as a future possibility.
"I feel proud of myself for being able to realize which career field I would most like to be in, and then taking the steps to begin the process of obtaining my degree to pursue that career. Prior to enrolling in the vet tech program, I felt like my life was a repetitive loop of working dead end jobs that I wasn't happy at that in turn carried over to negatively affect my life outside of work. I feel like my life finally has a direction and a purpose."
More Student Stories: