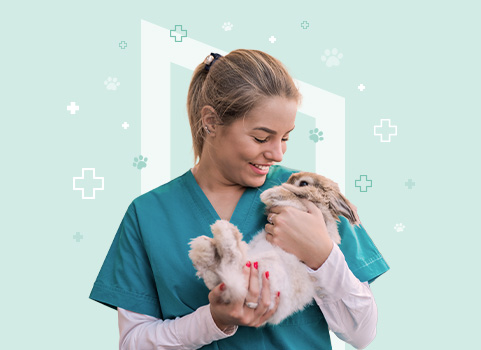 Veterinary
Job Guides
Your Veterinary Assistant Career Guide (Salary, Job Duties, & Requirements)
Veterinary assistants play an important role in vet clinics, specialty practices, and emergency care. It's a rewarding job! Learn more about the average vet assistant salary, how to become a vet assistant, and how to decide if this career is the right one for you.
Veterinary assistants play an important role in vet clinics, specialty practices, and emergency care. It's a rewarding job! Learn more about the average vet assistant salary, how to become a vet assistant, and how to decide if this career is the right one for you.
What does a vet assistant do?
Vet assistants are responsible for assisting the veterinarian, vet technicians, and other clinic staff with the daily operations of the veterinary practice. They are an important part of a veterinary healthcare team and make sure the office runs smoothly and that patients receive the care and attention they need while in the clinic. This can include both administrative and hands-on work.
Depending on where they work, new vet assistants may be more focused on completing the essential administrative tasks that help the clinic run well. This includes
Scheduling patient appointments
Following up with clients about appointments and concerns
Keeping up-to-date patient records
Working with pet insurance or clients for billing and payment
Veterinary assistants are also responsible for more hands-on tasks, such as
Feeding, grooming, and weighing animals that are staying at the clinic
Clean cages and kennels, and bathing patients
Sterilizing equipment
Cleaning and setting up the examination rooms
Restraining animals during exams or vaccinations
Calming and caring for upset or scared animals
Keeping tabs on the health and wellbeing of animals staying at the clinic and reporting concerns to the veterinarian or vet tech
Helping veterinarians and veterinary technicians during emergencies
While being a veterinary assistant is an entry-level, supportive role within a vet practice, "veterinary assistants get to do a lot as they support both the veterinarian and the veterinary technician in their work," Megan Chadwick CVT, Director of Penn Foster's Veterinary Academy told us. It's an important role!
"When you get into a clinic or a hospital," she said, "you see that a veterinary assistant is a key role in the Veterinary Health Care team. They allow vets and vet techs to be efficient in their work and they still get to provide love, support, and care to patients."
Vet assistant daily tasks
A day in the life of a veterinary assistant can largely depend on the environment they work in. The daily tasks of a vet assistant in a private practice vet clinic could be different from those of a vet assistant working in an emergency animal hospital. But, in general, an average day begins in the morning, as early as 7am or 8am depending on when the office opens.
As a veterinary assistant, you'll most likely be scheduled to come in before some other employees in order to prepare the office for the day and make sure everything is in order before the first patient arrives. If you have any patients staying overnight for observation or to recover from a procedure, the first thing you'll do is check in on them to make sure they're doing well. This could include cleaning their cages, checking on their wounds or vitals, making sure they are fed, and that any necessary medications are administered.
Once the animals are looked after, you'll move on to your administrative tasks. You'll check the phones, listen to any messages left after hours, and return calls as necessary. You'll also pull up the appointment schedule for the day to make sure everything is prepared for patients, call clients to remind them of upcoming appointments, and, when the office opens, greet clients when they arrive and check their pets in for their exams.
Throughout the day, you'll likely bounce between administrative and hands-on work, assisting the veterinary technicians and veterinarians in restraining animals during exams, checking on any animals boarding at the clinic, and interacting with clients at the front desk.
Read more: Start a Career With Animals as a Military Spouse
What can a vet assistant legally do?
Veterinary medicine is regulated by state boards and laws which determine what each member of the team is allowed to and not allowed to do. What you're able to do can vary based on your specific state board of veterinary medicine. In general, however, most vet assistants are legally allowed to
Clean and dress wounds
Administer some medications
Handle and restrain animals
Assist in collecting samples for lab testing
Take vitals
Perform clerical tasks
Feed, bathe, and care for animals
In some cases, veterinary assistants may not be able to administer controlled substances such as pain medication and generally aren't able to perform more clinical tasks like processing lab work, taking diagnostic images, or performing surgery or dental examinations. These tasks are usually performed by veterinarians or credentialed veterinary technicians under the supervision of the veterinarian.
What is the difference between a vet and a vet assistant?
A veterinarian is a doctor who has completed several years of schooling and training and is licensed to perform their duties. Veterinarians can diagnose patients, prescribe treatments, conduct surgery, interpret diagnostic test results, and more.
Vet assistants, on the other hand, do not need to be licensed and are not considered doctors. Their main duties are to support the work of the veterinarians and veterinary technicians in their clinic.
What is the difference between a vet tech and a vet assistant?
There are several differences between a vet tech and a vet assistant. The main differences between the jobs include
Required education. Most vet assistants are not required to have any formal education to begin a career in the field, while vet techs are required in many states to have completed specific education and training in order to work.
Credentials. Most states require veterinary technicians to have passed the Veterinary Technician National Exam (VTNE) and be certified, registered, or licensed to work. Veterinary assistants don't need to be certified to work, though they can take the Approved Veterinary Assistant Exam to add credentials to their resume if they'd like.
Job duties. While veterinary assistants help vet techs and veterinarians with some tasks such as handling and restraining patients and wound care, most of their job duties are administrative. Veterinary technicians, on the other hand, focus more on completing clinical duties under the supervision of a licensed veterinarian.
"A veterinary technician needs to be able to calculate drug dosages," Chadwick said, "where the veterinary assistant is the one that is counting the pills and dispensing them as directed by the Veterinarian. However, like a veterinary technician, a veterinary assistant needs to be someone that does well in a fast paced and often stressful environment."
How do you become a veterinary assistant?
There are a couple of different ways you can become a veterinary assistant: with formal education or without.
You aren't required to complete formal training or be certified to become a vet assistant, so it's possible to start a career in the field right out of high school. At minimum, most clinics require their vet assistants to have at least a high school diploma or its equivalent; specific training is then done on the job. This can be a good path for someone who wants to jump right into the workforce after graduation. However, it can sometimes be much more difficult to secure a job as a vet assistant without specific training or experience when you're competing against those who have gone to vet assistant school.
For those who may want to boost their chances of getting hired as a vet assistant and want to be prepared for what they'll do on the job before they start, earning a Veterinary Assistant Career Diploma is beneficial. Through a vet assistant training program, you'll learn about
Animal behavior and restraint
Radiology and surgical preparation
Animal nutrition
Wound care
Veterinary office procedures
You'll also get hands-on experience that can help you build your confidence through an externship that allows you to apply what you learned in your classes to real experiences at a vet clinic in your area. You can then become certified by sitting for, and passing, the Approved Veterinary Assistant exam which is offered by the National Association of Veterinary Technician Assistants (NAVTA). While certification isn't required for you to work as a vet assistant, it can help you stand out to potential employers when you're applying for jobs.
Where can you get a job as a veterinary assistant?
Veterinary assistants can work in
Animal shelters
Private or corporate veterinary clinics
Animal hospitals or specialty practices
Emergency vets
Research labs
Read more: Why Should You Consider a Career in Forestry and Wildlife?
What skills do you need to be a veterinary assistant?
To be a good veterinary assistant, you'll need a certain set of skills.
"A vet assistant needs to have good people skills and emotional intelligence since they will be working with clients on a regular basis," Chadwick mentioned. "Which also means having good customer service skills and the ability to empathize with both their veterinary health care team members and clients to get the job done!"
Outside of clinical and administrative skills you can learn through education or on the job, you'll also need
Customer service/people skills
Communication skills
Teamwork skills
Flexibility
Patience
Physical strength
Computer skills
Empathy
Read more: What a Veterinarian Education Do for Your Career
Is going to school for veterinary assistant worth it?
It's definitely worth it!
"While it isn't required to have a formal education to be a veterinary assistant, having an education and hands-on experience through an externship gives you a step up than someone that doesn't have," Chadwick advised. "It can be a benefit to a potential employer, too, as your training may not need to be as in-depth since you already have some of the know-how."
Formal vet assistant training can also help you prepare for certification through the Approved Veterinary Assistant exam, which can help you stand out when you're applying for jobs and potentially increase how much money you can earn!
How do I know if being a vet assistant is right for me?
Being a veterinary assistant is a rewarding job, but how can you be sure it's the right job for you? Before making a decision about your career path, you'll want to ask yourself a few questions.
Do I want to work with animals? Even if the majority of your job as a vet assistant is administrative, you'll still be seeing animals and working closely with them every day. If you don't want to deal with the grumpiest or less friendly pets – or the messes even the most well-trained pets make – then becoming a vet assistant might not be right for you.
Am I comfortable with the messier aspects of working in a veterinary clinic? Working with animals can be messy. As a vet assistant, you'll need to clean cages, bathe animals, and deal with blood and other bodily fluids on a regular basis. You'll also deal with some emotional days, especially when there's an exceptionally ill patient or a patient needs to be euthanized. It's important to be sure you can handle that before getting a job in a clinic.
Am I able to handle the physical aspects of the job? As a vet assistant, you'll often help carry and restrain animals in your care. That means you should be able to carry at least 50lbs. You'll also need to be able to bend and lift regularly and be on your feet for a few hours a day.
What kind of work schedule do I want? Depending on where you work, you can have a pretty variable schedule, though most veterinary clinics operate Monday through Friday, from around 8am to 5 or 6pm. If you work in an emergency clinic, you may be required to work overnight, weekends, and holidays.
What types of tasks make me happiest/most fulfilled? What do you like to do? If you like working with people, are interested in doing work that isn't necessarily the same every day, and like office work, becoming a vet assistant could be a great entry-level job for you!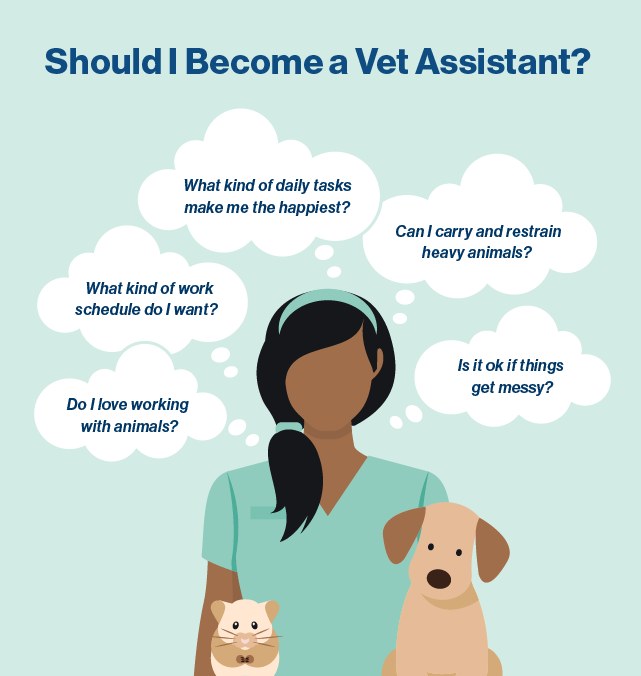 What are the hardest parts about being a vet assistant?
While working as a vet assistant can be a very rewarding job, it can have its drawbacks. The hardest parts about being a vet assistant are often the more physically or emotionally demanding tasks and the stress that comes with working in a busy environment.
As a vet assistant, your work away from the front desk can involve messy situations, handling angry or scared animals, and the potential for bites and scratches. It can also involve cleaning up messes you'd rather not deal with, especially from sick animals who can't do their business in a litter box or outside.
You'll probably also regularly have to deal with losing patients – no matter how hard the vet techs and veterinarian work to help a pet, not all of them will pull through. It can be very physically and emotionally draining work, so if you don't love working with animals, it can be a tough place to start a long-term career.
Because the work of a veterinary clinic is demanding and stressful – both physically and emotionally – the work environment at some vet clinics can be tough. Many people working in veterinary medicine can be competitive and expect a lot from their employees and coworkers. That can lead to being overcritical of your work and skills, which can be a disheartening environment to deal with every day. Not every clinic is like this, though!
A well-run veterinary clinic focuses on making a safe and productive environment for both patients and employees. When you're applying for jobs in the field, get a feel for the atmosphere and how well people work together when you show up for your interview. That can help you make sure you find a job in a practice that makes you happy.
Read more: 10 Reasons to Become a Veterinary Assistant
But if you know you want to make a difference with your job, the hardest parts of working as a vet assistant can be more than worth it. The work you do can make a pet happier and healthier, and even when you can't save a patient, you can be confident in knowing you did all you could to keep them comfortable and comfort their owners.
It also offers an opportunity to advance in your career and pursue additional education to become a veterinary technician or practice manager. A lot of veterinary clinics – especially corporate ones – provide paths for their employees to further their education and earn degrees or become certified.
Veterinary Assistant Salary (by State)
The average salary for a veterinary assistant in the United States was $29,780 in 2021, according to the Bureau of Labor Statistics. Your salary can vary based on where you live, your experience, and your education.
How Much Do Veterinary Assistants Make in Each State?
| State | Annual Mean Wage | Annual Hourly Wage |
| --- | --- | --- |
| Alaska | $36,450 | $17.53 |
| Alabama | $26,420 | $12.70 |
| Arkansas | $27,800 | $13.37 |
| Arizona | $32,180 | $15.47 |
| California | $36,350 | $17.48 |
| Colorado | $32,920 | $15.83 |
| Connecticut | $32,480 | $15.61 |
| Delaware | $33,040 | $15.89 |
| Florida | $29,990 | $14.42 |
| Georgia | $29,500 | $14.18 |
| Hawaii | $35,870 | $17.25 |
| Iowa | $32,500 | $15.62 |
| Idaho | $26,650 | $12.81 |
| Illinois | $31,690 | $15.24 |
| Indiana | $28,840 | $13.87 |
| Kansas | $27,700 | $13.32 |
| Kentucky | $26,270 | $12.63 |
| Louisiana | $26,420 | $12.70 |
| Massachusetts | $39,140 | $18.82 |
| Maryland | $35,490 | $17.06 |
| Maine | $40,900 | $19.66 |
| Michigan | $30,410 | $14.62 |
| Minnesota | $35,510 | $17.07 |
| Missouri | $29,710 | $14.28 |
| Mississippi | $25,140 | $12.09 |
| Montana | $28,930 | $13.91 |
| North Carolina | $30,940 | $14.88 |
| North Dakota | $29,200 | $14.04 |
| Nebraska | $29,980 | $14.42 |
| New Hampshire | $31,870 | $15.32 |
| New Jersey | $33,420 | $16.07 |
| New Mexico | $29,130 | $14.00 |
| Nevada | $30,230 | $14.53 |
| New York | $36,850 | $17.71 |
| Ohio | $29,420 | $14.14 |
| Oklahoma | $27,560 | $13.25 |
| Oregon | $34,580 | $16.63 |
| Pennsylvania | $30,690 | $14.76 |
| Rhode Island | $38,850 | $18.68 |
| South Carolina | $30,940 | $14.87 |
| South Dakota | $29,410 | $14.14 |
| Tennessee | $28,480 | $13.69 |
| Texas | $28,410 | $13.66 |
| Utah | $27,510 | $13.23 |
| Virginia | $30,500 | $14.67 |
| Vermont | $31,130 | $14.97 |
| Washington | $35,880 | $17.25 |
| Wisconsin | $28,270 | $13.59 |
| West Virginia | $26,160 | $12.58 |
| Wyoming | $30,940 | $14.87 |
How do vet assistant salaries compare?
If you're trying to figure out a career based on what kind of salary you can make, the best way to do that is to compare jobs that are similar in duties or expectations. For example, an administrative assistant does a lot of the same clerical work a vet assistant might do, but they don't work with animals. On the other hand, a veterinary technician does a lot of the same work as a vet assistant but is able to take on more clinical work and responsibilities because of their training and credentials.
As a vet assistant, you may not make the most money, but you may be doing something you love: helping animals. And, working at a clinic, you may have the chance to build a career path that allows you to move up at the practice. Many veterinary assistants can pursue further education to become a veterinary technician and, eventually, a practice manager, which can offer higher pay and benefits.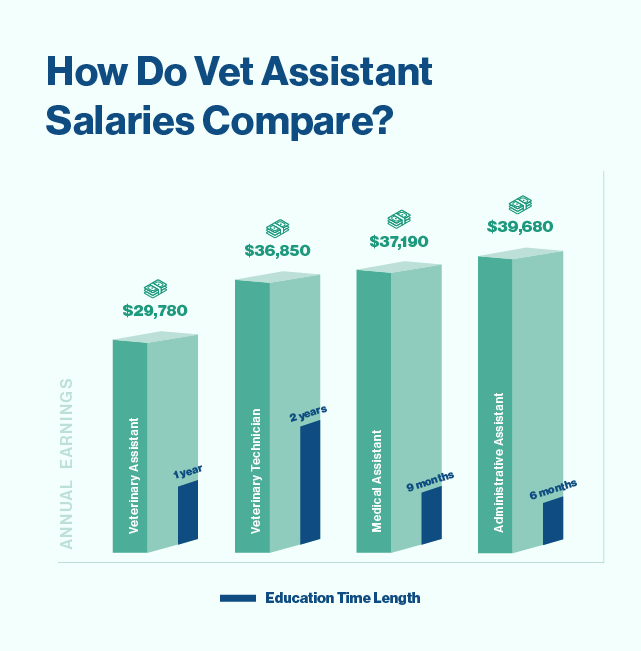 How to earn more money as a vet assistant
There are plenty of opportunities to increase how much you earn as a vet assistant. The easiest way, of course, is to wait for yearly raises as you gain experience on the job. However, you can also make more money as a vet assistant by taking steps toward certification or furthering your education.
As an example, the average vet assistant salary is $29,780. That's the usual starting pay for a vet assistant who got the job right out of high school or with no formal training or experience in veterinary medicine. But if you become a certified veterinary assistant, you can potentially increase your starting salary to $30,144 per year.
After working in the field for a while, you may decide that you want to become more involved in directly helping animals through clinical work. That means becoming a veterinary technician. A credentialed veterinary technician can earn a starting salary of $36,850. To become a vet tech, you'll need to earn a Veterinary Technician Associate Degree and pass the VTNE.
Read more: Can a Vet Telehealth Certification Help Your Career?
When you've been working as a vet tech for a bit, you may decide you want to learn more and earn more. The next step in your career path would then be earning a Veterinary Technology Bachelor's Degree. A bachelor's degree in the field covers more in-depth topics of veterinary care like oncology, surgical specialties, and more. The average salary for a veterinary technologist is about $48,925.
After earning your bachelor's degree, you may decide that you were particularly interested in a certain aspect of veterinary medicine and take the next step in your career: specialization. Like doctors and nurses, veterinary technicians and technologists can specialize in an area of medicine and those who specialize often earn significantly more than an entry-level vet tech. There are several specialties you can pursue, including critical care, zoological work, emergency care, oncology, surgery, anesthesia, and animal dentistry. A veterinary technician or technologist specializing in anesthesia, for example, can potentially earn a salary of over $79,000 per year at some companies!
But it's also important to remember that it's absolutely okay if your career end goal is to become a veterinary assistant, without plans to try to move up or into different roles.
"We NEED veterinary assistants on the Veterinary Health Care Team," Megan Chadwick, Penn Foster's Veterinary Academy Director, told us. "They have an important role and are valued veterinary professionals. That being said, some people use a veterinary assistant role as a steppingstone to become a veterinary technician. Being a veterinary assistant is a great way to get experience and basic knowledge in the veterinary field, especially if you haven't worked in it before. It may help you build the confidence to take the next step, a veterinary technician."
Read more: 6 Secrets to Impress a Veterinary Practice Hiring Manager
Train to be a veterinary assistant online
Whether becoming a vet assistant is your dream job or just a steppingstone to beginning a career in veterinary medicine, you can take the first steps toward building a successful career through online training. With Penn Foster's NAVTA-approved Veterinary Assistant Program, you'll learn the skills that can help you confidently tackle the duties of a vet assistant from day one and get hands-on experience through your required externship – all at your own pace. After graduating from your program, you'll even be qualified to take the Approved Veterinary Assistant (AVA) exam so you can start your career as a certified vet assistant, which can help you earn a higher starting salary! To learn more about the program, what it's like to be a vet assistant, or how to start learning today, reach out to our expert Admissions Specialists at 1-888-427-6500.
Sources:
Bureau of Labor Statistics, U.S. Department of Labor. "Veterinary Technologists and Technicians." Occupational Outlook Handbook. Accessed October 27, 2022.
ZipRecruiter. "Veterinary Technologist Salary." Accessed October 27, 2022.
Comparably. "Certified Veterinary Assistant Salary." Accessed October 27, 2022.
Vet Tech Schools. "Top Paying Veterinary Technician Specialist (VTS) Careers." Accessed October 27, 2022.