Accredited, Proven High School Education for Your Child
A traditional high school experience isn't the right fit for every student and their family. No matter your situation, Penn Foster High School can meet your unique needs. With over 50 years of experience in distance and online education, our curriculum and digital learning platform are designed to provide a high-quality education for your child without many of the common stressors of traditional schooling.
Full Program Overview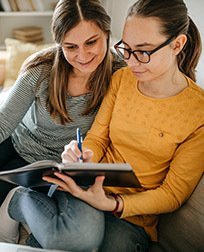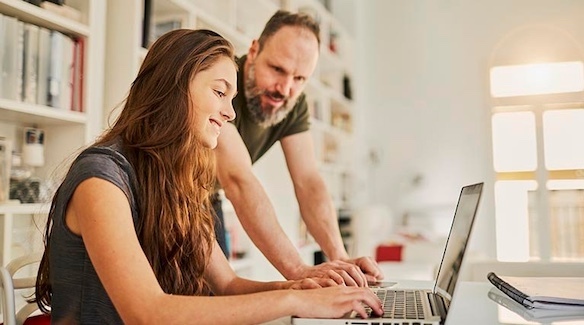 Is High School Right for Your Student?
Penn Foster High School offers flexibility so students can start when they're ready.
Parents and guardians can enroll students online or by calling our admissions team at 1-888-427-6200.
Once your child is enrolled, they'll create a login for their Student Portal.
Students can then log in and study around the schedule that works for your family.
Support is available from teachers, academic advocates, and student services through email, chat, or phone.
Our Proven High School Learning Model
Empowering students to reach their goals on their schedule
Set Your Own Schedule
Enroll any time
Access courses 24/7
Set a schedule that works best for your child
Accredited and Licensed
Education Built to Meet Regional & National Guidelines
Accredited by the DEAC and Cognia
A+ Rated Member of the Better Business Bureau
Choose Your Payment Plan
Customizable payment options
Affordable tuition
Pay in monthly installments
Committed Support System
Dedicated instructors and student support
Online Student Community
Career services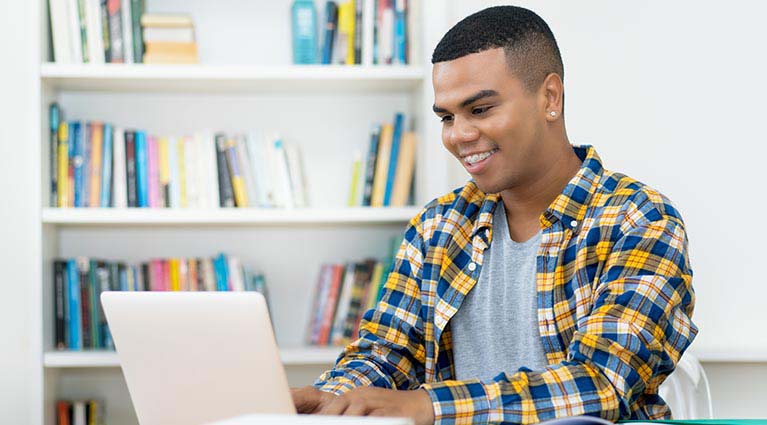 The Benefits of Online Learning
Self-paced courses so students can learn and retain information at the speed that works for them.
24/7 access to the Student Portal so they can study whenever they like.
Ability to take school with them wherever they go.
Learn independence and time management skills.
Paula P.
Penn Foster Parent
"The self-paced learning, the curriculum, the ease that the child understands, and actually GETS it, is amazing. She is so happy, and it has brought out such a difference in her."
Jana H.
Penn Foster Parent
"The transfer process [to Penn Foster] was seamless. His grades in Penn Foster improved significantly. He brought his GPA up from around a 2.7 to around a 3.5 with Penn Foster. So he not only surprised himself but he definitely surprised me!"
Kimberly Q.
Penn Foster High School Graduate
"I always dreamed of graduating and walking across the stage and throwing my cap up into the air. And I got the chance to do that at Penn Foster. That changed my life."
Does Penn Foster High School accept transfer credits from other schools?
Penn Foster does accept credits from previous high schools. To transfer credits for your student, an official, sealed transcript must be sent from the previous school for evaluation. Credits from courses that are equivalent to the Penn Foster curriculum and that come from regionally accredited high schools will be considered for transfer. You can learn more about credit transfer here.
Can my student enroll in NCAA-approved courses?
Penn Foster's general high school diploma is flexible enough to keep up with young athletes' busy travel and training schedules. They can gain an education that follows them anywhere, allows them to learn at their own pace, and can be accessed 24/7. Hear from one of our student athletes about her experience.
Looking for courses registered with the NCAA? Learn more about the courses offered by Penn Foster's partner school, James Madison High School, by calling 1-800-961-6407.
Can my student enroll in college after graduating from Penn Foster High School?
Penn Foster High School is an accredited program that allows students to earn a recognized high school diploma. However, acceptance of a high school diploma can vary based on the college or university. No form of accreditation can guarantee that any learning institution or employer will accept the high school diploma. We recommend checking with colleges and universities your student is interested in attending to verify they accept the Penn Foster High School diploma before enrolling into the program. For a list of schools that Penn Foster graduates have been accepted to, click here.
Can my high school student complete all of their work online?
The amount of work that can be completed online varies by program. Some high school programs can be completed entirely online, while others may require physical textbooks.
Do I need to purchase textbooks for their online classes?
No! Most of the coursework is easily accessible to the student through their student portal. The majority of study guides and materials are provided online for a mobile learning experience. For courses requiring textbooks, students will receive access to digital eBooks at no extra cost.
Does Penn Foster alert my local school of my student's enrollment for truancy purposes?
Before enrolling your student in Penn Foster High School, we advise checking with your school district or board of education to verify what steps you need to take to provide proof of enrollment. Penn Foster doesn't contact your district, so parents are responsible for ensuring any necessary paperwork is completed to prevent truancy.
Does my student need to take standardized exams or pass a state-mandated test to graduate?
No! In order to graduate, your student must simply complete and pass all courses and assignments, and tuition needs to be paid in full to receive their official diploma. While some states do require graduation tests before awarding diplomas, Pennsylvania, where we're licensed, does not. Standardized testing is not required in our curriculum, though parents can choose to pursue that for their students outside of Penn Foster.