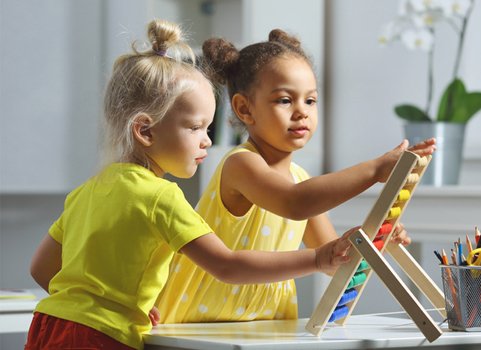 Child Care and Education
Write A Lesson Plan for Early Childhood Education
As a teacher, lesson plans are a vital tool you'll use each day to make sure your students get the most out of their education. Writing an effective plan can help you stay organized and help your students get the most out of their lessons. But how do you write a good lesson? Here's what you should know to get started.
As a teacher, lesson plans are a vital tool you'll use each day to make sure your preschool students get the most out of their education. Writing an effective plan can help you stay organized and help your students get the most out of their lessons. But how do you write a good lesson? Here's what you should know to get started.
The importance of lesson plans in early childhood education
Learning starts early! Even though preschool may have less scheduled learning time compared to an elementary school, the activities and projects the kids work on should be geared toward developing skills and learning more about the world around them. Besides helping you decide what you'll cover for the day, effective lesson plans can act as a guide to help you improve. What worked well about your lesson plan? What didn't? How can you make changes that will benefit your students?
Every lesson plan is not going to be perfect for what the kids end up needing, so being able to reflect and learn each day is an important part of making sure your students get the most out of their time with you.
Read more:
How to Become a Preschool Teacher (6 Things to Know Before You Start)
How to write a lesson plan
The first step in writing a lesson plan is choosing a planning format. For new teachers, following a template can be very helpful. Typically, a lesson plan will include
Your objectives.
Plans for the materials you'll need and an outline of the activity.
How you'll assess how well the students mastered the skills being taught.
Once you've become more experienced writing lesson plans, you can choose to create your own lesson plan template or modify your current template to best suit your needs and the needs of your classroom.
Step 1) What are the objectives of the lesson
Every activity should be geared toward learning. Even free play time can teach preschoolers important lessons! When you're planning your activities, consider what the objectives of each activity are. For example, doing a craft isn't just about making a piece of art they can take home to their parents. During a craft, students can learn how to share and work with others, work on their motor skills, and learn more about different colors and how they go together.
Each activity should target particular objectives, both those that you decide, as the teacher, they should meet and objectives that students are required to meet by the end of the school year.
When creating a lesson plan, sometimes you may think of the activities you want to do before considering the objectives! That's okay – once you have activities in mind, you can align them to the different things your students should be learning.
Step 2) Plan the learning activities
Keeping things exciting and fun, while still helping students grow and develop, is a large part of being a preschool teacher. When creating your lesson plans, you want to come up with engaging, new activities for your students each day. These activities should be age appropriate and help your students reach their learning objectives. Activities can teach skills like counting, motor skills, social skills, and more. Ideas for typical activities include
Crafts. Crafts can not only be fun and give the students something to take home to their parents, they can also teach children a variety of skills. From counting and learning their letters, to naming and understanding colors, art projects can help your students begin to develop their skills in new ways. Another benefit of crafting projects is that there is an endless variety of different age-appropriate crafts you can work on with your students so that you never run out of ideas!
Games. Games help children build social skills, problem solving skills, and understand the importance of working well with others. Games can also teach your students things like counting, letters, and more. Different types of games are a fun way to help students learn while also encouraging them to have fun.
Recreation. Play time is important to growth and development. Scheduling activities that allow students to play, use their imaginations, and move their bodies is essential to helping them become well-rounded.
Story time. Stories teach important lessons and reading to your students can help them develop their own vocabulary and reading skills.
Step 3) Assess student understanding
Even when your activities seem more focused on fun versus strictly learning, your students are still learning and growing. When planning activities and creating your lesson plan, you'll also have to decide what success means for each of the activities. What should children learn from the activity? Using your lesson objectives, you can determine what your students should be able to do after the lesson.
For example, if your objective was to have students work in pairs to create a craft to build teamwork and sharing skills, you'll measure success based on how well they worked together to do their project.
Assessing the success of your activities isn't just important to understanding what your students learned. It's also important to help you improve as a teacher and understand what types of lessons work and what lessons don't so you can adjust your plans accordingly.
Plan your career as an early childhood educator with Penn Foster
Creating engaging, effective lesson plans isn't something you'll automatically be perfect at! Learning how to properly plan activities for your students that meet objectives is a skill you'll build while training to become an early childhood education teacher. With Penn Foster's online education courses like the Early Childhood Education Associate Degree and the CDA Preparation Undergraduate Certificate, you'll build the skills needed to take the first steps toward a successful career as a teacher, including how to plan lessons, measure growth and development, and more!
To take the next step toward your career in education today, reach out to our Admissions Team at 1-888-427-6500!