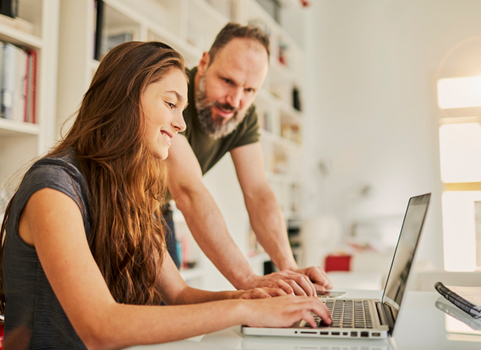 High School for Teens
High School
Online Learning
Parents of High School Students
A Parents Guide To Online High School
More and more, online high school is becoming an option that parents are choosing for their students. If you're considering transferring your child from public high school to online, you may have more than a few questions about how the whole process works. Before you enroll them or they start their first class, here's what you need to know about how to do online school well.
More and more, online high school is becoming an option that parents are choosing for their students. If you're considering transferring your child from public high school to online, you may have more than a few questions about how the whole process works. Before you enroll them or they start their first class, here's what you need to know about how to do online school well.
How do you switch to online high school?
If you're considering online high school as an alternative to local public schools for your student, you may be unsure where to start. How do you find the right school? How do you transfer your child from their current school? What are the expectations for students enrolled in online high school? Here's what you need to know.
Step 1: Research online schools
There are a variety of options out there for parents considering online high school - from public to private schools. Before officially making the switch, it's important to find out which option is going to work best for you, your student, and their future. Some things to consider when finding the right online high school include
Accreditation. Accreditation is essential to ensure your student is receiving high-quality education and that their diploma can be used to help them take the next step toward their future. All public, state, and federally funded schools are regionally accredited; some also have national accreditation. For high school, however, regional accreditation is the most important. When a high school isn't accredited, colleges, universities, and employers may not recognize the high school diploma as legitimate.
Tuition. How much does the school cost? While public schools don't cost a parent, many online schools – especially private ones – have tuition. Make sure that the tuition is something that can work with your budget.
Experience. Online school is becoming more and more popular as an alternative to public schools. That means there have been many new schools that have popped up in the last few years. Before enrolling your student, make sure that the school has experience and their graduates have real outcomes.
Step 2: Ask questions
You've found the right online high school, great! Now that you've done your independent research, you'll want to contact the school and ask a few questions to really make sure it's right for you and your student. Ask the admissions department or advisor questions such as
What materials does my student need to do their classes?
What is a typical day like? Is there a set schedule?
What are the expectations for students in terms of grades and attendance?
Are there required login times?
How much should I be involved as a parent?
The questions you ask should help you really understand the school, how classes work, and whether or not it's the best fit for your child's education.
Read more: How to Choose an Online High School
Step 3: Enroll
You've 100% decided to take the next step and enroll your child in online high school. What's next? Before officially signing any enrollment paperwork or making a payment toward tuition you want to make sure you follow the guidelines of your local school district to correctly transfer your student into their new school.
Talk with your student's school guidance department about the transfer process. What paperwork do you need to fill out? Do you need to show proof of enrollment in a new school? Once you know what you need to get them to make it official, you can then take the final steps to enroll your child in their new online school!
Step 4: Complete the transfer process
Once your student is enrolled, you'll want to notify their previous school and send over any proof of enrollment paperwork you need to. You'll also want to make sure they send a sealed, official copy of their transcripts to the new school to make sure there isn't a gap in your child's education records. Transcripts are also needed to ensure that your student gets credit for classes they've already completed so they don't have to retake them.
Step 5: Set expectations and get started
While an accredited online high school has a similar curriculum to a local public school, it can be a very different experience for your student. After all, they don't have to attend class in-person and they may not have dedicated class periods like they're used to. Before they start their first day, it's important to discuss expectations with your student, set a schedule, and go over any questions they may have about online classes.
How do you prepare for high school online?
Preparing for a new school year can usually involve buying new clothes and school supplies. Preparing to start high school online can be a little different because there is more to it than showing up. To prepare for their first day, your student should
Know their schedule.
Set up a quiet study space.
Make sure their computer and internet are working properly.
Have study supplies like notebooks, pens, and pencils ready.
Make sure they know their student login information.
Depending on the school you've chosen, your student may not have a set schedule provided by the school so before they get started, take the time to figure out when and where they should study.
Read more: Must Have Apps for High School Students
How many hours a day should they do online school?
Depending on the school, there could be a set schedule – most public schools hold classes from 6 to 7 hours per day, 5 days a week – or it could be up to you and your student to decide when and where they study. If your child's new online high school is self-paced, sit down with them before they get started to talk about how much they should study and create an easy-to-follow schedule.
For example, at Penn Foster High School, students don't have to login at any particular time and there are no live lectures, exam due dates, or deadlines. That offers a lot of flexibility for you and your student to make the school schedule that works best for them.
When determining a schedule, consider things like whether your student works best at night or in the morning, their extracurricular activities, and whether they have other responsibilities. You'll also want to consider when they hope to graduate by. With self-paced high school classes, your student could potentially graduate earlier than their public school peers. It all depends on the pace and schedule you decide on.
While a school like Penn Foster doesn't require your student to study a particular number of hours per day, it can be a good rule for them to dedicate at least 2-4 hours per day to their studies. That could mean time spent reading study guides and assigned reading, taking tests, working on papers, or reviewing notes.
Related blog: When Should I Start Online High School Each Day?
Are online classes easier or harder?
Online classes aren't necessarily easier or harder than regular high school classes. They can, however, be a very different experience from traditional, in-person classes. There are pros and cons to taking online classes and understanding the challenges your student may face can help them tackle any problems early on.
The pros of online high school classes:
No set deadlines, due dates, or class times
Able to take their time with difficult coursework
Students can learn in the way that works best for them
Students can take the classroom wherever they go
For Patricia C., the parent of two Penn Foster High School students, the self-paced schedule was just what they needed to succeed.
"The self-paced environment makes students feel like they don't have to stress if they don't get to a test on Friday," she said. "Because it's self-paced it accounts for what's going on, because things can come up."
The cons of online high school classes:
No set class times and due dates means students need to have strong time management skills
No live lectures to guide how your student takes notes
Students may procrastinate without set deadlines
Advice for parents of online high school students
Being the parent of an online high school student comes with its own challenges, too. In a traditional public school, your child has teachers, guidance counselors, and due dates to keep them motivated and on track, while online school is designed to be more independent. That can often mean that you're responsible for pushing your student to keep studying and get their work done. But online high school can offer a rewarding experience that helps students build new skills on their schedule.
To help your online high school student stay focused and on track for graduation, we've compiled some tips and tricks that can make a difference.
1. Set goals and encourage your student to reach them
Having specific goals, daily and weekly, can help your high school student easily work toward achieving the big goal: graduation. Small goals can also give your student a sense of accomplishment because they're regularly achieving something, whether that's finishing a lesson or taking an exam.
According to Patricia, "Once my son saw his first 90 percent, that was all the motivation he needed."
2. Be aware of resources and how to get help
Online school is more independent than traditional school but that doesn't mean that your student doesn't have support and help from their teachers and peers. When you first enroll your child, make sure you are aware of all the resources available to help them succeed.
Daniel S., a Penn Foster High School instructor, offers this advice: "Your teachers are here to help with any questions you have about your studies, and they continuously create many helpful resources to assist you with the coursework. Please utilize both the assistance of your teachers and their resources, and you will be well on your way to achieving your academic goals."
3. Remember that perfect grades aren't the only sign of success
A successful student isn't just someone who has straight A's! Success can mean learning from mistakes, growing, and building new skills that can be helpful outside of school.
"Welcome mistakes," high school instructor Alyssa S. advises. "Mistakes are proof that you are trying. Mistakes are how we learn and grow."
Related video: Facebook Live: What Makes a Successful Student
What makes Penn Foster High School a good choice?
If you're considering enrolling your student in Penn Foster High School, but still aren't sure if it's the right fit for you and your family, learning more about the school and how it's worked for students in the past may help you make your decision! Through resources like our dedicated Admissions Specialists who can answer any questions you have over the phone, interviews with other parents, and helpful guides and stories on our blog, you can find all the information you need to make the right decision for you and your child.