Pursue a Career as a Medical Administrative Assistant​ Online
Take the first step toward a new career as a medical office assistant with accredited training from Penn Foster College. With our online Medical Administrative Assistant training program, you can study when you want, where you want, and at the pace you want — all at an affordable price.​
Prepare to Take the NHA's CMAA Exam with Confidence
Our nationally accredited online Medical Administrative Assistant training can help you prepare for the National Healthcare Association¹ CMAA (Certified Medical Administrative Assistant) as well as the CEHRS (Certified Electronic Health Records Specialist) exams. In addition to engaging, well-structured lessons, your tuition includes a voucher to cover the cost of the CMAA exam ($115 value).
Why Choose Penn Foster College?

Start and Study When You Want
Learn at home or on the go through our custom-designed, mobile-friendly learning platform, available 24/7.​

Dedicated Success Coaches
You're guided by Certified Instructors, Success Coaches, Teaching Assistants, and Student Support Staff - all working to help you succeed.

On-Demand Learning
Do not wait for a class to start — you decide when to begin with our on-demand learning platform.

Set Your Goals and Pace
Customize your study and exam schedule with progress-tracking and goal-setting tools that keep you moving forward.

Proven Reputation
With over 40,000 graduates in 2018 from our regionally and nationally accredited High School and Career School and nationally accredited College, you're in good hands!

Connect with Other Students
Connect in real-time with other Medical Administrative Assistants in our Penn Foster Community.
Why Become a Medical Administrative Assistant?
As demand in the U.S for healthcare increases, so too does the demand for medical assistants. As a medical assistant, you will likely manage the front desk of a healthcare facility and assist with other managerial tasks. According to the Bureau of Labor Statistics, the annual average salary of a medical assistant is $37,870.² While overall job growth for administrative assistants is on the decline, demand for medical assistants will continue to rise due to the aging population in the US. There is no better time to become certified than with Penn Foster's Online College!​
A Customized Learning Experience
With mobile-friendly coursework, progress-tracking and goal-setting tools, virtual simulations, informative videos, and personal coaches to help you succeed, the Penn Foster Experience (PFx) is online learning like no other.
Medical Administrative Assistant Course Details
Our Medical Administrative Assistant courses cover topics such as office procedures, body systems/terminology, basic pharmacology, and more to help you succeed in a medical office setting.
Medical Assistant Tuition
With flexible, affordable payment options, you can get started on your online Medical Administrative Assistant training today.​
The program helped me understand what the field would consist of.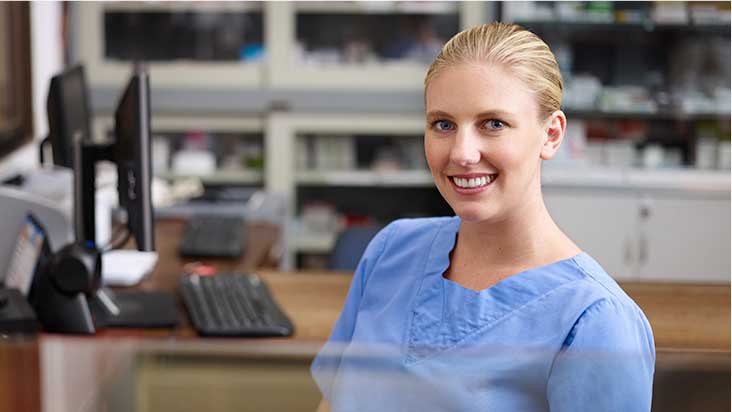 The need for caring and professional people in the medical field is growing, fueled by an aging population and rising healthcare costs. There's no better time than now to take the first step toward a rewarding career helping others, as jobs in the field are projected to grow by 29% by 2026. With an average annual salary of $37,230,² becoming a Medical Administrative Assistant can help you begin an entry-level career in healthcare. Whether you are looking to work behind the scenes as a Medical Administrative Assistant or want to be more involved as a Medical Assistant, start your training with Penn Foster.​
Ready To Enroll?
Get started today on your path toward an exciting career as a Medical Administrative Assistant with Penn Foster College's accredited, online program.
Enroll Now
Hundreds of leading employers and workforce organizations partner with Penn Foster to attract, develop, and retain talent for today's in-demand middle skilled occupations.