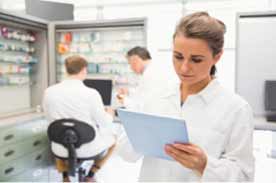 Today's pharmacy technician is an integral member in the healthcare industry. Pharmacy technicians play a vital role in delivering medication to patients. Currently, pharmacists' roles are transitioning from one of dispensing medication to one of "health care provider". As the pharmacist's role continues to develop, pharmacists' are now involved in actively managing patient care. Therefore, the role of the pharmacy technician is undergoing significant change. Pharmacy technicians will be required to fill the gaps and assume additional responsibilities in the medication delivery process. According to the Bureau of Labor Statistics, pharmacy technician positions are to increase by 20% by the year 2022.¹
As the role of the pharmacy technician continues to develop, pharmacy technicians will be required to pursue additional education plus develop new skillsets. If you've been considering a career as a pharmacy technician, here are a few of the important skills and aptitudes you'll need to get ahead:
Pharmacy Technician Essential Soft Skills: (random order)
Team Player
Initiative
Commitment to learning
Skilled communicator
Adaptability/Flexibility
Accurate and detail oriented
Ability to focus and prioritize
Organized
Problem Solving/Critical Thinking
Critical Observation
Conflict Resolution
Time management
Common sense
Empathy
Strong work ethic
Computer skills
Team Player
Pharmacy Technicians are integral members of the "healthcare team". It takes a team of professionals to deliver medication safely to the patient. It is essential that pharmacy technicians
Communication and People Skills
There are a number of people and businesses involved in the delivery of medication to the patient. Pharmacy technicians will be required to interact on a regular basis with co-workers, healthcare professionals, patients, and insurance personnel.
Accurate and detail oriented
Millions of people rely on medication to improve the quality of their lives. Therefore, pharmacies are usually very busy places. The medication delivery process places patient safety first and foremost. Pharmacy technicians must be able to multitask while maintaining accuracy and great attention to detail. These are essential qualities in the pharmacy technician.
Computer skills
Pharmacy today relies heavily on the exchange of electronic information. Today, pharmacy maintains patient medication profiles, receives prescriptions, adjudicates insurance claims, and orders medications via computer. Pharmacy technicians will be required to use many different platforms, application programs, and operating systems.
The best way to ensure your success as a pharmacy technician is to begin with pharmacy technician education. Enrolling in a program that provides you the coursework and hands on training is a great way to start. At Penn Foster Career School, you'll learn what it takes to be a valuable pharmacy team member through in-depth coursework and on-site externships that let you put your skills to work. And, you can learn it all in as little as nine months. Learn more about what it takes to become a pharmacy technician by visiting the Penn Foster Career School site and exploring the benefits of its pharmacy technician program today.
¹ http://www.bls.gov/ooh/healthcare/pharmacy-technicians.htm Statistics found in the United States Department of Labor Occupational Outlook Handbook are based on national data, so job growth in your area may be different.