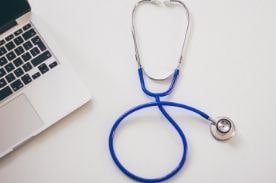 Jobs in healthcare are almost always in-demand and that trend will continue. With an aging population, more people on regular prescription medications, and patients focusing more on health and wellness, the Bureau of Labor Statistics projects that jobs in healthcare will grow 15% in the next 10 years. That means adding an additional 2.4 million job opportunities for those who are interested in starting a rewarding career in the field. But with so many different healthcare jobs, how can you decide which one is the right fit for you? Here's where to start.
How to find the right healthcare job for you
The healthcare industry offers a variety of jobs; from roles in offices and administration to those that work directly with patients in clinics, hospitals, and doctor's offices. With so many options to choose from, finding the right job in healthcare for you can seem overwhelming – but it doesn't have to be! If you're thinking about starting a new career, narrow down your choices by asking yourself a few questions.
What kind of environment do you want to work in? You can narrow down your healthcare career options by deciding what sort of environment you'd prefer to work in. Do you like a quiet office? Or a busy clinic setting?
What kind of work schedule do you want? Some healthcare jobs offer a steady 9 to 5, while others require you to be more flexible and willing to work nights and weekends.
Do you want to work in a role that requires customer service skills? Do you like working with people regularly? Does helping a customer make you happy? Or do you prefer to work in a setting that doesn't require working directly with clients and patients? There are many roles in healthcare that don't require any client interaction while others are heavily involved in patient care and customer service.
How much training do you need? Some healthcare jobs will require years of training before you can even consider applying for an entry-level position, while others only require a few months of training. Deciding how much time you're willing to dedicate to preparing for your new career path can help you narrow down your options!
Read more: Top Allied Health Careers (and Why They're Popular)
What administrative healthcare jobs are available?
Administrative jobs play an essential role in healthcare, ensuring billing is processed correctly, appointments are scheduled, and a patient's health records are accurate and up to date. If you're someone who prefers to work in an office setting on a regular schedule with limited or no clinical duties, you might want to consider careers like
Medical billing and coding. Working in medical billing and coding, you'll spend most of your time in an office or working from home processing patient records and insurance claims. This role has very little to no patient contact and requires organizational skills, attention to detail, and a knack for remembering codes. You can train to become one in as little as nine months.
Medical transcription. Medical transcriptionists transcribe voice recordings for physicians, ensuring that all notes are accurately recorded and documented in a patient's file. In this job, you'll have no contact with patients, working directly with doctors and office staff. Transcriptionists often have a stable work schedule and can work from an office or from home. You can train to become one is as little as five months.
Healthcare management. Jobs in healthcare management allow you to use your leadership skills and make a difference for patients without actually working directly with them. Healthcare managers often work in the administrative offices of clinics or hospitals and focus on the business side of things, making sure that the facility can operate at its full potential. You may work with patients occasionally to address concerns but won't be responsible for clinical work. Training for a healthcare management position generally requires you to earn at least an associate degree, so that can take around two years.
See more: Your Medical Billing and Coding Salary Guide
What clinical healthcare jobs are available?
If you want to work with patients or enjoy the science behind healthcare, working in a clinical role might be the best career option for you. Consider careers like
Home health aide. Home health aides work on the go, visiting and caring for patients in their homes. This job is all about working directly with patients, so compassion, empathy, and people skills are necessary. You may have a semi-regular schedule where you don't work nights but may be required to work some weekends. You can train to become a home health aide in as little as six months.
Medical assistant. Medical assistants can work in doctor's offices, clinics, urgent care facilities, and hospitals. They play an important role assisting physician's in taking patient vital signs and information. As a medical assistant, your work schedule can depend on the environment you work in. Someone in a hospital setting, for example, may work night shifts, while someone working in a private practice will often work a Monday through Friday schedule. You can train to become a medical assistant in as little as eight months.
Sterile processing technician. Sterile processing technicians are essential to the maintenance, storage, distribution, and sterilization of medical instruments. Many technicians work alongside physicians and surgeons, registered nurses, and other healthcare workers at hospitals, outpatient care centers, physicians' offices, and other medical facilities. This job can be the perfect fit for someone who is organized, detail-oriented, and wants to see the impact of their work without working with patients directly. You can train to become one is as little as a few months.
Read more: Dental Assistant vs Dental Hygienist
Customer service focused healthcare jobs
While many healthcare jobs have some aspect of customer service involved, there are a few that absolutely require strong customer service skills. If you like working with people, including coworkers and clients, these careers might be your best fit:
Pharmacy technician. Pharmacy technicians most often work in retail pharmacies, assisting pharmacists in processing and filling prescriptions. However, a large aspect of the job is also helping customers when they drop off or pick up their prescriptions. This job offers a fairly steady work schedule, with a few night or weekend shifts depending on where you work. You can train to become a pharmacy technician in as little as eight months.
Optician. Opticians often work in a retail setting, helping customers fit glasses and contact lenses. While some work in done behind the scenes, much of your time could be spent working directly with your customers. Depending on where you work, you'll have a steady schedule and may work some weekends. You can train to become an optician in as little as seven months.
Read more: 12 Myths About Online High School
Train for a rewarding healthcare career with Penn Foster
Penn Foster's flexible online healthcare classes can help you prepare to take the next steps toward a career you want. Learn more about which healthcare career is right for you or get started today by speaking with our dedicated Admissions Specialists at 1-888-427-6500!