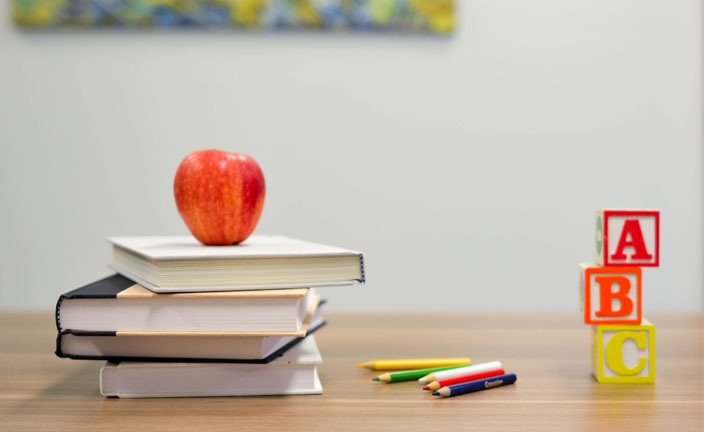 Getting the skills you need for a career in early childhood education may mean you are already working in the field, or plan to. With that, you'll also want the knowledge and credentials to prepare you for this important career, and that's where an online education can come in handy. Online education offers flexibility as you can complete your courses on your own time, but our instructors are here to help you get through the tough stuff and keep you motivated. ECE instructor, Sarah Owens, loves educating young children and loves helping our learners prepare to do this rewarding work.
Tell us what you teach at Penn Foster and why you're passionate about it.
Sarah: I am an instructor for our Early Childhood Education programs and courses. I'm really passionate about ECE because it is where a love for learning begins, and it is where we lay the foundation for each person's future. I began my career fostering the growth and development of preschoolers and working with children with special needs, while also supporting their families and connections to the community. Now, I'm able to share that passion and my experiences and knowledge with future, and current, educators in the field, helping them to understand how to guide young children's learning and development in meaningful and appropriate ways.
Read more: Benefits of Dramatic Play in Early Childhood Education
How did you get into early childhood education?
Sarah: My love for working with young children started when I was just a child myself. My mom had an in-home child care program while I was in elementary school. I was given opportunities to observe her work with the children and, often times, participate in guiding their learning and development through fun, engaging, hands-on experiences. She showed me how important it was for young children to have positive trusting relationships with their caregivers and how much impact caregivers have on young children's lives. Those early experiences helped me realize how important our work with young children is and drove me towards the field.
Read more: Everything You Need to Know About Your CDA Credential
Tell us a bit more about yourself!
Sarah: I have been married for 11 years to my wonderful husband, Dan. We have three children together; Ava is 10, Dryden is 7, and Asher is 5. We also have two pets; Stryker, a 1-year-old Hanoverian Scenthound, and Carrot, a 3-year-old American Lop. I really enjoy scrapbooking, painting, walks along the lake, and beach vacations.
How can a learner get into a career in ECE? Is now a good time to pursue this subject?
Sarah: Our learners are already working to fulfill required education for entering the field of ECE, so the next step is to gain experience. Students can read all of the course textbooks and conduct research, but practical experience in the classroom and working with young children is just as valuable and essential to their development as an educator. This can be done many ways, depending on each individual's situation and location. If schedules allow, volunteering in local child care centers and programs is a great way to gain hands-on experience. Many also find it helpful to enter the field as an assistant, gaining that classroom experience under the guidance and direction of another educator. Then they can work their way up to becoming a lead teacher. The best thing to do is to dive in, in whatever way you can. Your first position might not fit perfectly into what you pictured when you started your program but remember that it is a step in the right direction.
Educators, especially those in early childhood settings, are in high demand right now. The pandemic was, and continues to be, a very difficult and trying time for all and education is currently experiencing a serious shortage in teachers, assistants, caregivers, and administrators. If this is something you're passionate about and a journey you are ready to begin, now is a great time to join the field.
Read more: Top 10 Reasons to Become a Child Care Provider
What's something you think would be helpful for learners to know to succeed in their studies?
Sarah: Read all of the materials we provide in our courses, even those that seem insignificant. The information provided in the study units and textbooks is valuable and will support your efforts in the program and your work in the field.
What does it mean to you to help our learners get a good education?
Sarah: Helping our learners get a good education means changing their lives for the better. Our students come to us for education, but I really see them leaving with so much more. I've seen students who started programs with hesitation and doubt in themselves, but finish with confidence and a determination to continue pushing forward. They go on to continue their education even further or they take what they've learned and are doing great things in the field. I can see that for most of our students a good education gives them a fresh start and a clear path for their future.
Read more: How to Become a Preschool Teacher (6 Things to Know Before You Start)
What's the best part about being a teacher?
Sarah: The best part about being a teacher is helping students realize how much they are capable of and helping them gain confidence in themselves.
If you could give our learners one piece of advice, what would it be?
Sarah: One piece of advice I'd give to our ECE learners, is to stay curious. As educators we have to continue learning and remain open to changes that come in the field. Push yourself to ask questions and keep exploring new ideas, concepts, and practices.
Learn more about helping children learn
If you love the idea of learning how to help children learn, Penn Foster's online, Early Childhood Education may be a great fit for you. You can complete your classes on your own time, getting help from instructors like Sarah when you need it. You can request information on our website. Our admissions specialists are also here to help answer your questions. Call us at 1-800-275-4410 to get started.