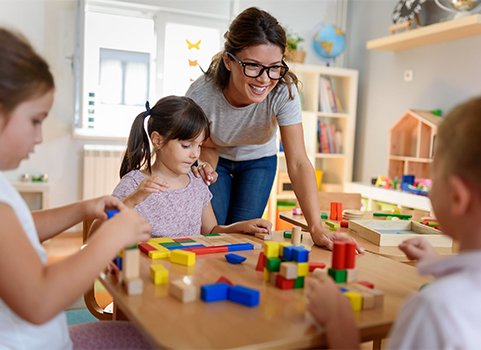 Child Care and Education
The Impact of Dramatic Play in Early Childhood Education
In the early childhood classroom setting, dramatic play is a type of play in which children portray different characters to engage their imagination and build confidence. Here are a few ways that incorporating dramatic play can help you create a dynamic ECE setting.
No matter what age you are, taking time to relax and play is vital to our health and well-being. However, in early childhood education, play - specifically, dramatic play - makes an invaluable learning tool. Dramatic play is a type of play in which children assume various roles and act them out. Dramatic play engages the imagination, builds confidence, and prepares young learners to tackle real life situations. Incorporating dramatic play into your lesson plan can help you bring out your students' full potential.
Types of Dramatic Play
Dramatic play can take many forms, from mimicking household activities like cooking and cleaning, to playing the role of characters in storybooks, cartoons, or history. Some traditional role-play scenarios include parent and child, doctor and patient, and cashier and customer. Many children also enjoy singing and acting out their favorite songs.
Benefits of Dramatic Play
Dramatic play engages virtually every part of a child's developing brain, helping hone a variety of crucial skills including:
Creativity. Dramatic play brings out a child's imagination. Using props and tools, they create the setting for their play and cast themselves into a role different from their everyday self. By working together with classmates and reasoning their way through problems, children develop new thought patterns and learn that there are many ways to handle a given situation.
Coordination. From using a pretend-stethoscope to cooking a make-believe meal, dramatic play builds hand-eye coordination, fine motor skills and reflexes that carry over to real-world activities.
Communication. Sharing ideas and improvising dialogue to fit different roles teaches children to speak clearly and effectively. They learn that words are powerful tools, which improves their vocabulary and encourages activities such as reading, writing, and public speaking.
Arithmetic. From counting out a customer's apples to dialing a phone number, dramatic play brings numbers and quantities into a child's world. They must learn how to add and subtract and be aware of the many objects and people around them. Children who develop an interest in mathematics at an early age are more likely to succeed later in their academic career.
Focus. Dramatic play temporarily limits a child's world, helping them to stay focused and engaged on the task at hand. The more roles and situations a child explores, the better they will be able to concentrate and form their thoughts and ideas in every situation.
Social Skills. Perhaps the most crucial skill in early childhood education, social skills teach children to respect each other, be adaptable, and work well together. This ties in with improved communication skills and increased confidence, a hallmark of great leaders. The social aspect of dramatic play can be especially beneficial in helping shy or introverted children come out of their shell and express themselves without fear.
Encouraging dramatic play is one of the many rewarding roles of an early childhood educator. Whether it's in the classroom or beyond, there are many careers in early childhood education to consider - and whether it's as an instructor, consultant, or even a role model, you have the potential to make a powerful impact on children's lives and a hand in shaping their future for the better.
Learn more:
Sources
How Dramatic Play Can Enhance Learning | Earlychildhood News
What is Dramatic Play and How Does it Support Literacy Development in Preschool? | Scholastic