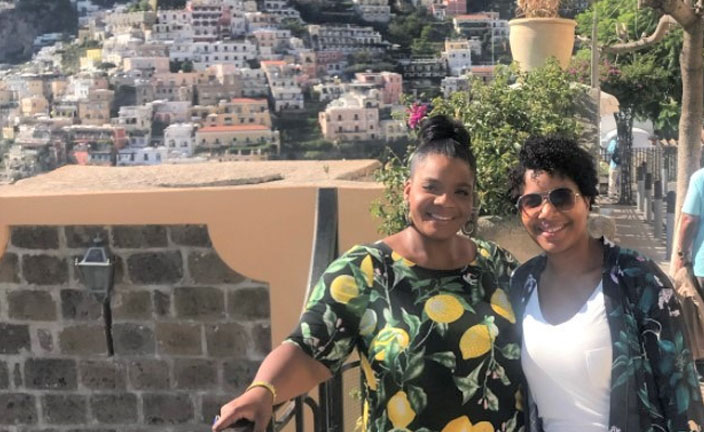 At Penn Foster, our instructors care 100% about what they teach, but care even more about their students. Pharmacy technician instructor, Monique Reed, helps online Penn Foster students get 1 on 1 coaching they need to succeed. While learners complete their students online, on their own time, having the support of teachers like Monique really comes in handy. We interviewed her to learn why she loves the pharm tech profession, and those who pursue it.
Tell us what you teach at Penn Foster and why you're passionate about it.
Monique: I am part of the Pharmacy Technician Team (shout out to my department!). I am an instructor, and we cover all pharmacy topics. One minute we are answering a question about heart medications and the next minute we are watching a student make capsules. I am also one of our program's Externship Coordinators. Y'all, pharmacy is a fascinating topic! Our bodies are like a finely tuned see-saw: a slight tip in one direction or another and we are off-balance. That's where the medications come in. But knowing what medications, and how much, and when and how to take it, and the side effects and…ok, yes, I am passionate about it.
How did you get into pharm tech?
Monique: I have been a full-time volunteer Bible teacher for about 20 years now, so I have always enjoyed teaching. Once I became a certified pharmacy technician and saw that I really enjoyed training new staff, the next step was to try my hand teaching "pharmacy stuff" in front of a classroom. I remember I was extremely nervous at my first teaching job, but the program director told me, "Relax, you know more than they do." Yeaaaaaa….doubtful haha - but I ran with it. And now I have been teaching for 13 years.
Tell us a bit more about yourself!
Monique: I am the middle of three girls and yes, I have middle child syndrome! I had an amazing big brother that we lost a few years ago, but my hope is truly an anchor that holds me firm. Outside of that, we are a large (my mom had 10 siblings and my grandma had 10 siblings), tight-knit family. I am Pittsburgh, PA born and raised, and of course, with that comes Steelers Fever. It's in the DNA – you cannot escape it. I am a huge foodie and I love reading and musicals, and I am a classic black and white movie addict. My biggest love is travel. My sister is my travel buddy (I'm on the left in the pic!) and we have been to over 20 countries in the last 10 years. We have eaten bugs in Peru, hiked to a hidden beach in Santorini, and rode camels in Marrakesh. The pandemic has kept me on lock for the last couple of years, but I hope to go somewhere soon!
How can a learner get into a career as a pharm tech? Is now a good time to pursue this subject?
Monique: Any time is a good time to be a pharmacy technician! The need for medications is constant. Flu season or not. Pandemic or not. Right now, especially though, the need for capable technicians is critical. And students should remember that there are a lot more options out there than just CVS or your local retailer: hospital, long-term care, home infusion, telepharmacy, insurance, education, etc. I would suggest students look at the state requirements (every state is different!) and look at the different job options, and see what is needed for the position they are interested in.
What's something you think would be helpful for learners to know to succeed in their studies?
Monique: Don't be overwhelmed! For example, in our program, students are hit with medications and brand/generic names and body systems and calculations and laws…it's a lot! But no one gets it overnight. Growing is part of the process, so take your time, and don't get discouraged if you don't get it all at once.
What does it mean to you to help our learners get a good education?
Monique: I will be 100% honest – I think there are more important things in life than a career. Things like family and friends and a good support system and a good set of values; those things will always come first to me. At the same time, I think that a good education allows students to be in a position where they can provide better for themselves and their families, or pursue goals that were otherwise out of reach, or perhaps assist them to find a flexible job that will allow them more time for more important things. My aim is not to assist people to climb a corporate ladder but to help them be in a position to live a full and purposeful life, whatever that means for them.
What's the best part about being a teacher?
Monique: The end result is always the best, such as emails from students letting us know they passed their certification exam or were offered a job. You know the hard work it took for them to get to that point, and you feel a sense of accomplishment and a sense of pride. Who knows, maybe it was something I said or did that gave this student the extra boost they needed to reach a goal!
If you could give our learners one piece of advice, what would it be?
Monique: I had a blast when I went to school to be a tech. Y'all, it was like Saved by the Bell. But once I hit the externship, it got super REAL super quick, and I missed those days of just being a "student". So, my advice: enjoy this time being a student. Enjoy getting confused and making a mistake on an assignment and redoing an exam. Every so often, take your book, throw it in a corner and watch Netflix. If you have an eBook, perhaps don't throw it because that won't end nicely. The point is: have fun with this process!
Learn more about building pharmacy technician skills
If you're interested in learning with awesome instructors, at home, at your own pace through Penn Foster's Pharmacy Technician Program, you can request information on our website. Our admissions specialists are here to help answer your questions. Call us at 1-800-275-4410 to get started.