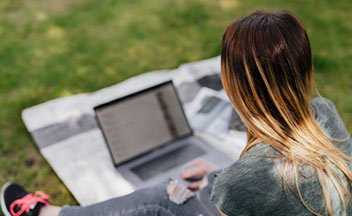 Applying for college while in high school can seem confusing and overwhelming, especially if you don't have the advice of a guidance counselor or you're the first person in your family to consider earning a degree. You may even be uncertain whether you can go to college if you're doing online high school or are finishing your high school diploma as an adult. But just like it's never too late to earn your diploma and finish what you started, it's never too late or impossible to get into college and work towards an associate or bachelor's degree.
Whether you're just starting your online high school classes or you're not sure what's next after graduating high school, here's what you need to know about using your Penn Foster diploma to get into college:
How to apply for college online
While it's not necessary to know what you want to do for the rest of your life before applying to college, having some idea of what industry or careers interest you can help you narrow down your options and decide which colleges and majors could be the best fit for your goals.
To get started, you'll want to research some career ideas and consider things like how much education you need to qualify for jobs you're interested in, the job outlook for different careers, and even potential starting salaries.
If you're totally unsure of what career you want to pursue or don't know where to start, taking a career assessment quiz can be a huge help! Career quizzes will ask you several questions that are geared toward your interests, skills, and workplace preferences to pinpoint what jobs could best suit your personality. There are several free tests you can find through a quick Google search; don't limit yourself to taking just one! Take as many as you like to really get a sense of what jobs could be the right fit for you. It's also important to remember that your results aren't set in stone – you don't have to pursue any of the career paths these quizzes may point you toward – they're just a starting point to help you take the next steps in your education.
After gathering some potential job ideas, you can find out more about different careers and narrow down your ideas even further. Considering the job outlook for different roles and industries can be essential to ensuring that the work you put into preparing for a career is worth it. For example, if you are earning a degree to work in a field that isn't as booming as others, it may take longer to find a job in that field after graduation. You can find great, up-to-date information on job outlook, starting salaries, and what it takes to get started in different careers through sites like
The Bureau of Labor Statistics. The Bureau of Labor Statistics has information about almost any career you can think of, including how many new jobs are projected to open up in the field you're interested in over the next decade. You can also find detailed information about what a person does in different careers, what kind of education you need to start an entry-level job in specific fields, and more.
Glassdoor. Besides searching for jobs in your area, Glassdoor offers articles and information about different careers and even how to choose the right career for you.
Indeed. On Indeed, you can find jobs, research salary information, and even see which careers offer more jobs in your area.
Once you have some ideas for future jobs, you can really dig into researching what kind of education you need to work in those fields. Do you need an associate degree to learn the skills that are required to work in the field? Or do you need to invest your time in earning a bachelor's degree to set yourself up for success? Do you even need to earn a degree to get a job?
If you're not sure you want to get a full degree, it can also be helpful to know about earning a college degree versus a career diploma. After you have a better idea of your goals, you can take the next step – applying to the schools you're interested in attending!
When should I start applying for college?
You can begin applying to colleges while you're still working on your high school diploma! For many students, applying while they're in their junior year or near to completing their online diploma program is the best option because that helps you set up your next step after graduation. If you know what kind of degree you want to earn and what kind of job you want to prepare for, you can even start taking classes in high school that can help you in your future college classes.
However, you can still apply to college after you graduate, too. This can be an especially helpful choice if you're still unsure what kind of career path or school will work best for you.
Application deadlines can vary for different colleges and universities, so you'll want to make sure you know when you need to apply to get started in the next school year. Online colleges will often have what's called "rolling admissions" - that means that you can apply any time, no deadlines – although when you apply can impact when you're able to start your degree.
As a student in a self-paced high school diploma program, schools that offer rolling admissions can be a great fit. Since you can finish your online high school classes at the speed that works best for you, you may not meet the enrollment deadlines of traditional colleges. Online rolling admissions allow you to apply for college as soon as you're ready! And, even better, with an online college like Penn Foster, you can often start your college degree as soon as you graduate and keep up the momentum you built while completing your diploma.
What is applying to online colleges like?
Applying to online colleges can go two ways: you'll apply just like you would to a traditional, on-campus college program or you'll follow a more streamlined application process. Here's what you need to know.
The standard application process. Many online colleges follow a traditional timeline, including application deadlines and set semester start dates. That means you'll need to have your application completed and submitted by a certain date to be considered for enrollment in the following semester or year. You may also need to submit standardized test scores from the SAT or ACT to be considered. This process can take months, from gathering what you need to submit your application to waiting to hear whether or not you've been accepted.
The streamlined process. There are also online colleges that have rolling admissions or a more straightforward application process. In a more streamlined process, you'll submit your application and get approved in a shorter period of time. You may even be able to enroll in an online college as soon as you're ready and get started on your first classes in the same day. For example, with Penn Foster's college degrees, you'll fill out your information in an enrollment form or by speaking with an Admissions Specialist, make the first payment toward your tuition, and be able to login to your Student Portal within an hour.
Before starting the application or enrollment process, you'll want to make sure you have everything you need. For Penn Foster's college degree programs, you'll need to make an initial tuition payment, then once you're officially enrolled, you'll take two assessments – basic reading and basic math – before diving into your first semester classes.
College application requirements checklist
When you're applying to or enrolling in a college program, you'll need to meet a few requirements. These include
Having a high school diploma or equivalent.
Completing college applications or enrollment forms.
Making a payment towards tuition or, in a traditional school, setting up your financial aid.
Taking your initial assessments or placement exams.
What colleges accept Penn Foster High School?
As a graduate of Penn Foster High School, you've earned a regionally and nationally accredited high school diploma. That means that your diploma can be accepted at many, if not most, colleges around the country. However, it's important to remember that different schools have different enrollment requirements, so not all colleges may accept your diploma. Before you start the college application process, it can be helpful to reach out to the admissions department of the schools you're interested in attending to confirm that they accept your Penn Foster High School diploma!
But, as a graduate of Penn Foster High School, you can be confident colleges have accepted our diploma in the past, from online colleges like University of Phoenix to in-person schools like Wayne State University. Schools our alumni have attended include:
University of Jamestown
Kaplan University
Evergreen State College
Daytona State College
City Colleges of Chicago
Lewis & Clark State College
And more!
You can also check out the full list of colleges Penn Foster High school graduates have attended.
As a Penn Foster High School grad, you can also dive right into a Penn Foster degree program once you've finished your high school classes!
Prepare for college with Penn Foster High School
Preparing for college doesn't have to be scary! With Penn Foster's online high school, you can earn an accredited diploma that can help you prepare to take the next steps in your education, whether that means a technical school, community college, or four-year university. You can even make sure you're extra prepared for the kind of classes you'll take in college by earning our High School Diploma with Early College Pathway, which covers more academically challenging courses that college admissions departments are looking for from applicants.
Not sure what you need to do to enroll in Penn Foster High School or one of our nationally accredited degree programs? You can learn more about admissions requirements, tuition payment options, and other frequently asked questions on our website or by contacting our dedicated Admissions Team at 1-888-427-6500!