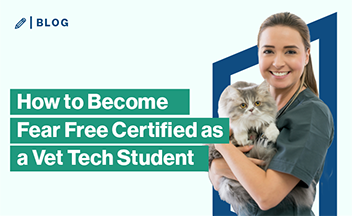 Certifications can help your resume stand out when you're applying for jobs and being certified can show that you have skills that can be beneficial to the workplace. As a veterinary technician student, you can earn some certifications before you even graduate! One helpful certification that can make a difference on your resume and on the job is the Fear Free certification, which is available to students at no cost. Here's what you need to know about what the certification is, what you'll learn, how to sign up, and more!
What is Fear Free certification?
Fear Free is a way to approach vet visits and exams in a way that can help reduce fear and anxiety for pets, making it a better experience for animals, their humans, and veterinary professionals. Becoming Fear Free certified as a veterinary technician can add an additional and valued skill to your resume, while also helping you learn techniques that can make working with scared and anxious animals an easier process.
Through the Fear Free program, you'll learn how to recognize and reduce or remove things that may trigger anxiety for pets, how to ensure pets remain calm when owners transport them to the veterinary office and during exams, and special handling techniques that can help pets feel more comfortable during their veterinary visits.
The training course covers lessons like
Fear Free Transportation of Cats and Dogs to and from the Veterinary Hospital
Fear Free In-Hospital Care
Fear Free Procedures
Pre-Visit Protocols
Read more: 6 Things No One Tells You About Being a Vet Tech
How long does Fear Free certification take?
Fear Free training is completed entirely online and can take as few as a handful of hours to complete. It involves completing 8 modules that cover the different aspects of Fear Free procedures. At the end of each module, you'll take a quiz reviewing what you learned, and you'll need to get an 80% or better on each quiz to move forward.
Once you register for the online certification, you'll have a full year to complete all the modules if you need that time. This allows you to go through the training at your own pace – just like your Penn Foster program!
Why should I get Fear Free certified as a vet tech?
If you're currently training to become a veterinary technician or considering doing so, you likely made the decision to pursue the career because you love animals and want to help them be happy and healthy. Happy, healthy pets need regular veterinary visits to stay that way, but it isn't always a pleasant experience for them, which can make your job harder. Through Fear Free techniques, you can help pets get through their visits as smoothly as possible! By understanding how to reduce and eliminate anxiety and calm scared pets, you can make sure exams are quicker, that pets don't accidentally hurt themselves or you, and that they receive the best care possible.
Read more: Vet Assistant to Vet Tech: Advancing Your Career as a Working Parent
Is Fear Free certification worth it?
Fear Free certification is definitely worth it! Earning Fear Free certification isn't a requirement to work as a veterinary professional, but it's a great skill to add to your resume to help you stand out when you're applying for vet tech jobs. Even better, you'll know that you're looking after a patient's physical and emotional well-being when you use your Fear Free skills.
The benefits of becoming Fear Free Certified include
Being able to give pets the best vet experience possible
Access to the online Fear Free Library
9 hours of Registry of Approved Continuing Education (RACE) CEs
Skills that can help you stand out as a vet tech
And, for students, Fear Free certification doesn't cost a thing!
In order to keep your certification active once you've earned it, you'll have to renew your certification every 3 years. This can involve a yearly renewal fee and completing 4 hours of Fear Free continuing education each year. You can take additional Fear Free courses online, attend a Fear Free workshop, or complete a Fear Free track at any of the annual veterinary conferences.
Read more: How to Turn Your Vet Tech Externship Into a Job Offer
How to sign up for Fear Free through Penn Foster
As a Penn Foster Veterinary Technician student, you're eligible to sign up for Fear Free certification at no cost to you! You don't need to have graduated or be at a particular point in your studies to sign up; you can take advantage of the training any time after you enroll in your Penn Foster Degree.
To register for Fear Free, follow these steps:
Fill out the student application. You'll fill out your personal information, like your name, email address, and phone number, and answer two easy open-ended questions. You also need to provide proof that you're a student to get the program at no cost. You can fill out the application here: https://fearfreepets.com/fear-free-student-and-faculty-application/
Provide proof of enrollment. To show that you're a Penn Foster student, you will take a screenshot of your Student Portal that includes your name and student ID number. This can be done on a computer or mobile device. You'll attach that screenshot to your online application.
Check your email. Once you've submitted your application and proof of enrollment, you should receive an email approving your application shortly after. This will give you instructions for registering and how to use your discount code to finish your registration.
Get started! Once you're officially registered, you'll have a year to complete the training, though many students finish it in as little as a few hours or a few days.
Fear Free isn't a Penn Foster program, it's just an added benefit to being a vet tech student! If you have any problems with registration, the program, or any other Fear Free specific questions, it's important to remember to contact Fear Free directly at [email protected].
Connect with other Penn Foster Veterinary Technician students
To learn more about becoming Fear Free Certified as a Penn Foster student, or to just join a network of people who are passionate about being a vet tech and dedicated to the well-being of pets, you can connect with other vet tech students, alumni, and faculty through our Vet Tech Facebook Group or the Penn Foster Student Community!