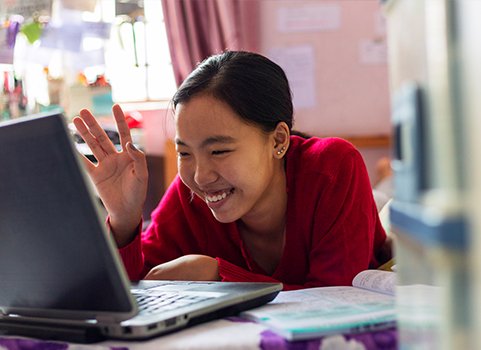 High School
How Does Online High School Work?
In this guide to enrolling in online high school, learn requirements to enrolling and what you need to send to Penn Foster after you enroll.
Online high school works similarly to a traditional high school education — without the strict schedule and deadlines. Classes cover the same subjects you'd learn in an on-campus school, including English, math, science, and history. While what you learn is similar, the biggest benefits of online school are often the flexibility, affordability, and the ability to control when and how you learn. It's also an extremely convenient option for an adult going back to school. If you're considering taking control of your education — or are looking for a legitimate remote high school option for your child — here's what you should know before getting started.
How do you enroll in online high school?
Enrolling in Penn Foster High School is a pretty straightforward process! However, you may not be sure where to start if this is the first time you're considering online high school classes. First, you may be wondering how to enroll. There are two ways you can get started.
Enroll online. If you're absolutely positive that online school is the perfect fit for you and you want to get started ASAP, enrolling online allows you to get started as soon as you're ready. The online form is available 24/7.
Enroll with an expert Admissions Specialist. If you're pretty confident that this is the school for you but still have some questions, enrolling with an Admissions Specialist will be your best bet. Not only can they answer your questions, but they'll walk you through the enrollment process step-by-step, and even help you get logged in for the first time. You can reach our admissions department Monday through Friday from 8 AM to 11 PM Eastern, Saturday, 10 AM to 10 PM Eastern, and Sunday 10 AM to 6 PM Eastern by calling 1-888-427-6500.
Once you're officially enrolled, you can get started on your classes right away. Here's a sample schedule for an online high school student.
What are the requirements to enroll in an online high school?
To enroll in online high school with Penn Foster, students need to meet the following requirements.
Students must be at least 13 years old. If under 13, a special form would need to be filled out and approved for the student to enroll "early." If under 18, they must be enrolled by a parent or legal guardian.
Students must have completed the 8th grade to enroll in Penn Foster High School. Our curriculum covers 9th through 12th grade, so in order to start off on the right foot, successfully completing 8th grade classes is crucial. If you haven't completed the 8th grade, you submit passing standardized testing scores for evaluation to see if you're able to jump into a high school curriculum.
Students under 18 must follow the academic rules laid out by their school district. Before enrolling, it's important to check with the district to ensure that Penn Foster meets their requirements and that any and all paper is filled out.
Learn more: Are Online High School Diplomas Legit?
What do you need to send to Penn Foster after you enroll?
After you're officially enrolled in online high school, the next step is to find out what, if any, paperwork you need to send in. For students who have earned credits at a previous high school, making sure you get your official transcripts to us is important. Transferring your completed credits can allow you to pick up where you left off and finish your diploma even sooner.
Your previous school can send official transcripts to us for evaluation electronically through a service such as Parchment.
What should you do after enrolling in online high school?
Once you're officially enrolled, the next step is to log in to your Student Portal. Your Portal is your high school homebase and contains your information, courses, study guides, and more. To make sure your high school experience is the best one possible, follow these four steps when you first log in.
Double check your personal information. Make sure your name, email address, and physical address are correct. Your email is where you'll receive important Penn Foster communications. Your physical address is where you'll receive your official diploma in the mail when you graduate.
Sign your electronic enrollment agreement if you haven't already done so. You won't be able to begin your first class until you've read and signed the form so take a few minutes to read it.
Explore your Student Portal. Click through your Student Portal and get familiar with everything! You'll access study guides and take exams here, so you want to be as comfortable as possible with the online format.
Connect with PF students and alumni. Being an online student doesn't mean you're alone! You can connect with other students and alumni online through the Penn Foster Student Community.
After exploring and setting everything up, it's time to dig into your first class! You can also learn more about preparing for college while in high school, how to get a jump start on your career while you're still in high school, and how to set up your schedule as a online high school student. And don't forget: your teachers, academic advocates, and student advocates are available by phone and through email if you get stuck or have questions about your studies! You can reach them through your Student Portal or by calling 1.888.427.1000.
Take the next step toward reaching your goals with Penn Foster High School.
Whether you're a traditional aged student or an adult learner, you can complete your high school diploma on your schedule from home. Penn Foster's regionally and nationally accredited high school is self-paced and flexible, so you can reach your goals on your terms. Get started today online or with one of our admissions specialists.