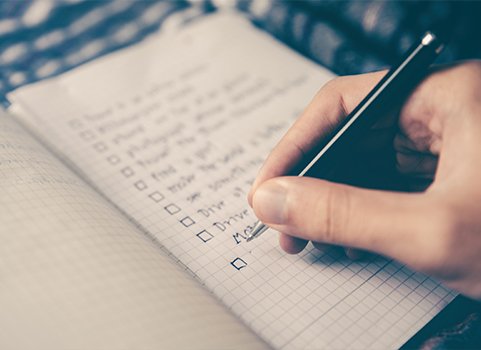 Online Learning
How to Get Ready to Go Back to School
Here's your guide to going back to school with Penn Foster.
What do you need to go back to school?
You're planning to go back to school and want to make sure you're as prepared as possible. Whether you're going to school online for the first time, or you're an experienced online student, having everything you need ready to go can help ease any back-to-school jitters. But what, exactly, do you need? Here's your guide to some back-to-school essentials that can help you make furthering your education with Penn Foster successful from day one.
Decide what you want to go back to school for.
The first step to starting your back-to-school adventure on the right foot is making sure you sign up for the program that's right for you. Maybe you already know! But before you make your first tuition payment, it's important that you feel confident about what you're doing.
Take time to do your research, find out what kind of work you're interested in doing, and call in to speak with an Admissions Specialist who can cover any questions you have about the different courses you're thinking about. Maybe you're looking to learn something that will allow you to work from home. Taking a Medical Assistant Associate Degree might not be for you. In that role, you'll need to work in a doctor's office or other medical facilities. But earning a Medical Billing and Coding Career Diploma can help you take the first steps toward a work-from-home job you love.
Another step toward figuring out what you want to go to school for can involve thinking about where you see yourself in 10 years. Who are you in 2029? What do you love to do every day?
Learn how online classes work and how to enroll when you're ready.
Whether you're new to online education or you've been with Penn Foster before, it never hurts to dig into how, exactly, online classes work. Once you've figured out what course is right for you, the next step is to enroll and get started. Enrolling in online classes can be pretty straightforward, but calling in to make sure you have someone to help walk you through the process and answer all of your questions can be helpful. You can reach your Admissions Specialist by calling 1.888.427.6500.
After you've gotten started, you're probably wondering how this whole online school process works. If you've taken a course with us before, you might be pretty familiar, but as an online school, things like the Student Portal and more are regularly updated to provide students with tools and information that are cutting edge. From navigating your Student Portal to double-checking whether or not you need to submit any paperwork like transcripts, understanding how Penn Foster works can make jumping back into your studies easier than ever.
Figure out what supplies you need for your classes.
One of the best things about online school is that you don't necessarily need piles of expensive textbooks. In fact, most of your study materials are available right on your Student Portal. Even better, if you do have a class that requires a book, that book is included at no extra cost.
But, there are some things you may want to have ready to go for your own sense of organization and peace of mind. Additionally, it's important to know what technology requirements your classes have. If you're confident in your tablet, laptop, or desktop computer and you have a decent internet connection, you're set to get started! Other supplies you might want to have on hand include
Fresh notebooks if you're someone who likes taking notes by hand.
Pens, pencils, and highlighters for making sure important points stand out.
A planner or calendar app.
Whatever else can help you stay organized and motivated!
Another important consideration is where and when you'll study. Having a quiet, dedicated study space and a study schedule that your family is aware of can help you stay focused.
Connect with fellow students and alumni online.
Online school can sometimes feel lonely. After all, you're working independently, on your schedule, and not socializing with classmates in a traditional school setting. That's why it's so important to connect online! With our Student Community, Facebook, LinkedIn, Twitter, Instagram, and Pinterest pages, you can stay up to date on school news, cheer on other students' accomplishments, and share your own. On Community, you can also network with Student Ambassadors and alumni who've been where you are!
Know your resources.
You're not alone in your studies and the other students and alumni you connect with aren't the only way to get help. Your instructors, academic advocates, and student advocates are here to answer questions, help you get through sticky subjects, and more.
You can get support through the help center of your Student Portal, reach your teachers by email, or call in to go over a test you felt you could have done better on. You can also access additional resources and how-to guides through our Learning Resource Centers or check in with the Student Life Blog for tips and tricks to be a successful online student, as well as career advice and more.
Don't forget to take care of yourself.
You're determined and ambitious, so you want to speed through your courses, take on new work and projects, and balance everything else in your life without breaking a sweat. That's tough to do for most people, but when you add furthering your education to the list of things you need to do, you may not retain the information you're learning in the long-term.
Taking time for yourself, eating well, and knowing when to rest can help you have the energy you need to tackle everything in your life. While it can seem like you're being lazy if you're not 100% focused on your studies, focusing on yourself when you need to can ensure you stay on track to tackle your goals.
Penn Foster's online courses can help you reach your goals on your schedule.
Going back to school isn't just reserved for the traditional back to school season. With Penn Foster's online courses, you can get started whenever you're ready and make "back to school season" yours. Not sure where to get started? Reach out to our Admissions Team at 1.888.427.6500!