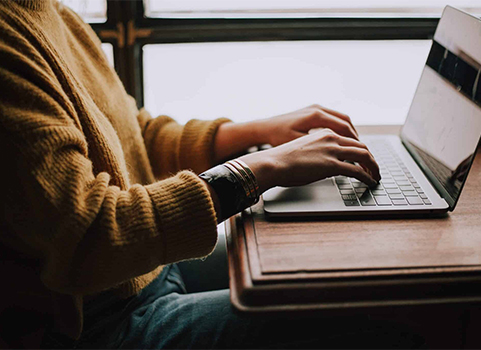 Online Learning
Technology Requirements for Online School
You're interested in going back to school online. After all, the flexibility of self-paced courses you can do around your own schedule can make it easier to balance your work, family, and studies. But before you dive in and start tackling your lessons, you probably are wondering what kind of computer you need and what software you should get so you're set up to excel. Here's what you need to know about the technology requirements for going back to school with Penn Foster.
What are the tech requirements for online school
Going to school online comes with the freedom of completing your classes your way, the flexibility of studying and taking exams when you have time – rather than based on a set school schedule – and the knowledge that you're only a login away from moving on to your next lesson. But before you dive in and start working toward graduation and your career goals, you probably have more than a few questions about how to take online classes, their computer requirements, and what you need to succeed. Here are your need-to-know answers about what you'll want to look for in devices you'll use for your education.
How to take online classes
Whether you're finishing a high school diploma or are hoping to further your education and career with a degree or certificate, you know that self-paced, online courses are going to work best for you. You want to make sure you have everything you need to get started before you, well, get started so you can be confident that you're prepared for success.
Some basic requirements for all students include:
A valid email address. Some students make a new email address specifically for school to avoid losing important work in a cluttered inbox. You can do that, too, or stick with your personal email. Whatever works best, as long as it is an email you access regularly.
Internet access. This could be a home network or wifi you use at a library or coffee shop. As long as it's reliable and doesn't lag, you're good to go!
A working desktop computer, laptop, or tablet. Whether you're a Mac person or prefer a PC, it's important to have a reliable device, something that is in good working order so you can get started with your work without worry.
Penn Foster doesn't provide laptops or tablets to students, so having your own computer or access to a computer from a family member or friend is key.
Computer requirements for online classes
While requirements can vary slightly based on the particular course you're working on, in general, there are a few major things you'll need for any course.
Operating System. Whether you're using a laptop or desktop, your program will work best with a more up-to-date system. We recommend a Microsoft® Windows® based computer running Windows 7® or later or an Apple® Mac® computer running OS X® or later. If you're using a tablet or smartphone, the operating system may be updated automatically and regularly through your settings.
Internet Browser. While there are a few different internet browsers out there, and you probably have a favorite, some work better than others with your Student Portal and lessons. When accessing your study guides and exams for your online classes, Google Chrome works best. You can download the browser for free!
Keyboard. You can get a lot done using a basic tablet or smartphone, but most programs have at least one assignment or paper that will be tough to complete without one. While it can be done, having a working keyboard on your computer or one that can be attached to a tablet will save you frustration in the long run.
Productivity tools to have
Alright, you've checked your computer, your email is working, your internet is fast, and you're ready to tackle your first lesson! But, before you jump in, there are a few more things you want to make sure you have available to be 100% prepared. Falling under the category of "productivity tools," access to writing tools such as Microsoft Word, spreadsheets, and more will be helpful to your program. Depending on your course, they may be necessary.
If you don't already have the software on your computer, getting access to Microsoft Office Suite for your coursework is something you may want to consider. While using open-source word processors or spreadsheet applications like Google Docs and Google Sheets can work for some basic classes, you may need Excel, Powerpoint, and Word to complete some Microsoft specific lessons.
There are a few options that can work for different needs and budgets. You can buy the software in a one-time purchase, or, if you know you only need access to Excel and Powerpoint for a short time, you can purchase a monthly subscription.
In addition to word processors and spreadsheet tools, having some time-management apps at the ready can help you organize your studying from the get-go. There are a ton of free apps and browser extensions that can help you build out a study calendar and optimize your time online.
Bonus, Penn Foster's Student Portal comes with some built-in goal-setting tools. When you get started with your program, you can choose a goal date that you want to finish by and your exam "due dates" will update so you can stay on track.
Tech tips to keep in mind when studying online
When you're taking online classes, your computer or device is your school. Everything you need is often saved there, so when something goes wrong, it can be extra frustrating. To make sure you don't lose your work, make sure to back up your files.
You can back up and save what you've done in a few ways. First, a flash drive can be a lifesaver. If you want to make sure your work is saved independently from your computer, a flash drive is your best bet. After completing work, save it to your drive and you're all set if something happens to your device. The flash drive can then easily be transferred to a new computer or used at a library if needed.
If you're working from a tablet or think you'll lose a small flash drive, saving work to a cloud system can be just the thing. Google Drive is free and easy to use, so can be super helpful for storing work you can access from anywhere. If you want something a bit more secure that offers more storage space, there are also subscriptions for cloud services through Apple, Android, and Google app stores.
You don't have to be a computer expert to succeed in an online school.
If you're not super familiar with using a computer or different software on a regular basis, the idea of taking online classes can seem intimidating. It doesn't have to be though! With the right preparation and tools, and support from Penn Foster's Admissions and Student Advocate Teams, you can dive into using the Student Portal with confidence. From an easy-to-follow orientation to the Help Center, you'll be able to navigate your program and work toward your goals as soon as you're ready to get started.