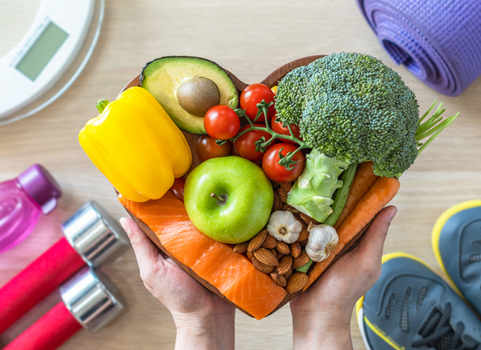 Fitness and Nutrition
10 Exciting Fitness and Nutrition Careers
The past few years have seen us face many changes and experiences. Some were very positive, such as finding new hobbies and taking the time to take better care of ourselves. We spent time exercising, both for our physical and mental health, and preparing more meals for ourselves since there were fewer alternatives. If you're someone who took on these new challenges and have found continued enjoyment in them, you may want to consider turning fitness and nutrition into your job. Check out some of our favorite careers below.
The past few years have seen us face many changes and experiences. Some were bad, but others were more positive, such as finding new hobbies and taking the time to take better care of ourselves. We spent time exercising, both for our physical and mental health, and preparing more meals for ourselves since there were fewer alternatives. If you're someone who took on these new challenges and have found continued enjoyment in them, you may want to consider turning fitness and nutrition into your job.
Why turn fitness and nutrition into a career?
The recent changes in the labor market have shown that people may now be looking for more fulfillment in their careers, whether that's financial, emotional, or a combination of the two. One of the best ways to find this is to really focus on the things you enjoy. If you're a person who gets excited by their workout routine and always gives healthy eating advice to friends and family, you may want to make that your job. Not only will you be getting paid to do something you like and would probably be doing anyway, but it can be mentally rewarding, too. It takes more than just happily working out and eating well, though. You'll need to have people skills, too, since you'll be working with others sometimes in groups or on an individual basis. Helping others on their journeys to healthier lifestyles makes impactful changes to lives. You'll help them live longer, healthier lives as well as gain self-confidence. The healthier people are, the better society is, too.
Read more: 10 Jobs You Can Get With an Online Degree
10 exciting fitness and nutrition careers
Though you might enjoy working out, eating healthy, and staying fit, you may not be aware of how many career options are available to suit those interests. Here's a sampling of some of the jobs out there, what you'll need to get started, and what to expect.
Fitness instructor. Perhaps one of the most obvious careers when it comes to fitness, a fitness instructor has the option to work independently, for a gym chain, or a smaller local fitness facility. In addition to knowledge of fitness and exercise, they must be able to communicate well with people of all ages and physical skill levels. As a fitness instructor your earning can vary depending on the type of facility in which you work and where, but on average you can expect to earn around $22.40 per hour.
Personal trainer. Personal trainers are similar to fitness instructors, however, they work exclusively with clients on a one-on-one basis. They provide personalized instruction and training plans based on an individual's needs and goals, such as weight loss, toning, or strength training. To ensure clients are working out properly, they'll also need to be well-versed on injury prevention and safety. While it, too, varies for personal trainers based on location, the average yearly salary is roughly $63,812.
Gym manager. If you possess leadership skills in addition to your fitness knowledge, you might want to consider becoming a gym manager. As a gradual step up in your career, this position will require some additional experience as either a personal trainer or fitness instructor. This experience will help you relate to employees as well as clients, better suiting their needs and helping to establish strong relationships and repeat customers. If you'd prefer working with and managing a smaller staff, look for a locally owned gym. On the other hand, if you're ready to take on the responsibility of working with a large number of employees, a corporate or chain fitness club or gym might be right for you.
Gym owner. Gym ownership can be ideal for those with an entrepreneurial spirit and a desire to be their own boss. Design your space and what you offer to exactly what interests you or what is lacking in your community to help ensure you provide needed and wanted services. It's a lot of hard work to be your own boss in addition to being in charge of others as well, but designing your business from the ground up, exactly as you'd like, can be extremely rewarding.
Exercise physiologist. Exercise physiologists work in a manner similar to personal trainers in that they create exercise and fitness regimens for clients. The difference, however, is that the goals are based upon the client's medical history. For instance, someone who has a history of cardiovascular disease may be instructed by their doctor to start a fitness routine to improve their health. This must be carefully created to accommodate their physical limitations without putting an additional and possibly dangerous or even deadly strain on their heart. Because of the specialized nature of this role, you will need basic medical knowledge in addition to your knowledge of physical fitness.
Athletic trainer. An athletic trainer works in a capacity not unlike an exercise physiologist or personal trainer. They, too, craft specific programs for clients to maximize their workouts, but instead the focus is on what area of athletics or sports in which they take part. Their jobs focus on preventing, diagnosing, and treating sports-related injuries. Other duties may include working closely with physicians to tape, bandage, and create rehabilitation programs to get an athlete safely back in the game.
Physical education teacher. Another great job surrounding fitness and nutrition is a physical education teacher. Requiring a background in education, you'll also have to enjoy working with children and teenagers. You may be required to teach health education classes in addition to conducting traditional gym classes. If you work in the public school system, you can look forward to having holidays, summers, and weekends off. It's important to note, though, that in addition to a minimum of a bachelor's degree, you will also need to pass a certification exam which differs from state to state.
Community health worker. Health educators are professionals who work in schools or within community organizations. Their purpose is to craft and develop programs that aid public health initiatives for their wider communities. In addition to the nutritional and physical aspect of health, health educators also provide insights into social, emotional, and mental health, too. The average salary of a community health worker in 2018 was $46,590.
Chef. Health and fitness isn't all about physical activity. Eating right is another key element to staying healthy. Chefs are well-versed in cooking tried-and-true recipes as well as exercising creativity to invent new dishes or even put a healthy spin on old ones. As a chef, you can potentially earn about $24.11 per hour, and perhaps even more if you work as a personal chef for individual clients.
Virtual assistant. If you'd like to work in health and fitness, but have a good mind for business and organization, working as a virtual assistant for gyms, trainers, and other hands-on fitness entrepreneurs can be a fulfilling career option. You'll help to create schedules, keep them organized, communicate with current and new clients, and any other needs your employer may have.
Read more: Top Allied Health Careers
How do I start a career in fitness and nutrition?
If any of the jobs above spark your interest, that's great! You could be on track to a rewarding and fulfilling career. However, the education and credentials needed for each of them can vary greatly. For instance, to become a fitness instructor or personal trainer, you don't need a degree but you will need certain certifications. No degree is required to become a chef, either, but training and education can help you along the way. Virtual assistants, gym managers, and gym owners also don't require four-year degrees, but knowledge in both fitness and business can give you a solid foundation to establish yourself in your field. Thankfully, Penn Foster's diverse programs can help get you started. Some options include:
If you have your heart set on a health and fitness career like an exercise physiologist, athletic trainer, or physical education teacher, you will need to pursue a bachelor's degree. However, a Fitness and Nutrition Certificate or an Anatomy and Physiology Certificate can help you in a few ways. Whether you're well-established in the field or you're just getting started, these programs can help you add a desired credential to your resume. If you're interested in one of these careers but not quite sure if you're ready to fully commit, they can give you a taste of what you'll be doing should you pursue those jobs. In addition, they can help you brush up on knowledge to prepare for any certification or licensing exams, depending on what's required for the state in which you live.
Read more: 12 Biggest Myths About Online High School
Kick start your career with Penn Foster
No matter what stage of your career you're at, Penn Foster has a program to help you find success. All courses are self-paced, online, and with affordable payment options so you don't have to give up the things you love to nurture your education.
If you're ready to kick start your career in fitness and nutrition, enroll online today or call an Admissions Specialist at 1-888-427-6500 to learn more!