What Can You Do with a Pharmacy Technician Diploma?
Increase your hiring potential and take the first step toward earning a Pharmacy Technician (CPhT) Degree from Penn Foster College. Our affordable, online Pharmacy Technician Professional Program can help you prepare to sit for two industry exams to help you become a certified pharmacy technician. While some positions may require additional training, our program can help you gain the fundamental skills to begin on your path toward working as a pharm tech in places like assisted living centers and corporate pharmacies.
ASHP/ACPE Accreditation Candidate
Our Pharmacy Technician Professional program is modeled against ASHP standards and requirements and has received candidate status for the American Society of Health-System Pharmacists (ASHP)/Accreditation Council for Pharmacy Education (ACPE) accreditation credential. This accreditation is the national standard for pharmacy technician training programs. ASHP/ACPE-accredited pharmacy technician training is now required or strongly encouraged by several state Boards of Pharmacy. More and more students are looking to find programs that fulfill this requirement. Application for accreditation does not guarantee accreditation.
Why Choose Penn Foster College?

On-Demand Learning
Do not wait for a class to start - you decide when to begin with our on-demand learning platform.

Dedicated Success Coaches
Your personal Success Coach will help you tap into any resources you need - like instructors, teaching assistants and online support - to be successful.

Mobile Friendly
Take our online pharmacy tech professional program with you wherever you go. Our custom-designed learning platform is easy to use at home or on-the-move.

Set Your Goals and Pace
Customize your study and exam schedule with progress-tracking and goal-setting tools that keep you moving forward.​

Proven Reputation
With 40,000 graduates in 2018 from our regionally and nationally accredited High School and Career School and nationally accredited College, you're in good hands!

Connect with Other Students
Connect in real-time with your peers in your career area in our discussion boards.
Hands-On Pharmacy Technician Learning with CVS Pharmacy & Walgreens
At the end of your pharmacy tech program, you'll have the opportunity to gain valuable, real-world experience at a CVS/pharmacy or Walgreens near you as part of our required hands-on training externship.
The healthcare industry is continuously growing and with an aging population, Pharmacy Technician Professionals are being called on to take on more and more duties. With a faster than average projected job growth of 12% over the next ten years and over 402,000 pharmacy technician jobs in the United States, there's no better time than now to take the first steps toward a fast-paced, in-demand career. With an average starting salary of $31,750,¹ you can start training for a rewarding position in the field with Penn Foster today!
A Customized Online Learning Experience
With interactive, mobile-friendly courses, progress-tracking and goal setting tools, and personal coaches to help you succeed, the Penn Foster Experience (PFx) is an online learning experience like no other! Connect with peers and faculty in real-time through our discussion boards, and use our built-in self-checks and interactive flashcards to review what you've learned before taking your exams.
Pharmacy Technician Professional Curriculum Details
Our Pharmacy Technician classes include interactive and engaging exercises with hands-on practical labs and real-world simulations that will help you master your coursework. You can also choose how you receive your textbooks — eBooks or printed textbooks. You'll cover topics such as pharmacology, sterile and non-sterile compounding, pharmacy management, and more to help you prepare to sit for the following pharmacy technician certification exams:
Pharmacy Technician Certification Exam (PTCE) offered by the Pharmacy Technician Certification Board (PTCB)
Exam for the Certification of Pharmacy Technicians (ExCPT) offered by the National Healthcareer Association (NHA)
See this
sample lesson
for what to expect!
Pharmacy Technician Tuition
Take the first step toward a career as a Certified Pharmacy Technician (CPhT) with Penn Foster College. The cost of PTCE exam (a $129 value), hands-on practical labs, a practice lab kit ($475 value), and virtual simulations are all included in this program.
The courses provided me with a solid foundation so that I was adequately prepared for the job. With my additional pharmacy technician experience with CVS, I was able to advance more quickly in my training.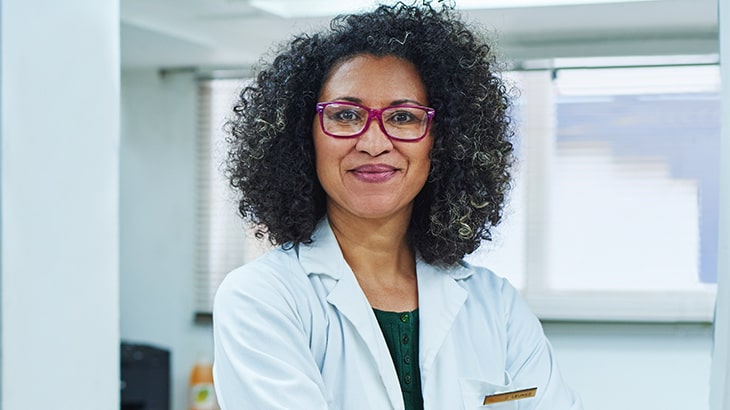 What Can You Do with Your Diploma in the Pharmaceutical Industry?
If you're interested in pursuing a career in the Pharmaceutical Industry, earning your Pharmacy Technician Professional Diploma can help you take this first steps toward a rewarding job within a variety of work environments. While many Pharmacy Technicians find work in the retail side of the industry, trained and licensed Pharmacy Techs can also get jobs in a variety of environments. Becoming a Pharmacy Technician also offers the option of working in hospital pharmacies, compounding pharmacies, mail-order pharmacies, and in Nursing or Assisted Living centers. While some positions may require additional training, a Pharmacy Technician Professional diploma can help you acquire the fundamental skills to begin on your path toward a job in the pharmaceutical industry!
Ready To Enroll?
Get started today on your path toward an exciting career as a certified pharmacy technician with Penn Foster College's accredited, online classes.
Enroll Now
Hundreds of leading employers and workforce organizations partner with Penn Foster to attract, develop, and retain talent for today's in-demand middle skilled occupations.