Build or Refine Your Gunsmithing Skills​
Whether you are looking to start on your path to becoming a gunsmith, or just want to refine your skills for your hobby, you can get your Gunsmith career diploma in as little as three months with Penn Foster Career School. Our affordable, online training lets you study when and where you want, at your own pace.​
Why Gunsmithing with Penn Foster?
Penn Foster Career School has offered gunsmith training for over 30 years. With our affordable Gunsmith training program, you can gain gunsmithing knowledge and skills online, studying at a pace that's right for you.​ Throughout your training, you'll have access to our dedicated faculty to receive expert instruction. You'll also receive helpful wall charts, manuals, two NRA Firearms Assembly guides, and information about applying for a federal firearms license. In addition, you'll have the opportunity to complete a comprehensive Brownells' practical exercise on the way to your Gunsmithing career diploma.
Over 30 Years' Experience Training Gunsmiths

Start and Study When You Want
Learn at home or on the go through our custom-designed, mobile-friendly student portal, available 24/7.

Dedicated Success Coaches
You're guided by Certified Instructors, Success Coaches, Teaching Assistants, and Student Support Staff - all working to help you succeed.

Personal Defense Network Videos
Students enrolled in the Gunsmith Career Diploma Program are eligible for discounted rates on how-to videos from the
Personal Defense Network

Set Your Goals and Pace​
Customize your study and exam schedule with progress-tracking and goal-setting tools that keep you moving forward.​

Proven Reputation
With 44,000 graduates in 2017 from our regionally and nationally accredited High School and Career School and nationally accredited College, you're in good hands!

Connect with Other Students
Connect in real-time with other Gunsmithing students in the Penn Foster Community.
Learn From the Best
In addition to learning from our experienced faculty members, you will receive a reference library that includes industry-standard resources for gunsmiths. You'll get access to the largest gunsmith tool company with Brownells tool catalog, plus the NRA-issued disassembly guide. Near the end of your program, you will learn how to apply for your federal firearms license, so you can be confident moving forward with your gunsmithing skills.
Gunsmith Course Details
In the Penn Foster Career School Gunsmith Program, you'll cover topics such as gun safety and firearm assembly/disassembly, antique firearm restoration, customizing gun stocks, mounting telescopic sights, custom-loading ammunition, basic metalwork, metal finishing, and machine tool operation, as well as the history of rifles and handguns.
Gunsmith Course Tuition
With our flexible, affordable payment options, you can get started on your online Gunsmithing training today.
Penn Foster is a good option for someone who does not do well with formal education.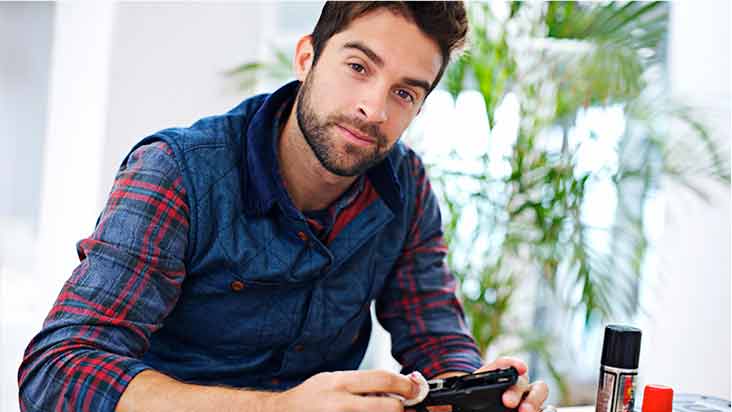 What Can You Do with a Gunsmith Diploma?
If you enjoy working with your hands and paying attention to the smallest details, earning your online career diploma in gunsmithing can help you take the first step toward a job you love! Skilled in various metalworking techniques and design, as well as repair, skilled and trained gunsmiths can find jobs in a variety of businesses. Whether working in a retail sporting and hunting shop or starting your own business, Gunsmiths can earn a median salary of $34,840¹ per year, while some earn as much as $78,056!² With Penn Foster Career School's online Gunsmith program, you can acquire the fundamental skills and foundational knowledge to turn a hobby into an exciting career designing, repairing, and building firearms!
Ready To Enroll?
Get started today on improving your gunsmithing skills with Penn Foster Career School's accredited, online program.
Enroll Now
Hundreds of leading employers and workforce organizations partner with Penn Foster to attract, develop, and retain talent for today's in-demand middle skilled occupations.