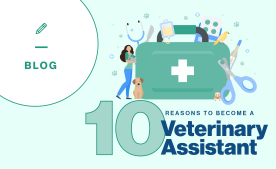 Veterinarians can't do their jobs effectively without a strong team supporting them. Veterinary assistants typically do it all, from assisting with surgical procedures to feeding, bathing, and exercising animals. They need a compassionate outlook, a healing touch, and a keen eye for details. And most of all, they need a love for animals and a desire to make the world a better place, one pet at a time. If you're interested in pursuing a career in the veterinary field, read below for just a few of the reasons you should consider becoming a veterinary assistant.
1) Turn your passion for animals into a career
If you love animals and are passionate about making sure they have the best love and care, a career as a veterinary assistant allows you to work in a field you enjoy. In this job, you'll be responsible for assisting veterinarians and veterinary technicians in caring for pets of all kinds!
Read more: Start a Career with Animals as a Military Spouse
2) Learn alongside certified veterinarians and veterinary assistants
While you're working toward learning the ins and outs of being a veterinary assistant in a training program, you'll also have the opportunity to gain hands-on skills and experience through an externship. In your externship, you'll work with veterinarians, credentialed veterinary technicians, and certified vet assistants to apply the knowledge you built in your classes to real-world situations.
Read more: What Does a Vet Tech Do?
3) Large network of support
Working in the veterinary field can come with many joys, but also just as many stressors. From burnout to compassion fatigue, veterinary professionals deal with a lot. However, you're not alone! With over 100,000 veterinary technicians in the United States and over 140,000 vet assistants, there is a large network of support you can take advantage of. Through alumni groups, professional groups, and sites like LinkedIn, you can connect with others in your field and find support when you need it.
4) Demand for veterinary assistants is on the rise
There is currently a lot of demand for skilled veterinary assistants in the industry, especially as pet ownership has increased over the last few years. Currently, there are 88.9 million pet dogs and 61.9 million pet cats in the United States. This doesn't factor in different types of pets or exotic pets. With this increase, veterinary practices are often overwhelmed with appointments and procedures. Because of the increased demand impacting vet practices, there will be higher demand for trained, certified veterinary assistants in the industry. In fact, the Bureau of Labor Statistics predicts that jobs will increase 14%, adding 19,800 new jobs in the field each year over the next decade.
Read more: The Difference Between a Vet Technician and a Vet Technologist
5) A great start for anyone entering the veterinary field
Becoming a veterinary assistant can be a great way to get your foot in the door of the veterinary industry! If your goal is to someday be a veterinary technician or veterinarian, starting off as a vet assistant can help you learn the basics, get experience, and start a career you can rely on while pursuing further education in the field.
6) Help pet owners learn how to care for their animals
One essential responsibility veterinary assistants have is client education. While many new and experienced pet parents want to do the best for their furry friend, they often don't know how, exactly, to go about it. As a vet assistant, you'll make a difference by helping pet owners learn how to properly care for their animals.
Read more: How to Turn Your Vet Tech Externship Into a Job Offer
7) Penn Foster 1 of 4 online NAVTA approved programs
If you're considering becoming a veterinary assistant, you may worry that you won't have time to enroll in a training program. However, with Penn Foster's online Veterinary Assistant Program, you can learn essential skills and knowledge online, on your schedule. Even better, Penn Foster's program is 1 of 4 online NAVTA-approved programs, meaning that after graduating you're eligible to sit for the Approved Veterinary Assistant (AVA) exam!
8) Veterinary assistant salary
The median salary for veterinary assistants in 2020 was $29,930 per year. The highest-paid vet assistants can earn up to $37,580 per year. Additionally, there's an opportunity to earn a higher income based on experience, education, and certifications!
Read more: A Q & A With a Vet Tech Graduate
9) Monitor and care for animals after surgery
As a veterinary assistant, you'll be able to do what you love most: helping and comforting animals. One of the most vital roles a vet assistant has is to monitor and care for pets post-surgery. The pets may be disoriented, scared, sick, and anxious and you'll work to ensure they're as comfortable and calm as possible to promote proper healing.
Read more: 6 Secrets to Impress a Veterinary Practice Hiring Manager
10) Many opportunities for veterinary assistants
Veterinary assistants aren't just limited to working in a private veterinary practice. There are also plenty of opportunities for skilled assistants in specialty clinics, corporate practices, rescues, and animal shelters. Depending on your experience and where you live, there may even be opportunities to work at zoos or research facilities in your area.
Read more: Can a Vet Telehealth Certification Help Your Career?

Prepare for a career you love
If all of these reasons appeal to you, becoming a veterinary assistant could be the perfect career step for you! Besides doing what you love, you'll have opportunities to work in different settings, learn and grow in your career, and more. To learn more about becoming a veterinary assistant or our Veterinary Academy, reach out to our Admissions Team today at 1-888-427-6500!