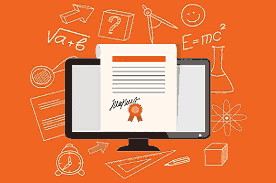 We discussed the benefits of earning a high school diploma online, but does having a diploma really make that much of a difference? While we all have different goals and talents, a solid education opens up doors to many opportunities. Let's explore a few of the ways that a high school diploma can improve your life, whether you earned it online or off.
1. Lifelong Skills.
During your high school career, you'll learn many different subjects ranging from math to chemistry to foreign languages and more. You can apply much of what you'll learn in real-life situations such as calculating prices, visiting a foreign country, or even having an educated discussion with family or friends. A solid education also opens up opportunities for building new relationships. And by learning different subjects, you'll form an idea of which careers you might like to pursue.
2. Marketability.
In the job market, your academic history is a big part of your personal brand. Employers want to hire someone who can put in the work, solve difficult problems, work well with others, and overcome challenges. If you have a high school diploma, you likely meet all of the above criteria and more. A diploma is also a must-have if you plan on attending college – and if you earn a college degree, your opportunities will truly broaden.
3. Higher Income.
While money alone doesn't measure success, earning a higher paycheck can help you improve your quality of life, save money, and broaden your shopping, dining, and entertainment options. You'll also be able to provide more opportunities for your children down the road. The U.S. Census Bureau reports that high school graduates earn an average of about $10,000 more each year than those who don't complete high school.
4. Pride.
Earning a high school diploma takes a great deal of hard work and dedication. You won't always master every subject right away, but overcoming these challenges grants you a priceless sense of pride and accomplishment. Every study session, homework assignment, presentation, and test is a testament to your intelligence and character. You'll also do your parents or guardians proud and set an excellent example for your younger siblings and friends to follow.
Earn your diploma on your schedule with Penn Foster
Finishing your high school diploma doesn't have to mean you should rearrange your schedule to go to physical classes. When you're working full-time, or have other responsibilities, there doesn't seem to be room to earn your diploma. That's where online high school can help! With flexible classes that you can do from home, whenever it works for you, you can graduate on your terms and be prepared to take the next step in reaching your goals. Reach out to an Admissions Specialist at 1.888.427.6500 to find out what you need to do to get started.