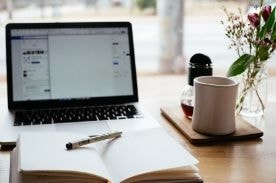 Earning a high school diploma is a major milestone. It's also a requirement for many employers when they're looking to hire. Whether you're an adult who couldn't attend a traditional high school and now needs to finish your diploma for a job or promotion, or a traditional student who doesn't feel a regular schedule at a public school is right for you, there are so many options online to earn a high school diploma. But is an online high school diploma legitimate? Will it help you reach your goals? Here's everything you need to know about what's backing your online diploma.
How to know if your online high school diploma is legitimate.
With so many options out there to finish up your high school education, online courses are often the best fit for busy adults or those who need flexibility. The biggest worry that students often have, though, is whether or not the money and effort they put into online school will pay off. You don't want to study hard and graduate only to learn that your diploma wasn't what schools and employers were looking for.
Before enrolling in an online high school program, you want to find out if the school you're interested in is accredited and licensed.
Accreditation and licensing are two of the most important things a school should have to make them legitimate. Accreditation is the recognition from specific agencies and organizations that a school meets or exceeds the educational standards decided by the group. Licensing ensures that the school you're attending is approved by the licensing body or board to provide classes and diplomas or degrees to graduates.
You might also enjoy: Going Back to School as an Adult (FAQs)
Is Penn Foster High School accredited?
There are two types of accreditation that a school can earn: regional and national. Regional accreditation is awarded through one of seven regional accrediting bodies in the United States. National accreditation is awarded by independent accrediting bodies that often focus on career-specific education or vocational schools, as well as online schools and colleges.
Penn Foster High School is both regionally and nationally accredited, ensuring that the diploma you earn online is legitimate. We're regionally accredited through the Commission on Secondary Schools of the Middle States Association of Colleges and Schools and nationally accredited by the Distance Education Accrediting Commission. The high school program also has national accreditation through Cognia. Cognia is the world leader in providing improvement and accreditation services to schools and emphasizes constantly working to improve the student experience.
Accreditation is renewed on a regular basis and involves reviewing a school's courses and materials to make sure students receive the best education possible.
How does online high school work?
Online high school is almost like a regular school — without the set schedule, deadlines, or due dates. The flexibility allows you to learn at the pace that works for you, wherever you're comfortable. Online classes can work for a variety of personalities and grade levels. You can expect to study independently, though you will have faculty, student support, and more on hand for help if you need it.
In Penn Foster's online high school, you'll have access to lessons from 9th to 12th grade — and if you've completed classes at a previous school, you can see if you're able to transfer those credits and pick up where you left off.
You might also enjoy: How to Transfer to an Online School
Do colleges accept online high school diplomas?
Colleges have a variety of admissions requirements, and can decide what they do or do not accept from prospective students. However, in general, most schools do recognize regionally accredited high school diplomas whether they're earned online or at a traditional school.
Like with any high school graduate, colleges will also make admissions decisions based on your grades, your extracurricular activities, or any additional application requirements like essays. While we recommend confirming that an online high school diploma from Penn Foster meets a school's requirements before enrolling, you can also review a list of schools our alumni have said they've been accepted to.
You may also like: How to Prepare for College in High School (a Checklist for Online High School Students)
Check out what graduates have to say about Penn Foster.
You're almost 100% sure that earning your high school diploma online is the right move for you, but want to make sure that you can use your diploma to take the next step towards reaching your goals. While you can do hours of research, sometimes the best thing is to hear from Penn Foster graduates about their experiences. Through our Alumni Spotlight Podcast and reviews from Penn Foster grads, you can learn more about the online high school experience from people who've done it.
Once you're ready, you can reach out to our expert Admissions Specialists at 1-888-427-6500 to get started.