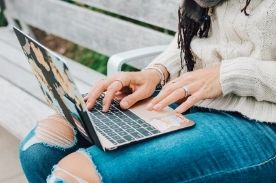 If you've already completed some high school or college courses and are interested in continuing your education with Penn Foster, you may be wondering if you must start all over. Or, if you're a Penn Foster student taking courses to get a head start on a degree, you might be wondering if you'll lose those credits if you transfer to another college. To better understand how transfer credits work to and from Penn Foster, check out this guide!
How to Transfer to Penn Foster High School
Whether you're a traditional-age student, a parent hoping to enroll their child in online high school, or an adult learner who needs to finish their diploma, Penn Foster High School has you covered. Our flexible, online classes allow you to study at the pace that works best for you and your schedule. But you may be hesitating to get started because you're not sure you want to repeat classes you've done before. Is starting over really worth it?
The good news is that you don't necessarily have to start your high school studies from scratch; if you've completed grades at another school in the past, you might have a few classes you can transfer in! Some things to keep in mind about how our expert transcript evaluators determine what classes transfer and what don't.
Your school. We can only accept transfer credits from regionally accredited high schools. All public schools have this accreditation, but some private schools may not, so it's best to double check before sending transcripts in for review.
The grades you completed. We can only accept credits for classes you completed during a full school year. For example, if you completed the 9th and 10th grade, but left high school in the middle of 11th grade, more than likely, you'll have transfer classes from the first two years, but not the third. This is because schools have different systems for breaking down the year, from quarters to trimesters. Leaving in the middle of a year may mean you didn't fully complete the coursework needed for transferring the class.
Your grades. We can only accept classes that you passed. Successfully completing a course means you won't need to repeat it. Usually, that is a minimum of 65 or, in letter grades, a D.
Your classes match up with ours. The Penn Foster curriculum follows the national standards, teaching math, English, science, and social studies courses, along with elective options. To transfer classes, they need to match up with courses we offer. That may mean that, occasionally, a class isn't equivalent and won't transfer even if you meet all the other requirements. However, most classes from traditional schools do match, so you'll find that this doesn't happen often.
For a step-by-step guide on getting your transcripts evaluated, check out this blog: How to Transfer to Penn Foster.
Even if you think you don't have any credits eligible to transfer in, it's still worth send in a copy of your transcripts for a no-cost pre-evaluation. Our evaluators can take a look and let you know what will and won't transfer before you even enroll!
How to Transfer to Penn Foster College
Just like Penn Foster High School, Penn Foster College can evaluate transcripts from semesters you've completed so you may not need to retake those classes with us. Similar to the high school program, there are a few things our registrar looks for when evaluating your transcripts.
Your college's accreditation. To transfer courses from a previous college to a Penn Foster College program, your previous school needs to be nationally accredited. Accreditation ensures us – and you – that the work you're doing in school meets the national standards for education.
Completed semesters. A course is considered finished and eligible for transfer when you've completed the entire semester. The registrar will look at completed semesters when evaluating your college transcripts.
Your grades. You've officially completed a course when you've passed it and finished the semester. For college, passing is generally considered to be a number grade of 70, or a C letter grade.
What program you're transferring into. General education courses are transferrable no matter what degree you're enrolled in, but some specialized degree programs have specific rules for transferring classes. For example, when transferring into Penn Foster's Veterinary Technician Associate Degree, your general education courses (English Composition, Computer Science, etc.) are eligible, but classes that are specific to the Veterinary Technician program, like Anatomy and Physiology, aren't. This is due to guidelines set by an additional accrediting body, the American Veterinary Medical Association (AVMA).
When did you take these courses? Students have transferred in coursework they've completed up to twenty years ago, but there are some restrictions for certain classes. Academic areas in which there've been significant changes in the last few years may not be transferrable after a certain date. For example, if you took biology in college 20 years ago, that class will not transfer to Penn Foster since there've been many updates in the knowledge taught within the last five years.
To get started on a transcript evaluation, reach out to our Admissions Specialists at 1.888.427.6500 to begin the process and ask any questions you have!
Why transfer credits
Besides ensuring you don't repeat classes you've passed at another school, there are several benefits to transferring your credits to Penn Foster. If your credits are accepted, you can decrease the amount of time (and work!) you need to do to graduate, speeding up the process. You can also decrease your tuition with eligible courses.! Each class transferred in will give you a discount off the total price of tuition when you enroll.
How to Transfer from Penn Foster to Another School
Many students will take individual college courses over the summer to get general education classes out of the way. Others prefer to start with an associate degree or undergraduate certificate to get a head start on a bachelor's. Because our college is nationally accredited by the DEAC and ACE approved, many of your courses will be eligible to transfer to another school after you complete them. Like transferring to Penn Foster, other schools look at what you completed, your grades, and more when evaluating transcripts. It's also important to keep in mind that each school has different standards and rules when transferring in classes, so it's best to reach out to their admissions department to verify what you need to do.
When you're ready to transfer to another school, you can request your official Penn Foster transcripts be sent to your new school by calling our student care team at 1.888.427.1000 or by locating your student record here.
Take the next steps to transfer to Penn Foster when you're ready
At Penn Foster, there are no set start dates. That means you can enroll in a high school program or a college degree when you're ready. To find out more about transferring credits, getting your transcripts from a previous school, or getting started, reach out to our Admissions team at 1.888.427.6500.