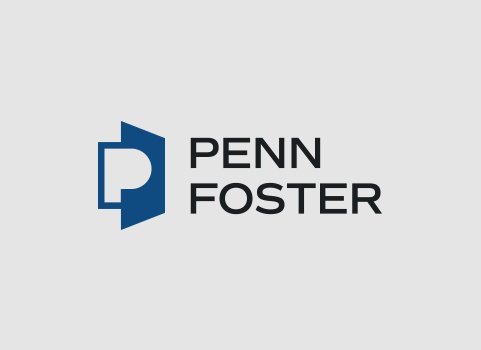 Penn Foster FAQs
Is Penn Foster Legit? Here's Your Answer.
While more people than ever are taking their next steps toward reaching their career goals through online school, there are still some doubts that might hold you back from enrolling. How can you make sure the money you spend and the work you put in will get you a diploma or degree that means something? There are a few things to look for. Here's how you can tell if an online school like Penn Foster is legitimate.
Is online school going to work for you?
You're looking to finish or further your education, but with your work schedule and family responsibilities, attending classes at a traditional school isn't in the cards. That's when you start looking toward more flexible options. It's 2019 and with more people than ever studying online, it doesn't seem strange that you can finish your high school diploma or start a college degree from home, on your schedule. But, like any other online service, you want to make sure that what you're paying for and what you're learning will help you get where you want to go. So, before enrolling, you may be wondering, "Is Penn Foster legitimate?" Here's your answer.
What makes a school legitimate?
Just like traditional, brick and mortar schools, online schools need licensing and accreditation to make them "legitimate." Licensing is usually through a state or national body, which has certain requirements that must be met for businesses — and schools — to earn those licenses. The same applies to accreditation, which is a public notification that an institution and program meets the quality standards of the accreditors. Without the right licenses, recognition, and accreditation, a school or program might not be legitimate or may not help you take the next step toward your goals like you need it to.
Is Penn Foster accredited?
Short answer? Yes! Besides being founded in 1890 and earning a respected reputation, Penn Foster's three schools — high school, college, and career — all have accreditation and are evaluated regularly to ensure courses meet the standards of each board. Some programs have industry-specific accreditation, as well. Here's what accreditation each school has and what that means for you.
Penn Foster High School. The online high school diploma program is regionally accredited through the Commission on Secondary Schools of the Middle States Association of Colleges and Schools. The United States is divided into six regions, with regional accrediting bodies for each. Middle States covers schools in New York, New Jersey, Pennsylvania, Delaware, District of Columbia, and Maryland. Though the country is divided into six regions, it doesn't mean that your diploma is only recognized in the states that have the same accrediting body as yours. Think about it like this: If you went to a traditional public school in PA, but your family moved to Alaska, your transcripts and classes would transfer to your new Alaskan high school because they have equal accreditation.
Penn Foster High School is also nationally accredited through the Distance Education Accrediting Commission (DEAC). DEAC is a national board that evaluates and accredits distance and online education providers. Like regional accreditation, schools must meet the commission's standards to be given recognition. With both types of accreditation, there is always a renewal period every few years to ensure the quality of the school stays where it should be.
Penn Foster Career School. The career school, which offers career certificates and career diplomas, is also regionally and nationally accredited like our high school. Read more about our career school accreditations, affiliations, and reviews.
Penn Foster College. Penn Foster's online college degrees, both associate and bachelor's, are nationally accredited through the DEAC. Some programs have additional accreditations, too, like our Vet Assistant Career Diploma offered through the college, which is approved by the National Association of Veterinary Technicians of America (NAVTA). The online Vet Tech Associate Degree and the Bachelor's of Applied Science both have accreditation through the American Veterinary Medical Association (AVMA).
Learn more: Are Online High School Diplomas Legitimate?
Is Penn Foster a licensed school?
In order to be a legitimate school and be eligible for accreditation, a school also needs to be licensed. Penn Foster High School and Penn Foster Career School are licensed through the Pennsylvania State Board of Private Licensed Schools.
Penn Foster College is licensed by the Arizona State Board for Private Postsecondary Education.
Okay, but what does this actually mean for you?
Accreditation and licensing through proper boards and institutions do make a school capable of awarding diplomas and degrees when you successfully complete all the requirements. That means that, yes, the work you do with Penn Foster is absolutely legitimate! When you're working toward graduation, the classes and credits earned can often transfer to other schools and prepare you to take your next step to reach your career and academic goals. It is important to note, though, that other schools and businesses ultimately decide what they accept, regardless of credentials so do your homework with companies and universities you think you'd be interested in after graduation.
While we rely on the internet for nearly everything these days, the word "online" in front of "school" can sometimes cause people to worry about the education they're receiving. There's still an idea — one that's going away slowly but surely — that any education received outside of a traditional setting can't be as good. But accreditation and licensing holds online schools to the same standards as traditional schools, as far as curriculum, new technological developments, and the quality of instructors. As technology grows,online education is getting better than ever, allowing you to pursue your dreams without dropping every other responsibility in your life!
You should make sure to research your options and ensure that any school you attend has the necessary accreditation and licensing to make it legitimate, and if you're still not confident that Penn Foster is the real deal, check out the information on accredited schools on the US Department of Education website. You'll find us on their list!
How to know if online school is right for you.
At Penn Foster, the biggest benefit of our self-paced, online programs is that you can finish your diploma or start your degree around your life. You don't have to leave your job, miss out on spending time with your family, or stress about how you'll make everything work. If you're looking to prepare for a job change, move up in your current career, or just learn something new, online education allows you the opportunity to study toward making it happen. Have questions about getting started? You can enroll online today or talk to an Admissions Specialist at 1.888.427.6500!