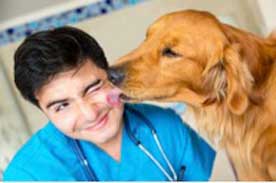 It's true – if you love animals, pursuing a career as a vet tech can be very rewarding. But that doesn't mean it's not without challenges. If you're thinking about making veterinary technology a part of your future, here are a few things you should consider to make sure it's the right career choice for you:
The hours can be long. When you're a vet tech, your job can extend well beyond the "normal" 9-to-5 schedules of other types of careers. Even after your patients are gone, you may still have lab work, surgery prep or other job-related duties to perform. The good news is, every day presents a new challenge, and helping animals regain their health or face the end of life with comfort, love and dignity is an extremely rewarding experience. Plus, many vet tech jobs have flexible hours that can free up time during the day for other tasks.
Euthanasia is part of the job. Speaking of end-of-life care, you'll need to be mentally and emotionally prepared to perform euthanasia. When animals are very old or suffering from disease, helping them escape pain and discomfort in a loving, compassionate environment will be one of your responsibilities. It's not easy, but it's one of the most important tasks you'll be called upon to perform.
It can be dirty. Like any health-related job, you may be exposed to bodily fluids, urine or feces. And there's always the risk of scratching or biting from animals who feel scared or anxious.
You'll need to wear a lot of hats. As a vet tech, you'll need to be able to perform a lot of varied tasks to help support good animal health. While it may be challenging, it's also one of the aspects of the job that keeps it interesting, day in and day out.
You'll need to be patient – with people, too. Maybe you want to be a vet tech because you love working with animals – but just remember, pets have owners. You'll need to have good people skills in order to interact with owners in a positive manner, providing them with information and guidance in a way that validates them so they're more open to hearing what you have to say. On the other hand, through it all, you'll have the opportunity to make a real difference in their lives and in the lives of their pets.
Schooling requires hard work. Vet tech students have a lot of studying ahead of them, but the end result can be amazingly rewarding. Plus, studying hard in school makes it easier to pass the state licensing exam, and it can also pave the way for additional study in the future.
Being a vet tech means embracing a lot of challenges – but reaping major rewards. If you believe pursuing a career as a vet tech is the right move for you, then get started today. Learn about the vet tech program and our vet tech e-book program offered at Penn Foster College and how it can help you embark on a new and satisfying future.