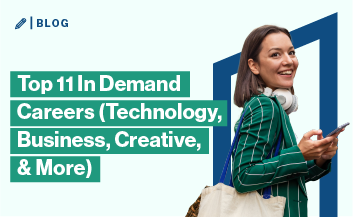 As we prepare for a new year, you may be adding "start a new career" to your list of resolutions for 2023. But what job is right for you? With several opportunities in technology, business, and creative industries, it's a perfect time to start a rewarding new career path. To help you get started, check out these in-demand jobs for 2023!
11 in-demand careers (salaries, requirements, and duties)
When you're considering pursuing a new career path, your best bet for finding a job that offers a lot of opportunities is to look at what careers are most in-demand. For 2023, we predict these jobs will offer the most opportunities to start your new career.
1. IT support specialist
The Bureau of Labor Statistics predicts 15% growth in jobs in all technology fields over the next decade. One in-demand IT job that can help you start a career in the industry is IT support specialist.
What they do: IT support specialists work in several industries including business, manufacturing, education, and even for local, state, and federal governments. They provide essential support, help, and advice to users, employees, and managers that use company tech for their day-to-day work.
How to know the job is a good fit: If you're detail-oriented, tech-minded, and love solving problems, becoming an IT support specialist could be the perfect career path for you.
Average IT support specialist salary: $57,910
Job requirements: Jobs in IT don't necessarily require a degree these days. You could potentially qualify for a job in the field if you can demonstrate you have the right skillset and knowledge to do the work. If you don't have much experience with IT, computers, software, or repairing computers, taking some courses can help you gain the skills you need.
Through Penn Foster's online IT Support Specialist Training, you can build the foundational skills that can help you prepare for a successful IT career, from home and on your schedule. You can complete this program in as little as 7-11 months.
Read more: Why Become an IT Support Specialist
2. Paralegal
Currently, the Bureau of Labor Statistics projects that the demand for skilled paralegals will grow 14% over the next decade, which is faster than average for most jobs. That means that, by 2032, it's expected that there will be about 45,000 job openings for paralegals each year.
What paralegals do: Paralegals support lawyers in their day-to-day work, doing legal research, maintaining and organizing client and case files, and drafting legal documents.
How to know the job is a good fit: Becoming a paralegal could be a good fit for you if you're organized, have strong written and verbal communication skills, enjoy research, and have a basic understanding of the law.
Average paralegal salary: $56,230
Paralegal job requirements: In general, paralegals should have a relevant associate degree, though some law offices may prefer to hire those with a bachelor's degree. Through Penn Foster's online Paralegal Studies Degree, you can prepare to become an effective paralegal online, allowing you to learn and study wherever you are. The degree program is self-paced, so you set your own schedule and goals, but, on average, students can earn their degree in as little as 2 years.
Read more: What You Can Do as a Paralegal
3. Cook
If you're looking for a fast-paced, in-demand job, becoming a chef or cook could be a great option for you. Right now, the Bureau of Labor Statistics projects that the demand for cooks is expected to grow by 16% over the next decade, adding about 480,000 new jobs in the field each year.
What cooks do: Cooks work in restaurants, hospitals, hotels, and anywhere that food is made and served. Cooks usually work under the supervision of chefs or head cooks to season and prepare food ordered by the establishment's guests.
How to know the job is a good fit: Cooks work in a fast-paced environment and are on their feet for the majority of their shift. They can work days, nights, or late night, depending on the restaurant they work for. If you have strong communication skills, physical stamina, and love cooking meals, this could be a great option for you. While the starting salary for a cook isn't the highest, there are many opportunities to earn more and advance in your role.
Average salary for cooks: $29,120
Cook job requirements: Many cooks learn their skills through on-the-job training and work experience. However, the more knowledge and credentials you have on your resume, the more you can potentially earn as a cook. To refresh or sharpen your cooking skills, it could be a good idea to take a short cooking course online like Penn Foster's Gourmet Cooking Certificate. You can earn the certificate in as little as 4 months.
4. Veterinary technician
Veterinary clinics and hospitals are desperately in need of skilled, credentialed veterinary technicians right now. With the effects of the pandemic still making an impact on the industry, more veterinary technicians are needed to handle the increase in patients and work in vet clinics and hospitals.
What veterinary technicians do: Veterinary technicians assist veterinarians with exams and surgeries. They also take and process samples for laboratory tests and educate clients on proper pet healthcare.
How to know the job is a good fit: You should love animals and be passionate about helping them stay healthy. You should also be okay with working with things like blood, as running lab tests is an important part of the job.
Average vet tech salary: $36,850
Vet tech job requirements: Most vet techs need to have an AVMA-approved veterinary technician associate degree. Further, in many states, you need to be licensed, registered, or certified to get a job. You'll complete that process by sitting for and passing the Veterinary Technician National Exam (VTNE). With Penn Foster's AVMA-accredited Vet Tech Degree, you can learn essential vet tech skills, get hands-on experience through externships, and prepare for the VTNE. Most students can complete the degree within about 2 years.
Read more: What Does a Veterinary Technician Do?
5. Daycare teacher
For several reasons, daycare centers and preschools are struggling to fill jobs. There is a huge need for skilled daycare workers right now, and that need will continue into 2023, meaning there should be a lot of job opportunities available for those who want to work in the industry.
What daycare teachers do: Daycare workers, including teachers and assistant teachers, see to the needs of the children in their care from nutrition to education. They'll monitor children, prepare meals and snacks, have play time, and teach fundamental lessons like the ABCs.
How to know if the job is a good fit: To be a successful daycare teacher, you'll need to be patient, compassionate, empathetic, and love working with children.
Daycare teacher average salary: $27,490
Daycare worker job requirements: Requirements for daycare teachers and assistants can vary by state, but generally you'll need to pass a federal background check. In some states, you may only need a high school diploma to qualify for the job, while in others you'll need to have some relevant education. Certification Isn't required to qualify for a daycare job but earning your Child Development Associate (CDA) credential can help you qualify for higher positions and higher pay. Penn Foster's CDA Credential Prep Undergraduate Certificate can help you prepare to take the next steps toward a job in the field, as well as meet the 120 hours of education required to earn your CDA.
Read more: How to Become a Preschool Teacher (6 Things to Know Before You Start)
6. Pet groomer
The Bureau of Labor Statistics projects a 29% increase in the need for animal care and service workers, such as pet groomers, over the next decade, which is much faster than average.
What pet groomers do: Pet groomers bathe pets, clip nails, and provide grooming services like cutting or trimming fur. They can work in pet stores, veterinary clinics, or pet grooming salons. They're also able to start their own pet grooming business.
How to know if the job is a good fit: Good pet groomers are patient, compassionate, and love animals, which is important because some clients can be hard to work with if they're afraid. They should also be detail-oriented, have great communication skills, and customer service skills.
Average pet groomer salary: $28,600
Pet groomer job requirements: Pet groomers can often learn the job through training, though some formal education and training could help you stand out when looking for work. Through Penn Foster's Pet Grooming Certificate, you can build the basic skills that can help you prepare to be successful on the job in as little as 2 months. After getting a job, you may also want to pursue further certification, which can help you advance your career and earn a higher salary.
7. Travel agent
Experienced travel agents are in high demand, with the Bureau of Labor Statistics projecting a 20% increase in jobs in the field over the next ten years.
What travel agents do: Travel agents work with clients to book hotels, transportation, and tickets for domestic and international travel. They're skilled with industry booking software and can find discounts and deals on trips to help clients make the most of their vacations or travel plans.
How to know if the job is a good fit: Travel agents need to have strong customer service skills and love working with people. They can work at a travel agency, for a booking website, and there are more than a few work from home opportunities available in this career path.
Average travel agent salary: $43,810
Travel agent job requirements: The minimum requirement to be a travel agent is to have a high school diploma or equivalent. However, employers in the industry generally prefer to hire travel agents who have sales experience or relevant education. With Penn Foster's online Travel Agent Training Program, you can learn the skills that can help you be successful on the job and sit for the Travel Agent Proficiency (TAP) certification exam, which can help you stand out when applying for jobs.
Read more: 3 Reasons to Become a Travel Agent
8. Marketing
If you want a career that allows you to use your creativity along with your business savvy, a job in marketing can be just the thing for you. Currently, there are also many opportunities for marketers in the workforce. Digital marketing is one of the top 10 most in-demand careers, according to LinkedIn, so taking the first steps toward a career in the field now is worth it.
What digital marketers do: Digital marketers drive brand awareness and lead generation through anything that is considered a digital channel, such as a company website, social media, search engine results, email, ads, and blogs. Working in digital marketing can offer you opportunities such as becoming a social media manager, a Search Engine Optimization (SEO) specialist, or working in marketing communications.
How to know if this job is a good fit: Marketers are creative but data-focused people who have strong written communication and research skills. This could be a great fit for someone who likes to write, whether that's blogs (like this one!), email, or other communications, and wants to be able to use their creative skills on a regular basis.
Average digital marketing salary: $51,187
Digital marketing job requirements: To qualify for a job in marketing, you'll usually need a relevant degree and strong communication skills. If you're looking for a job that is writing-focused, you'll also likely need to submit examples of your work during the hiring process.
9. Human resources
If working with people is your career endgame, human resources could be the perfect field for you. HR coordinators and managers are needed more than ever as we all navigate a new world of work, balancing work from home and in-office schedules. Working in HR also gives you options when it comes to where you work; HR professionals are needed in every type of industry!
What HR coordinators do: HR coordinators assist with human resources processes at a business. This includes administering health plans and other benefits, working with employees on payroll issues and questions, and more.
How to know if this job is a good fit: HR coordinators need to work closely with people, so if you're a people person, this job could be a great fit.
Average HR coordinator salary: $44,074
HR coordinator job requirements: In order to qualify for an entry-level HR career, you'll generally need a degree, usually in human resources management. You'll also want to be familiar with things like Microsoft Office Suite, which includes PowerPoint, Word, and Excel. With Penn Foster's online Human Resources Associate Degree, you can build foundational HR skills on your schedule, with many students completing the program within about 2 years.
Read more: How to Become an Administrative Assistant (Career Guide)
10. Graphic designer
Graphic designers play a huge role in marketing departments, creating a variety of images, videos, and other content to use in ads, on social media, and in print materials. The Bureau of Labor Statistics predicts that there will be 24,800 new graphic design jobs added each year over the next decade, so now is a great time to take the first steps toward this creative career.
What graphic designers do: Graphic designers create images and visual materials, from ads to images for websites. Designers will use software like Adobe Photoshop, Illustrator, and InDesign to do their work, so a familiarity with these is a must.
How to know if this job is a good fit: If you're an artist, creative, and have an eye for detail, becoming a graphic designer could be a great fit.
Average graphic designer salary: $50,710
Graphic designer job requirements: Most graphic designers need at least a degree in the field or some relevant certifications and classes on your resume. You'll also need a portfolio to show off your work when applying for jobs. You can prepare to become a graphic designer online through Penn Foster's flexible Graphic Design Associate Degree.
Read more: Should I Become a Graphic Designer?
11. Event planner
People are almost always in need of help planning large parties, weddings, and more.
And with the Bureau of Labor Statistics predicting the need for event planners will increase by 18% over the coming decade, there will be plenty of opportunities to find event planning roles.
What event planners do: Event planners work with clients and vendors to plan events like weddings, large parties, reunions, and corporate events.
How to know if the job is a good fit: If you're creative, organized, and enjoy working with people, becoming an event planner could be the perfect job for you.
Average event planner salary: $49,470
Event planner job requirements: You don't need a degree to start a career as an event planner, but having some formal education in the field, experience, and industry certifications can help you stand out to employers or clients. With Penn Foster's Event Planning Career Diploma, you can develop the knowledge you may need to be successful on the job online.
Read more: Guide to Becoming an Event Planner
HOW DO YOU KNOW IF A CAREER IS IN-DEMAND
If you're interested in starting a new career, you probably want one that offers a lot of opportunities to find jobs in the field. After all, getting a good, rewarding job is the whole point. The best way to figure out whether or not a field you're interested in will give you what you want is to start doing some research. Things to consider include
How to change careers
If you're looking to make a career change, especially to one that is completely different from your current job, following these five steps can help.
Think about why you want to change careers.
Figure out what the right job is for you.
Research the careers you're interested in, including how much they pay, what education you need, and if you need any professional certifications.
Get the training you need for the job you're most interested in.
Believe in yourself! Changing careers can seem hard, but you can do it.
Read more: Your Guide to a Midlife Career Change
What are high demand careers right now?
Right now, there are a variety of high demand careers in a few industries, including healthcare, skilled trades, criminal justice, and more. Some of the most in-demand jobs for 2023, in no particular order, include
Read more: 8 Online Degrees That Pay Well and You Can Start Today
Which career has the most demand?
From this list, the career that has the most demand in the next 10 years is pet grooming. It's expected that there will be a 29% increase in jobs in the field over the next ten years.
Other careers that should see high demand include
What is the easiest high paying career?
There is no truly "easy" career; each job has its own tasks that are difficult and tasks that are easy. And, if you're looking to do well in your career, taking it easy is usually not the best way to go about it. However, the "easiest" career from this list would probably be pet groomer because it offers the opportunity to start your own business and be your own boss. While that is definitely not easy to do, when you own your own business, you're able to decide your hours, the tasks you work on, and how you do your job.
Prepare for an in-demand job with Penn Foster
Whether computers are your thing, you're more interested in numbers, or you want to use your creativity in your career, Penn Foster's online, flexible programs allow you to prepare for the career you want on your schedule. To learn more about our programs or get started working toward a new career today, reach out to our Admissions Specialists at 1-888-427-6500!