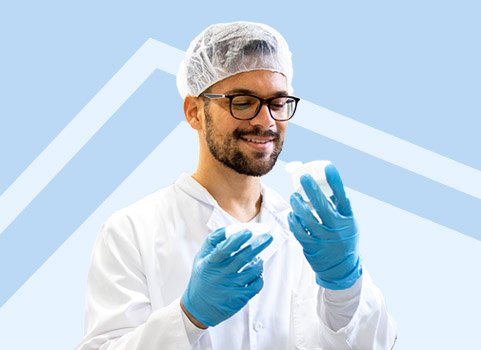 Healthcare
Job Guides
What Does a Sterile Processing Tech Do? (Duties, Salary, & FAQs)
Want to work in healthcare but not with patients? Enter the world of sterile processing technicians (SPTs), essential workers behind the scenes preparing and sterilizing surgical instruments. Let's learn more about this indispensable role: the everyday tasks, required skills, and promising career paths for SPTs.
Are you passionate about healthcare, yet prefer a role that isn't directly involved with patients? If so, you're about to discover an exciting avenue that may just be your perfect fit!
Meet the sterile processing technician - the indispensable expert responsible for sterilizing and preparing surgical instruments and equipment. They're not in the spotlight, but their role is crucial for ensuring the best outcomes for every surgical procedure.
In this post, we'll dive into the specifics of what it means to be a sterile processing technician. Get ready to explore the ins and outs of their daily work, the skills you'll need to help you succeed, and the rewarding career paths that could open up for you in this field.
What is a sterile processing technician, and what do they do?
Sterile processing technicians (SPT) are essential members of healthcare organizations, working behind the scenes in clinics, hospitals, and outpatient surgical centers.
The role of sterile processing technicians is to clean, sterilize, and set up all the surgical tools and medical devices used in procedures.
SPTs play an essential role in the healthcare setting, ensuring each surgical and medical instrument is sanitized and ready for safe use. These professionals significantly contribute to patient safety and increase healthcare system efficiency. Their responsibilities span across the preparation of surgical case carts, monitoring sterilization equipment, and maintaining precise records.
As expressed by Katrina Simpson, a skilled SPT and instructor, the right personality for an SPT is often an introvert, one who exhibits a strong attention to detail, appreciates cleanliness, values ongoing education, and finds satisfaction in their work.
SPTs form the first layer of defense against infectious agents through their thorough cleaning, sterilization, and assembly of surgical instruments. This includes:
Handling a wide range of instruments
Biological waste management and proper disposal
Keeping up with advancements in medical technology
What is biowaste?
Biowaste includes human body fluids like blood and urine to tissues or organs removed during surgical procedures or autopsies. It also includes "sharps" - items that can cause cuts or punctures like needles, scalpels, and even broken glass. Also, within the SPT's scope of work is the management of laboratory waste, such as cultures, specimens of microorganisms. In a veterinary context, an SPT may also be tasked with handling animal waste - anything from contaminated animal remains to bedding material used by animals infected with specific diseases.
It's a role not suited for everyone - it requires a strong stomach and a commitment to perfection. However, for those who are passionate about their work and find fulfillment in a job well done, it can be a rewarding career path.
Now that we know what an SPT is and what they do, let's dive into how to pursue a career in sterile processing and answer some commonly asked questions.
How do you get a job as a sterile processing technician?
For those drawn to the healthcare sector but enjoy behind-the-scenes roles over direct patient interaction, or for those who have a keen eye for detail and a passion for cleanliness and order, a career as an SPT may be just the right match. But what does the journey to becoming one look like? Here are the key steps to steer your path towards becoming an SPT.
5 steps to becoming a sterile processing technician
1. Obtain your High School Diploma or GED (General Education Degree): A HS diploma or GED is the minimum education requirement for almost every healthcare job, including SPTs.
2. Complete a sterile processing technician program: Graduates of a sterile processing technician program like the one Penn Foster offers learn topics like duties of an SPT, fundamental practices and procedures for aseptic technique, HIPAA privacy regulations, and more, and are eligible to sit for the Certified Registered Central Service Technician (CRCST) Certification exam offered by the Healthcare Sterile Processing Association (HSPA).
3. Work as an extern: An externship provides a valuable opportunity to gain practical, hands-on experience in the role of an SPT. Some certification programs require an externship, but to begin working in sterile processing, an externship isn't required.
4. Earn a certification: It isn't always required, but if you're a Certified Registered Central Service Technician (CRCST), you become more desirable to employers. You can also earn more—CRCSTs earn from $19.95 (25th percentile) to $34.38 (75th percentile) per hour. To get certified, you need to pass an exam given by either:
5. Go out and get your first SPT job: Search for entry-level sterile processing technician jobs. Many healthcare facilities employ SPTs, including:
Hospitals (multiple departments use SPTs, like central processing, operating rooms, and other areas where sterile equipment is used)
Outpatient care centers
Dental offices and clinics
Specialized surgery centers
Medical and diagnostic laboratories
Veterinary clinics and hospitals
Medical equipment sales companies
Education and training institutions
Read more: What Does a Sterile Processing Technician Do?
How much money do SPTs make?
As with any job, your earnings are going to depend on where you live and work, how much experience and seniority you possess, and your specific employer. The Bureau of Labor Statistics (BLS) reports that the median income for an SPT—which the BLS refers to as a "medical equipment preparer"—is $44,940.
Here is a guide to show state-by-state salary information for SPTs.
Sterile Processing Tech Salary & Income by State Annual Mean Wage of Medical Equipment Preparers by State
| State | Annual Mean Wage | Annual Hourly Wage |
| --- | --- | --- |
| Alaska | $52,870 | $25.42 |
| Alabama | $33,090 | $15.91 |
| Arkansas | $34,380 | $16.53 |
| Arizona | $42,660 | $20.51 |
| California | $59,490 | $28.60 |
| Colorado | $46,210 | $22.21 |
| Connecticut | $45,850 | $22.04 |
| Delaware | $48,620 | $23.38 |
| Florida | $38,250 | $18.39 |
| Georgia | $40,900 | $19.66 |
| Hawaii | $52,130 | $26.06 |
| Iowa | $38,720 | $18.62 |
| Idaho | $41,200 | $19.81 |
| Illinois | $43,380 | $20.85 |
| Indiana | $41,920 | $20.15 |
| Kansas | $39,420 | $18.95 |
| Kentucky | $39,480 | $18.98 |
| Louisiana | $36,240 | $17.43 |
| Massachusetts | $51,080 | $24.56 |
| Maryland | $45,290 | $21.78 |
| Maine | $41,600 | $20.00 |
| Michigan | $40,920 | $19.67 |
| Minnesota | $44,700 | $21.49 |
| Missouri | $38,880 | $18.69 |
| Mississippi | $33,340 | $16.03 |
| Montana | $40,440 | $19.44 |
| North Carolina | $39,500 | $18.99 |
| North Dakota | $43,550 | $20.94 |
| Nebraska | $37,800 | $18.17 |
| New Hampshire | $44,160 | $21.23 |
| New Jersey | $46,320 | $22.27 |
| New Mexico | $40,790 | $19.61 |
| Nevada | $46,730 | $22.47 |
| New York | $49,250 | $23.68 |
| Ohio | $41,240 | $19.83 |
| Oklahoma | $37,580 | $18.07 |
| Oregon | $48,270 | $23.21 |
| Pennsylvania | $42,310 | $20.34 |
| Rhode Island | $45,660 | $21.95 |
| South Carolina | $38,120 | $18.33 |
| South Dakota | $37,260 | $17.91 |
| Tennessee | $38,070 | $18.31 |
| Texas | $41,460 | $19.93 |
| Utah | $42,420 | $20.40 |
| Virginia | $41,210 | $19.81 |
| Vermont | $41,750 | $20.07 |
| Washington | $46,350 | $22.28 |
| Wisconsin | $42,110 | $20.24 |
| West Virginia | $37,120 | $17.85 |
| Wyoming | $42,790 | $20.57 |
Source: https://www.bls.gov/oes/current/oes319093.htm
What does an SPT's typical day look like?
The day often begins with checking the inventory of sterilized instruments and equipment. This includes reviewing stock and ensuring there's an adequate supply of clean and sterilized equipment ready for use.
Then, you would start working on decontamination and sterilization. This is when you're receiving used surgical instruments and other medical equipment from the operating rooms or other departments. The SPT then meticulously cleans the instruments to remove all traces of biological materials, before they are sent for sterilization.
The clean instruments are then packed into special trays and loaded into sterilizers. SPTs use different methods of sterilization, such as steam, ETO (Ethylene Oxide), or plasma sterilization, depending on the type of instrument.
Post-sterilization, you'd inspect each tool for functionality and integrity and then assemble them into sets or trays based on their function or the type of surgery they will be used in. The prepped instrument trays are then labeled and transported to the appropriate department, usually in a case cart.
Throughout the day, SPTs maintain meticulous records of every tool and piece of equipment that passes through the sterile processing department. They are responsible for keeping track of which instruments have been used in which procedures to ensure proper tracking and accountability. Their diligence helps prevent "never events" and other incidents.
Read more: Which Healthcare Certifications Pay the Most?
Is sterile processing an in-demand job?
As of 2021, the role's demand is expected to grow 15% in the next ten years. More people than ever rely on surgical procedures to maintain a comfortable, healthy lifestyle due to COVID-19 and the large population of aging baby boomers. Making sure hospitals have clean equipment and surgical tools allows operating rooms to turn over faster and take care of more patients in a timely manner.
Is sterile processing clinical or non-clinical?
It's clinical in that you perform the job in a clinical setting, but you do not work directly, or even indirectly, with patients. For all intents and purposes, your 'patients' or 'clients' are the doctors and surgeons in your healthcare setting.
Can sterile processing be a good career?
Sterile processing can be a good career for individuals who possess the qualities associated with successful SPTs. It is a stable job that offers routine and usually a consistent schedule.
Read more: 12 Healthcare and Medical Careers in Demand for 2023
What do you wear as an SPT?
Scrubs are the recommended attire for sterile processing technicians. They also wear Personal Protective Equipment (PPE) to help minimize exposure to potential biohazards. A hair covering, gloves, gown, face mask, and even shoe covers are often worn on the job.
What kind of schedule does an SPT have?
Since hospitals operate 24/7, the need for clean tools is never ending. Your shift will be determined by your employer's operating schedule, workload, and staffing needs–while others may require weekends or nights, some do not. Calling all night owls - working overnight as an SPT might be a good fit for you! Or, if you need a regular M-F 9-5 schedule due to other commitments (like family), working for a non-emergency facility might be a better fit. It's important to be honest with yourself when deciding what type of work-life balance you'd like to maintain.
Is sterile processing a dangerous job?
There is the potential for exposure to pathogens, sharps, blades, and bio waste since you come into contact with all those things every day. Proper use of equipment and wearing PPE are precautions you can take to protect yourself.
Is a drug test required to get a job as an SPT?
Due to the proximity of controlled substances, patient data, and the immense amount of safety precautions hospitals must take, you are most likely required to undergo a background check and drug screening prior to beginning employment. You are also required to show proof of vaccination and may need a letter of health from a physician stating that you can physically handle the job.
Are there traveling sterile processing techs like traveling nurses?
If you have the flexibility to travel and desire to work in new locations, becoming a travel SPT might be a good fit. Travel techs work on a contract basis and are not employed by a hospital. Yet, they go where there is a need for SPTs but not enough local techs to meet the demand. Certification and multiple years of experience are required to become a traveling SPT, and the pay is often considerably higher.
What other jobs compare to sterile processing technicians?
Although both roles function within the confines of the operating room (OR), SPTs and surgical techs perform different tasks. Surgical techs play a supporting role during surgeries, while SPTs take charge of cleaning, sterilizing, and sorting surgical tools before and after operations. Their salary ranges are comparable.
Medical assistants carry out a mix of clinical and administrative duties to back up doctors, whereas the primary role of SPTs is to ensure the surgical instruments are clean and ready for use. Typically, the earning potential as an SPT tends to be higher compared to that of a medical assistant.
Read more: Top Allied Health Careers
Medical coders transcribe healthcare services into specific codes for invoicing and maintaining records. On the other hand, SPTs operate in the background within surgical settings, ensuring the sterility and readiness of surgical tools and equipment. The pay scale for medical coders is generally on par with that of SPTs.
Read more: Your Medical Billing and Coding Salary Guide
Dental Assistants support dentists during procedures and handle administrative duties such as arranging appointments and overseeing patient records. Unlike the role of an SPT, it involves direct interaction with patients. In terms of earnings, Dental Assistants usually have a lower income range compared to SPTs.
Read more: What Does a Dental Assistant Do?
While a Sterile Processing Technician focuses on sterilizing and preparing medical equipment for procedures, a Pharmacy Technician assists pharmacists in dispensing medication, managing patient records, and handling insurance claims. Even with pharmacy technicians being in demand, their pay is below that of SPTs.
Read more: Skills Every Pharmacy Technician Should Have
Begin your journey towards a career as a sterile processing technician today
Taking the leap into a sterile processing technician career can be rewarding and truly make a difference! If you're eager to embark on this crucial healthcare path, enroll in our Sterile Processing Career Diploma program today and set your wheels in motion.
This program prepares you with the knowledge and skills that can help you take the next steps toward a career in this profession, coupled with the flexibility of studying at a pace that suits you. If you have any questions or are ready to enroll, call our dedicated Admissions Specialists at 1-888-427-6500.