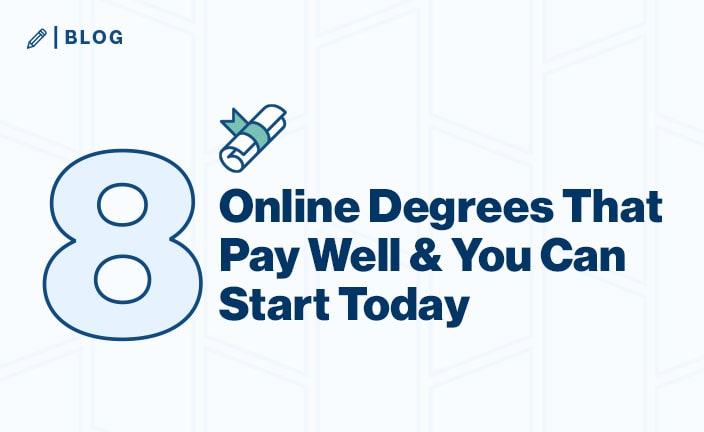 Today, about 44% of available jobs require a degree. Having a college degree can also make a difference in how much money you earn! Those with a degree can actually earn around $24,000 more per year than someone without a degree. That means that, if you're looking for a high-paying job, going to college could be your best way to reach that goal. But if you already have a busy life, work, and family responsibilities, going back to college to earn a degree can seem impossible. It doesn't have to be! With self-paced, online college degrees, you can earn a degree around your schedule. Here's what you should know about online college and in-demand career paths to help you decide if it's right for you!
Online degrees vs. traditional college
These days, more people than ever are enrolling in online colleges to earn their degrees. As you're considering your next steps and what education path is right for you, you may be wondering what's the difference between an online degree and a traditional college degree?
The biggest differences between online colleges and traditional colleges include
Flexibility. Online colleges can be much more flexible than a traditional school. Many in-person colleges require you to follow a semester schedule, attend classes and lectures at specific times, and have enrollment deadlines so that you can't start your degree until the semester officially begins. With online college degrees, you can usually enroll whenever you're ready, take classes, and study around your schedule. You choose when and where you learn.
Affordability. The cost of a college degree has increased dramatically. Going to college is now 144% more expensive than it was twenty years ago and almost every student needs to rely on student loans to afford it. Even then, that means you're faced with years and years of loan payments after you graduate. Online colleges, however, can cost significantly less than your traditional degree! For example, in total a bachelor's degree from Penn Foster can cost around $10,000 – though you don't have to pay that all at once. Affordable monthly payment plans can help you cover the cost of your degree without relying on student loans.
Self-paced. Most traditional colleges require you to follow the set schedule of classes and you spend a full semester studying several courses. With an online college, you take your classes at your own pace. That means that you can take as much or little time as you need to fully understand what you're learning in one class before taking exams and moving on to the next course.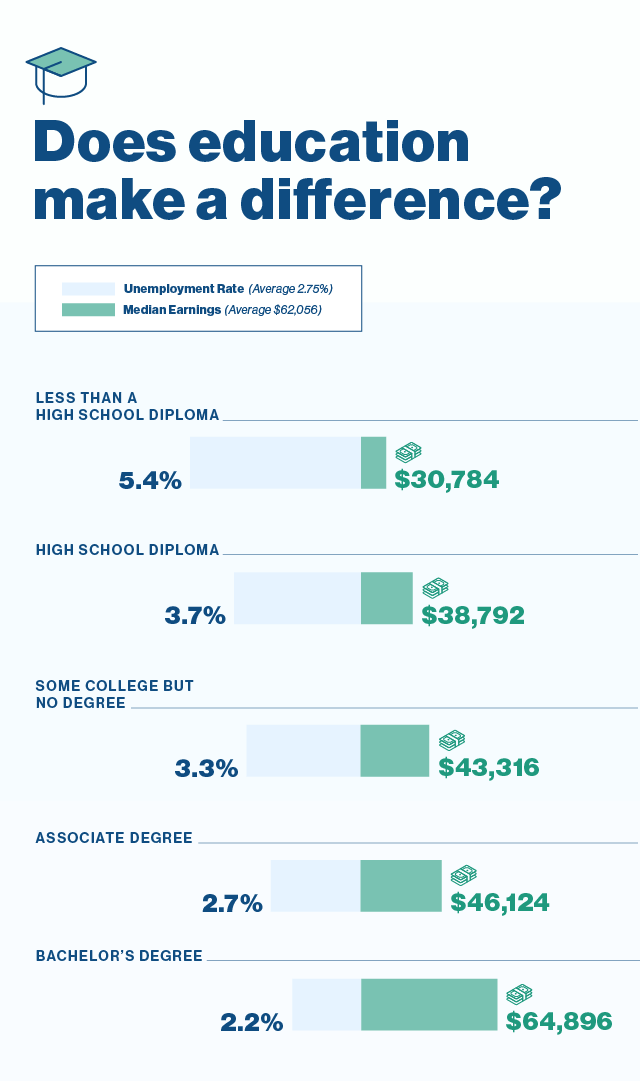 Read more: Your Guide to a Midlife Career Change
Best paying jobs you can get with an online degree
Taking college classes isn't just about getting a degree – it's about preparing for a career that can help you earn more money, better your life, and reach your professional goals. If you're looking for a job that pays well, earning a particular degree could help you take the first step. The following top degrees can potentially help you start an entry-level job that pays well.
1. Business Management Degree
A degree in business management can offer a great foundation for several well-paying, entry-level jobs. Through this degree, whether you pursue an associate or bachelor's degree, you'll learn the management, leadership, and problem-solving skills needed to qualify for an entry-level job in a variety of roles. Someone with a business management degree can work as a sales manager, in marketing, or finance.
Average salary: Anywhere from $60,000 to $120000 depending on your experience, the company you work for, and your specific role.
Learn more: Why You Should Study Business Management
2. Construction Technology Associate Degree
Working in the skilled trades industry can offer plenty of job opportunities that pay well. Earning a construction technology degree could help you prepare to qualify for jobs like project manager, cost estimator, building inspector, contractor, and more.
Average salary: The average salary for someone in construction technology can be anywhere from $56,00 to $95,000 starting out. Your salary can depend on your exact job, work experience, and your employer.
Learn more: What is Construction Technology and Why a Degree May Be Right for You
3. Graphic Design Associate Degree
Graphic design is a great career that combines creativity and technology. After earning a graphic design degree, you can work for a variety of companies, in marketing departments and agencies, or even as a freelancer. Becoming a graphic designer is the perfect job for someone who is creative, artistic, and tech-savvy.
Average salary: The average entry-level salary for a graphic designer is $54,106.
Learn more: Should I Become a Graphic Designer?
4. Engineering Technology Associate Degree
Earning an Associate Degree in Engineering Technology can help you take the first steps toward a career as an engineering technician. Engineering technicians assist engineers in developing new products or finding innovative solutions to problems. They run tests, record data, and repair parts and equipment.
Average salary: The average entry-level engineering technician salary is $53,014.
Learn more: What is an Engineering Technology Degree?
5. Human Resources Management Associate Degree
A degree in human resources management can help you prepare for a variety of entry-level in-demand HR roles. As an HR employee, you'll work closely with others, post job openings, conduct interviews, and more. Becoming an HR associate is a great job for those who consider themselves people persons and enjoy administrative work.
Average salary: The average starting salary for HR associates is $58,200.
Learn more: 4 Jobs You Can Do With a Human Resources Degree
6. Manufacturing Associate Degree
Earning a manufacturing associate degree can help prepare you to qualify for jobs in manufacturing such as becoming an industrial engineering technician or product technician. It's a great career path for people who love working with their hands, solving problems, and math.
Average salary: The average salary for someone with a manufacturing associate degree is $73,000 per year, though it can vary based on your experience, employer, and job.
Learn more: 3 Things You Should Know About the Manufacturing Industry
7. Computer Information Systems Associate Degree
Jobs in IT are in-demand as more companies rely on technology to complete their day-to-day work and keep their company running. With a computer information systems degree, you can potentially qualify for jobs in IT or as a computer support specialist.
Average salary: The average salary for someone with a computer information systems degree is $66,000, though that can vary based on your job, employer, and work experience.
8. Health Care Management Associate Degree
Jobs in healthcare are in-demand, so it's a perfect time to prepare for a job in the industry if you're interested in working in the medical field. A healthcare management degree can prepare you for entry-level and leadership roles in the administrative side of doctor's offices, hospitals, and insurance companies.
Average salary: The average salary for someone with an associate degree in healthcare management is $46,000, though it can vary depending on your job, your experience, and your employer.
Learn more: What Can I Do With a Degree in Healthcare Management?
Even if you don't pursue one of the above degrees, having any degree at all can make a difference in how much you earn. On average, someone with an associate degree can earn $50,093, while someone with a bachelor's degree can earn $69,381.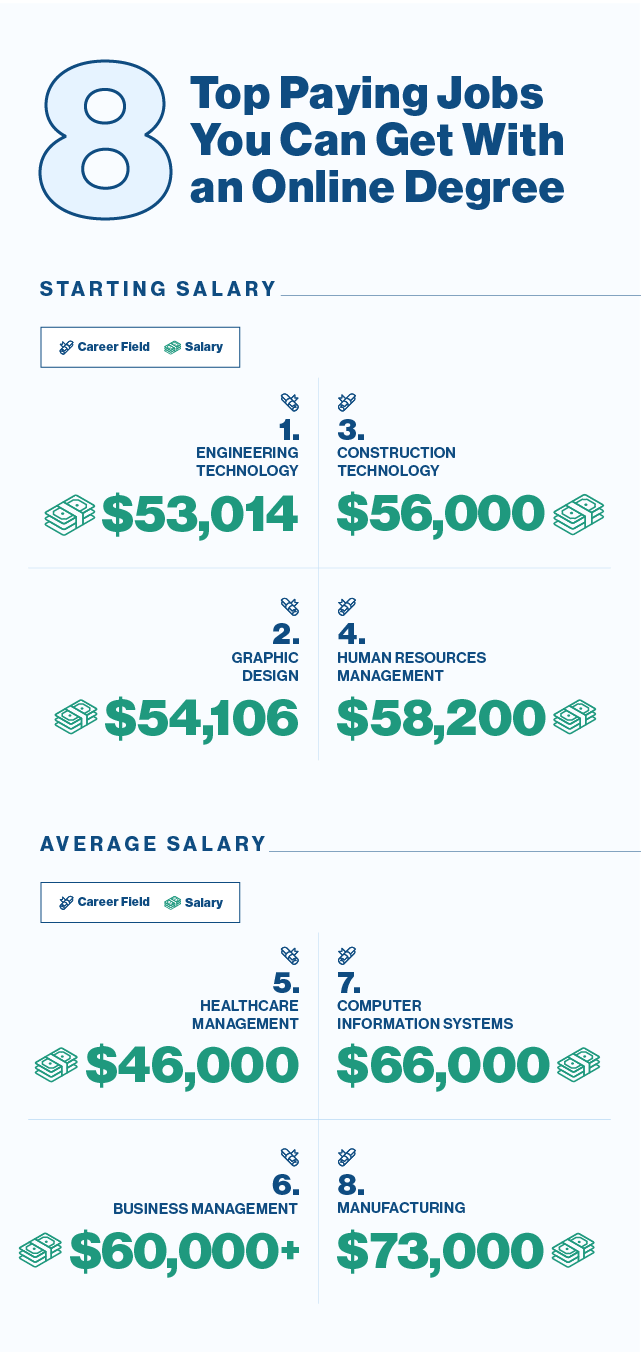 Read more: How Education May Help You Protect Yourself From a Recession
Do employers care if your degree is online?
For the most part, no, employers don't care if you got your degree online as long as your degree was earned from an accredited school. What's truly important to employers and hiring managers is whether or not you have the knowledge and skills to successfully do the job they're hiring you for.
Can you get an online degree if you work full-time?
Yes, you can absolutely get an online degree even if you work full-time or have multiple jobs. The biggest benefit of a self-paced, online college is that there are no scheduled lectures, due dates, or deadlines. That means you can fit studying and taking exams into your schedule, however it works best for you.
Why earn a college degree online
Earning a college degree online can help you further your education at your own pace. Through an online program, you'll have the ability to choose when and where to study. Besides the flexibility, online college can often be much more affordable than a traditional college; without student loans, you can choose to make affordable monthly payments toward your tuition instead of paying all at once or relying on financial aid.
Reach your goals with Penn Foster
Through Penn Foster College, you can earn a nationally accredited associate or bachelor's degree on your schedule, from home. We offer degrees in a variety of in-demand industries like healthcare, technology, and skilled trades. To learn more about our degree programs and find the right one for you, reach out to our Admissions Specialists today at 1-888-427-6500.