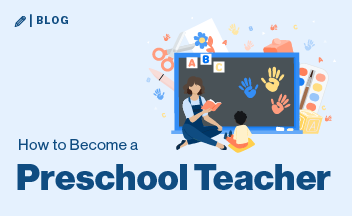 If you love kids and working with them seems like it could be fulfilling, becoming a preschool teacher could be the perfect career path for you. But before diving into a new career, it's important to know what you need to do in order to qualify for the job, what the job duties are, and what the salary is like.
This guide covers everything you need to know about becoming a preschool teacher. Check it out before taking the next steps toward starting your dream job.
Click on the links below to jump to the sections you're most interested in learning about or keep scrolling to read the full article.
What do preschool teachers do? | Is becoming a preschool teacher a good job? | Preschool teacher requirements | What skills do you need to become a preschool teacher? | What are the benefits of being a preschool teacher? | What is a preschool teacher's salary? | 6 things to know before you become a preschool teacher
What do preschool teachers do?
Preschool teachers work with young students, usually from 3 to 5 years old, in public or private daycares, preschools, and early education programs. They play an important role in child development, helping the children they watch over learn foundational skills from how to get along with others to basics like counting and the alphabet.
A preschool teacher is more than just a babysitter – they're responsible for ensuring children reach developmental milestones, develop social skills, and build a strong foundation for future learning in kindergarten and beyond. Normal duties for preschool teachers include
Creating lesson plans. One big part of the job is creating lesson plans. Usually, a preschool teacher will create lesson plans after school hours, planning ahead for a week or a month at a time. A lesson plan usually involves different learning objectives and activities, and often dramatic play, that can help students develop important life and education skills.
Assessing behavior and progress. Throughout the year, preschool teachers will assess the behavior and progress of their students. This is to make sure that students are meeting age-appropriate goals. Teachers will also be on the lookout for any developmental delays or learning issues that may hold the children back without intervention, including any socialization issues or learning disabilities.
Working closely with parents or family members. Preschool teachers need to build a strong relationship with the parents of their students. They'll regularly speak with parents about a student's progress, struggles, and how to solve any issues that may arise.
Provide basic needs. Preschool teachers will help students with basic needs, such as feeding them healthy snacks, making sure they have a nap, and helping them use the restroom and wash their hands.
Making sure children reach developmental milestones. It's very important that children reach certain developmental milestones and as a preschool teacher, you'll be responsible for making sure they reach them. You'll also want to make sure to note if they aren't reaching them and mention it to the parents as it could be a sign of more long-term problems down the road.
Teach foundational education skills. Preschool teachers start helping young children learn foundational things, such as counting, their numbers, and colors. They'll teach these lessons through games, activities, and play.
Supervising children at all times. A big part of being a preschool teacher is making sure the children aren't left alone at any time. That means watching out while they play, do crafts, or nap.
Providing structure through daily schedules. Part of your lesson plans will include daily schedules that you follow to create structure for the children you teach. That means having their morning snack at around the same time every day, a consistent nap time, and even scheduled play times.
Ensuring the classroom is safe. Preschool teachers are responsible for maintaining a safe, clean environment so you'll often clean your classroom and make sure everything is in working order.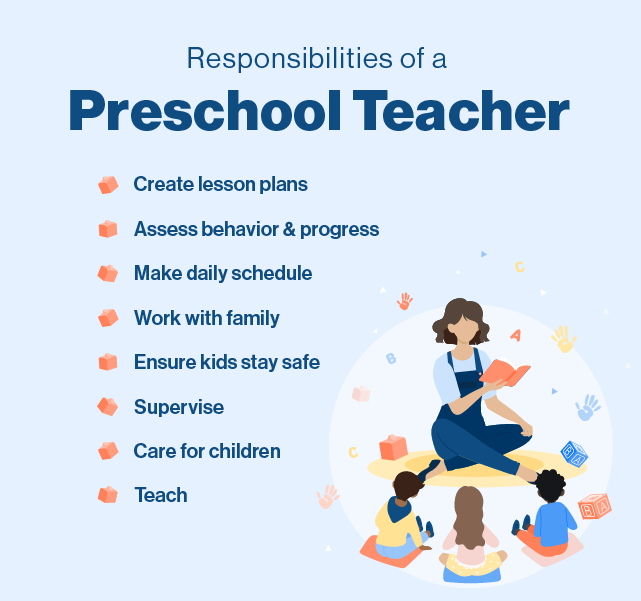 What is a typical day for a preschool teacher?
A typical day for a preschool teacher starts early. You'll start your workday about a half hour to an hour before kids start arriving, depending on what your supervisor or the school owner asks of you. You'll spend this time getting things organized and ready to go for the day. Preschools can have varying hours and may be connected to a daycare center. Daycare centers can open as early as 6:00am so parents can drop their children off before work, while a preschool will usually start the day around 7:30 to 8:00am.
After arriving at the school and getting set up for the day, morning drop-off starts! Parents will begin bringing their children in and leaving them in your care. You and your fellow teachers will make sure the children get settled and ready to start the day.
Once everyone is settled and ready to get started, you'll jump into some morning activities that are designed to help the children wake up and be alert like stretching or dancing. After some morning lessons, you'll move on to snack time. Generally, after the children have finished their snack, it's playtime. Playtime is important for developing social skills, learning how to share, and learning coordination skills.
Then, the rest of the day usually includes lunch, nap time, more lessons, and more playtime before parents pick up their children in the afternoon.
Is becoming a preschool teacher a good career?
Yes, becoming a preschool teacher can be a good career! Preschool teachers are currently in demand, meaning there will be plenty of opportunities to find the perfect job for you. According to the Bureau of Labor Statistics, it's expected that the need for preschool teachers will increase 15% over the next decade, which is must faster than other occupations.
"Educators, especially those in early childhood settings, are in high demand right now," said Sarah Owens, an early childhood education instructor at Penn Foster. "If this is something you're passionate about and a journey you are ready to begin, now is a great time to join the field."
Besides an increasing number of jobs in the field, becoming a preschool teacher is also a great career for someone who doesn't want a 9-5 desk job, but also doesn't want to work in retail or healthcare.
Is being a preschool teacher hard?
Being a preschool teacher can be hard but rewarding, depending on your personality. Just like any other job, it has its pros and its cons. Understanding the pros and cons of the job before you take the next steps can help you be more confident in your decision to become a preschool teacher.
The hardest part of being a preschool teacher is often working with the children, even though being able to help kids learn is why you're interested in starting this career. While it is absolutely rewarding, and kids can be funny, smart, and sweet, they have their bad days just like anyone else. As their preschool teacher, you may have to handle those bad, tantrum-filled days while also juggling several other students. You'll also have to interrupt fights, make sure everyone gets along, and hand out simple punishments for bad behavior as it arises. Added to that, you'll regularly have to work closely with parents and guardians of your students, some of whom may be difficult or disagree with how you teach.
However, in early childhood education, the pros often outweigh the cons. As a preschool teacher, you'll get to see children grow, help them learn, and form bonds that can make a difference in their lives going forward. In our interview with Dr. Teresa McKay, an early childhood education expert, Dr. McKay recounts how the children she taught have now become adults who are still impacted by her teaching years later.
How to become a preschool teacher (preschool teacher requirements)
The requirements to become a preschool teacher vary by state. Some states, at minimum, require preschool teachers to have a high school diploma, be certified in first aid and child CPR, and pass necessary background checks. However, many states require preschool teachers to have at least an associate degree in a relevant field, relevant certification, and pass state and federal background checks.
Head Start and public preschool programs require their teachers to hold, at minimum, an associate degree. Head Start programs are also required to make sure at least 50% of their teaching staff holds a bachelor's degree. Additionally, many public school programs prefer that their preschool teachers hold a bachelor's degree – though there may sometimes be exceptions. Private preschools, however, have more leniency when it comes to education requirements and hire preschool teachers who hold associate degrees and relevant certifications.
The steps to become a preschool teacher or work in a daycare center include
Earn a degree. Most states will have education requirements for their preschool teachers. The majority require at least an associate degree, while some prefer their teachers to hold a bachelor's degree.
Complete externships or student teaching. To get some hands-on experience in a daycare or preschool environment, many schools may have an externship or student teaching component in your degree. Following the school's requirements and guidelines, you'll be able to complete externship/training hours at a local school to have a better idea of how what you're learning in class applies to real life work.
Pursue certifications and licenses. States may have varying rules on the certification and license requirements for preschool teachers. Before getting certified, check with your State Board of Education to make sure you're getting the certifications and licenses you need to work in the field.
Pass a background check and clearances. States may have different requirements for what kind of background checks you need to work with children, but federal law requires any business that involves working with young children to complete some form of comprehensive background check on all potential employees. Most commonly, you'll need to do a criminal background check, a child abuse history clearance, and an FBI fingerprint criminal background check. If you can't pass even one of the clearances or background checks, you may no longer be eligible to work in the daycare or preschool you applied to. Additionally, clearances and background checks often need to be renewed, usually every few years.
Learn more: How to Go Back to School as an Adult for Your High School Diploma
How long does it take to become a preschool teacher?
It can take a few years to become a preschool teacher (though you may be able to work as an assistant teacher or in a daycare center with just a high school diploma). If you pursue an associate degree in early childhood education, it can take on average 2 to 3 years to complete your coursework and externship. If you decide to pursue a bachelor's degree, it can take about 4-5 years to complete. After graduating, it may take a few months – or sometimes longer - to find a job and submit your paperwork for background checks and clearances. General criminal background checks can come back within a few days, but the FBI fingerprint background check can take up to 4 weeks for results.
How to become a preschool teacher without a degree
It's possible to become a preschool teacher without a degree, but somewhat unlikely. While regulations about the requirements to work teaching preschool children vary state to state, most states, at minimum, require preschool teachers to have an associate degree.
However, it is possible to be an assistant teacher or work in a daycare center with just a high school diploma. Getting an entry-level job in the field before pursuing a degree could be a great way to get your foot in the door, gain work experience, and figure out if becoming a preschool teacher is really what you want to do. But it's also important to note that, without a degree, you may be paid less than some of your coworkers who do have degrees and certifications. If you're hoping to advance in an early childhood education career, getting some formal education to work with children is a must.
How to become a preschool teacher online
If you're considering going back to school to become a preschool teacher, enrolling in an online early childhood education degree could be a great way to earn your degree and prepare for your new career on your schedule. Most online ECE programs cover important topics about working with young children including growth and development, work with children with special needs, and working with preschool aged children. Legitimate programs should also include general education courses and field experiences so you can get hands-on training in a local daycare or preschool.
"As I was navigating my degree program," Penn Foster graduate, Izabella Suarez, mentioned, "I was able to land a job at a high-end preschool in New Jersey and it made my work quality so much better. I wasn't just an assistant coming in at an entry-level position. I had some sort of notion and experience because of the knowledge that I was gaining from my program, which made navigating a new job a lot easier."
Once you've finished your online degree – which you can do at your own pace, meaning you can finish as fast as you like or take your time with your courses – the next step is usually to sit for certification exams or take the next steps to apply for the CDA credential.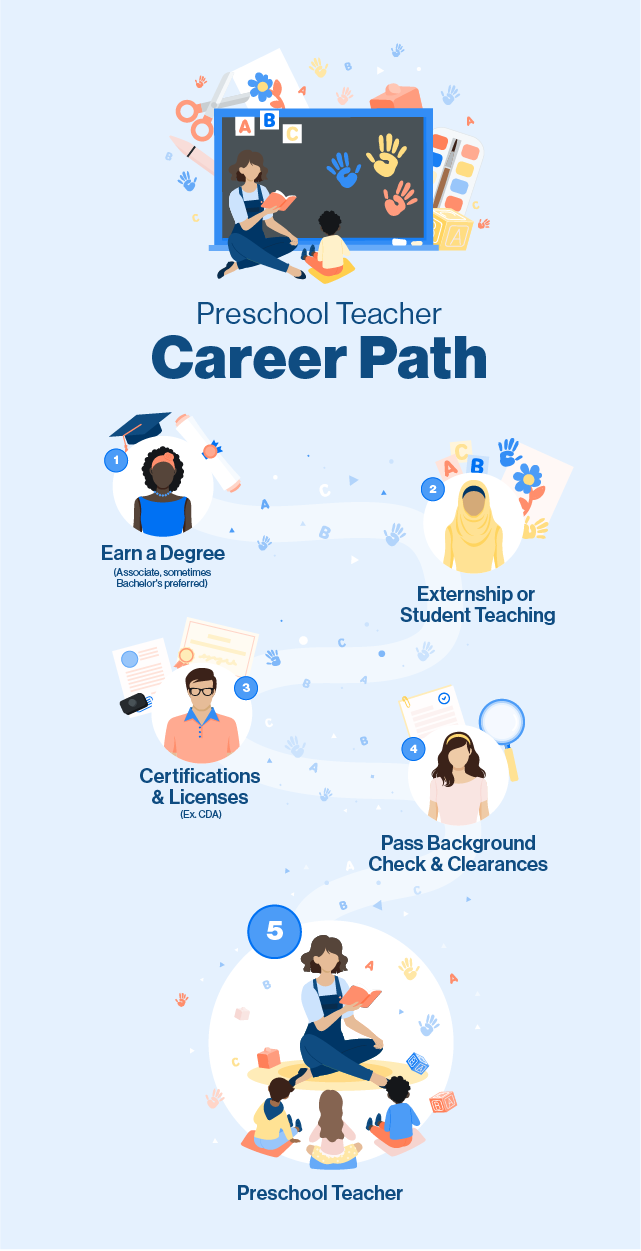 How to start working on becoming a preschool teacher while you're still in high school
If you're a high school student considering becoming a preschool teacher, it's possible to get a head start and learn more about the career while you're finishing your diploma. Many traditional high schools offer elective courses in childcare that cover the foundational skills and knowledge you'd need on the job.
If traditional high school isn't right for you or you're an adult who needs to earn your high school diploma, but still want to learn more about being a preschool teacher, taking Penn Foster's High School Diploma with Child Care Career Pathways could be the perfect fit for you. You'll study your regular high school curriculum and then take five elective classes that are focused on childcare skills.
What skills do you need to become a preschool teacher?
Preschool teachers and child care professionals need a few skills to be successful on the job. Besides understanding how to best teach children new information – something you can learn in an early childhood education or teaching degree – preschool teachers need skills such as
Communication skills
Creativity
Patience
Organizational skills
Physical stamina
Empathy
What are the benefits of being a preschool teacher?
The top reasons to become a preschool teacher include
Making a difference in the lives of the children you work with
Building relationships with your class and watching them grow
Usually set work hours, Monday through Friday, when the school is open
A fun work environment
No two days are ever exactly the same, keeping work interesting
What is a preschool teacher's salary?
The average salary for a preschool teacher was $30,210 per year in 2021. Salary, however, can vary by state, your education level, your experience, and your employer. Preschool teachers in California, for example, can earn as much as $42,210 per year.
Preschool Teacher Salary by State
Annual mean wage by State
| State | Annual Mean Wage | Annual Hourly Wage |
| --- | --- | --- |
| Alaska | $38,280 | $18.40 |
| Alabama | $25,180 | $12.11 |
| Arkansas | $32,130 | $15.45 |
| Arizona | $32,930 | $15.83 |
| California | $42,210 | $20.29 |
| Colorado | $37,750 | $18.15 |
| Connecticut | $36,980 | $17.78 |
| Delaware | $29,150 | $14.02 |
| Florida | $29,890 | $14.37 |
| Georgia | $38,140 | $18.34 |
| Hawaii | $40,480 | $19.46 |
| Iowa | $32,450 | $15.60 |
| Idaho | $27,460 | $13.20 |
| Illinois | $35,840 | $17.23 |
| Indiana | $30,860 | $14.84 |
| Kansas | $40,590 | $19.52 |
| Kentucky | $40,120 | $19.29 |
| Louisiana | $31,290 | $15.04 |
| Massachusetts | $43,710 | $21.01 |
| Maryland | $41,070 | $19.75 |
| Maine | $37,580 | $18.07 |
| Michigan | $35,950 | $17.28 |
| Minnesota | $37,870 | $18.21 |
| Missouri | $36,480 | $17.54 |
| Mississippi | $26,860 | $12.91 |
| Montana | $31,640 | $15.21 |
| North Carolina | $29,530 | $14.20 |
| North Dakota | $34,640 | $16.65 |
| Nebraska | $42,190 | $20.28 |
| New Hampshire | $33,210 | $15.97 |
| New Jersey | $44,810 | $15.97 |
| New Mexico | $31,930 | $15.35 |
| Nevada | $33.540 | $16.12 |
| New York | $43,880 | $21.10 |
| Ohio | $32,020 | $15.40 |
| Oklahoma | $34,730 | $16.70 |
| Oregon | $36,040 | $17.33 |
| Pennsylvania | $32,430 | $15.59 |
| Rhode Island | $35,150 | $16.90 |
| South Carolina | $29,900 | $14.38 |
| South Dakota | $32,040 | $15.40 |
| Tennessee | $32,680 | $15.71 |
| Texas | $36,760 | $17.68 |
| Utah | $32,070 | $15.42 |
| Vermont | $39,190 | $18.84 |
| Washington | $37,040 | $17.81 |
| Wisconsin | $31,470 | $15.13 |
| West Virginia | $32,050 | $15.41 |
| Wyoming | $30,260 | $14.55 |
| Puerto Rico | $25,420 | $15.59 |
Where do preschool teachers make the most money?
Based on data from the Bureau of Labor Statistics, preschool teachers make the most money in California, earning $42,210 per year. This is followed by Alaska, in which preschool teachers earn $38,280 per year. The higher salaries in these states can be attributed to a variety of factors including higher cost of living or a higher demand for skilled teachers.
How much can a preschool teacher earn with an associate, bachelor's, or master's degree?
Your level of education can have a direct impact on how much you can earn as a preschool teacher. The more education you have, the more you're likely to be paid. De Janiera Thomas, a 2013 Penn Foster Early Childhood Education graduate – and the 2013 Graduate of the Year – knows that better than most.
Already working at a daycare, Thomas knew the next step to furthering her career was through furthering her education. While working, she enrolled in Penn Foster's online Associate Degree in Early Childhood Education.
"Once I finished my Penn Foster degree the first thing I did was go to my boss's office," said De Janiera. "I ended up getting a $3 raise."
Preschool teachers who have an associate degree earn an average of $27,643, while those with a bachelor's degree can earn $39,436 per year. A preschool teacher with a Master of Education (MEd) can earn as much as $52,000 per year.
While 52% of preschool teachers have a bachelor's degree and 23% have an associate degree, only 7% hold a masters degree.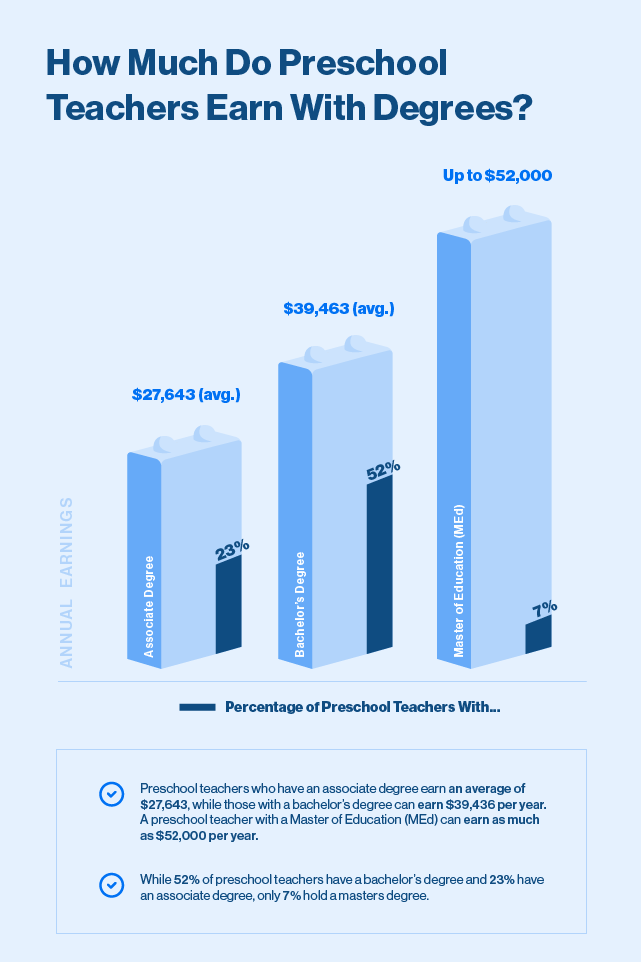 6 things to know before you become a preschool teacher
While becoming a preschool teacher seems like a great career, there are a lot of things people wish they knew before starting down this path. Every job has its pros and cons, so even with some surprises and difficulties, working as a preschool teacher can still be a worthwhile and rewarding career path. Some of things you should know before becoming a preschool teacher include the following.
1. Each day is physically demanding.
Kids have a lot of energy and spending 8 hours or more a day with children can be physically demanding. You may be running around frequently, picking up kids, and bending over on a regular basis. It's important to keep up with your physical health as a preschool teacher so you can avoid injuries from your work.
2. You're going to get messy.
From arts and crafts to sticky hands, being a preschool teacher is a messy job. If you're grossed out by changing diapers (some younger preschoolers may not yet be experts at going to the bathroom on their own), cleaning up messes you didn't make, and often getting sticky yourself, this job may not be the right fit for you.
3. Children aren't always sweet, happy, and fun.
They're adorable and silly, but children are also human which means they have bad days, get angry, and can be sad. You won't always be dealing with the sweet, happy, and fun kids you love – some days, you'll be dealing with bodies on the ground, fist-pounding tantrums or a child who just won't stop crying. But teaching children how to properly handle their emotions and their reactions to disappointment is part of the job. You'll make a big difference in their lives by helping them learn how to deal with what bothers them, helping them grow into caring, responsible grown-ups.
4. You might not get paid a lot – but the job can still be worth it.
The national average salary for entry-level preschool teachers was $30K in 2021. That means that if you're going to be a preschool teacher, you want to make sure you love your job because you might not get paid a lot. However, there may be opportunities to earn more as you gain more experience, further your education, or earn more credentials.
5. You'll miss your class when they age out of preschool.
Not only do the kids in your class grow attached to you, you'll grow attached to them. After all, you spent a significant amount of time with them for the last year. You've gotten to know their individual personalities, unique senses of humor, and what makes them tick. That means, when it's time for them to move on to kindergarten, you'll be both proud and sad.
6. Your work makes a huge difference.
Being a preschool teacher isn't an easy job where you just play games and make believe all day. It's hard, physically and emotionally demanding work. But it's also one of the most rewarding careers you can have. What you do as a preschool teacher makes a huge difference to the children you work with and their parents. In fact, the early years are some of the most important for learning and development.
"Several years ago, after [some] brain development research came out," Dr. Teresa McKay, an early childhood instructor, mentioned in a Facebook Live about ECE careers, "the early years were dubbed the most important years of a child's learning. So, we know the first five years are the major years in which we have the opportunity to really grab a hold of our kids as far as education is concerned, but also in the social/emotional development phase."
As a preschool teacher, you're helping the next generation build the foundations of education they'll need as they move up grades and, since you're doing this during their formative years, what you say and do will have long-lasting impact.
Become a preschool teacher online
If you love kids and want a career that makes a difference, becoming a preschool teacher could be the right career move for you. Through Penn Foster's online Early Childhood Education Associate Degree, you can build the skills you'll need to take the next steps toward your dream job – on your schedule, from home. To learn more about becoming a preschool teacher through online college, reach out to our expert Admissions Specialists today at 1-888-427-6500!