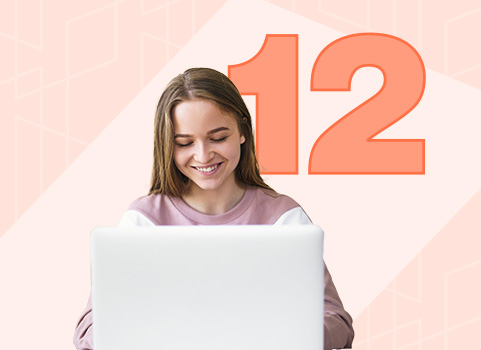 High School
Online Learning
12 Biggest Myths About Online High School
When researching information on online high school, you may come across some misconceptions that discourage you from pursuing that path. In this Student Life Blog post, we dispel the four biggest myths and misconceptions of online high school!
You've compared the pros and cons of online high school, and you're ready to give it a go. But you just can't seem to get the doubts and stereotypes out of your head. Whether you're an adult looking to go back to school or the parent of a high schooler considering online education, you may be wondering whether or not earning a high school diploma online is the right move. With all the myths surrounding online school, it's easy to allow your worries to stand in the way. But many of the things you've heard about online high schools that are holding you back from making a decision are just that – myths. Here's what you really need to know about enrolling in online high school.
Myth 1: High schoolers can't do both online and traditional school
Parents who decide on online school often stress about making a four-year commitment. Where do extracurricular activities fit in? Will my high school curriculum be rigorous enough to prepare my kids for college or employment? There's no law that binds parents to online high school for any set amount of time. You may decide to try online learning for two years, try out traditional schooling for one year, and resume online learning the next year. Your state may even allow you to go online during one semester and enroll your kids in traditional school the next. Speak to an academic counselor or research the laws in your state to learn about your options.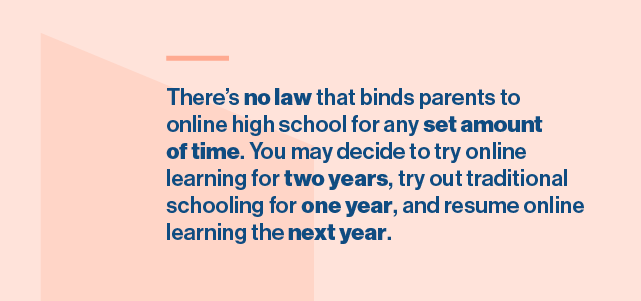 Read more: High School Student Kylee Graduates Early to Pursue Her Goals
Myth 2: You'll miss opportunities in online high school
There's a world of advanced courses, volunteer work, internships, and other experiences open to teens. If anything, online high school gives kids more freedom to seize these opportunities. While their peers are bound by a daily 7-to-3 routine, teens in online high school can gain job experience, study abroad, take private lessons, and have more control over their future. Many online students enter college with multiple credit hours already completed! They also might be eligible to participate in traditional high school band, choir, sports, and other activities by simply calling local high schools and submitting the proper paperwork.
Read more: Q&A With a Penn Foster High School Parent
Myth 3: Online high school curriculum is easy
One big myth about online high school is that it's easy – too easy. However, legitimate online high schools have to follow the same standard curriculum as a traditional public high school. That means students still are expected to learn English, history, math, and science. And, because accredited online schools need to meet certain standards to remain accredited, the curriculum is regularly evaluated to make sure that students get what they should from high school classes.
Read more: How a Flexible, Online High School Diploma Program Helped This Teenager Pursue Her Interests
Myth 4: You can't make friends in online high school
Just because you're enrolled in online classes doesn't mean you won't have opportunities to make friends or connect with other students. While there aren't in-person clubs or activities, you can take advantage of social media as an online student. That means joining your school's Facebook groups, following their social media pages, and being part of the online Student Community.
Read more: How to Choose an Online High School
Myth 5: Online high school diplomas aren't legitimate
One of the biggest things people worry about with online schools is whether or not a diploma from one is legitimate. The easiest way to make sure the diploma program is legitimate is to check out their accreditation.
Accreditation ensures that the curriculum meets certain standards so that students are learning what they should be. High schools should have regional accreditation to be considered legit, and additional accreditations and recognitions are a bonus! This includes your local public high school.
Penn Foster's High School Diploma is regionally accredited through the Commission on Secondary Schools of the Middle States Association of Colleges and Schools and nationally accredited by the Distance Education Accrediting Commission.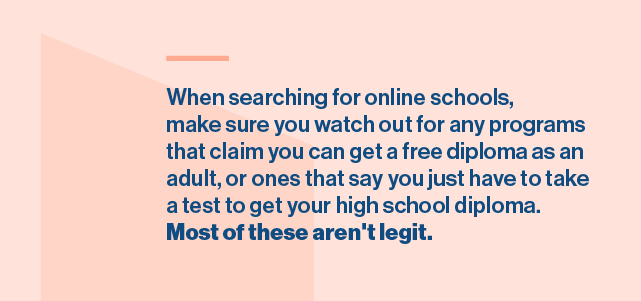 Read more: Are Online High School Diplomas Legitimate?
Myth 6: You have to start school at a certain time each day
Nope! Online high school can be a really flexible option to earn your diploma on your schedule. Programs like Penn Foster's High School Diploma are self-paced, with no set start times or due dates. That means you can get started whenever you're ready, log in to study and take tests day or night, and earn your diploma around your other responsibilities and commitments.
Myth 7: A GED is the only option for adults
Most people think that, after a certain age, it's impossible to go back to school and finish your diploma. That's definitely false! While tests like the GED can have their benefits, they aren't the only options available for adults who want to go back to high school. With Penn Foster's online High School, there's no age limit. That means you can be 14 or 99 and still finish your high school education online.

Read more: Going Back to School as an Adult (FAQs)
Myth 8: You can't get into college with an online high school diploma
One big worry with online high schools is that they won't help you reach your goals and that your diploma won't get you into college. With a legitimate program, that shouldn't be something you worry about. While every school has its own admissions requirements and considers different things when reviewing applications, in general, as long as you graduated from a licensed, accredited high school, where you got your diploma shouldn't hold you back.
Check out some of the colleges that Penn Foster graduates have been accepted to for a better idea of how many schools do, in fact, admit students with online high school diplomas.
Read more: How to Apply to College After High School
Myth 9: Employers won't hire people with an online diploma
Just like with colleges, potential employers may have different things they look for when hiring. However, in general, where you got your diploma from isn't one of them as long as you went to a legitimate school. Most jobs just want to see that you do have a diploma, so finishing high school online can only help you when you're searching for a new career.
Watch: How Having a High School Diploma Can Help Your Career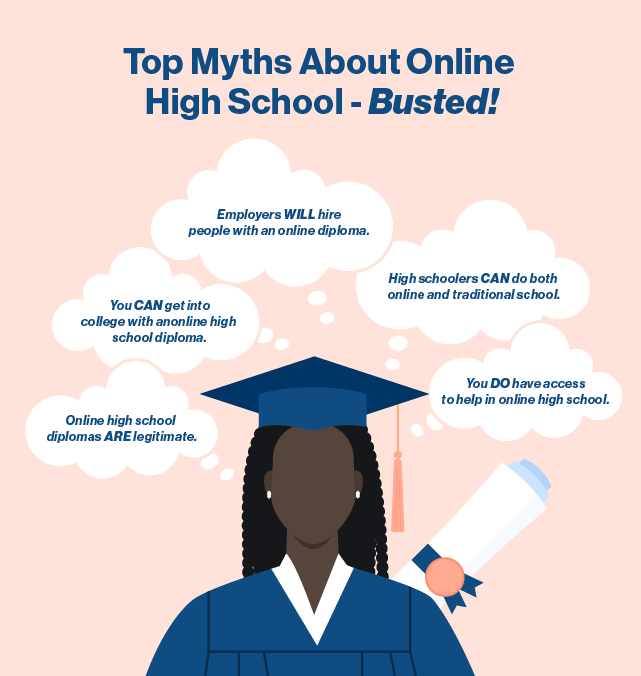 Myth 10: Online high school is expensive
Okay, so maybe all the myths about online high school that have held you back in the past aren't true and you can earn a legitimate diploma that can help you reach your goals. You may have heard that a good online school is still probably too expensive. But that's not necessarily true! For example, Penn Foster High School is meant to be affordable and offers low-cost monthly payment options so you can fit earning your diploma into your budget.
There are some free high school diploma options online, too, but it's important to remember that most of the legitimate free high schools are charter schools or virtual programs offered by your state and intended for traditional students who are 14-18 years old. When searching for online schools, make sure you watch out for any programs that claim you can get a free diploma as an adult, or ones that say you just have to take a test to get your high school diploma. Most of those aren't legit and you can get burned by trying to earn your diploma quickly.
Myth 11: You have to start high school from the beginning
Just like a "regular" high school, you don't have to necessarily start all over again when you start an online high school program. If you have completed classes and earned credits at an accredited school in the past, those credits could transfer into your Penn Foster program. That means you can pick up where you left off and finish the classes you need to graduate.
Myth 12: You don't have access to help in online high school
Online high school is meant to be independent, allowing students to learn at their own pace. That doesn't mean, however, that you're all alone if you run into a problem or aren't sure about something you're learning. With Penn Foster High School, you'll have access to instructors, student services, and other online resources to help you!
Read more: What You Need to Know About Enrolling in Penn Foster
Earn your high school diploma online
Want to learn more about Penn Foster High School or take the next steps toward earning your diploma online? Reach out to our expert Admissions Specialists today at 1-888-427-6500 to learn more about transfer credits, tuition, and get started.