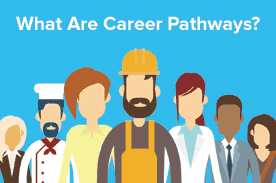 Career planning and college preparation are two topics we frequently covered on the Student Life Blog. Last month, we suggested enrolling in a career pathway program to help get a head start on your future while you earn your high school diploma - but what exactly are career pathway programs? And how can they help you prepare for college or a career? Today, we'll get to the bottom of both questions - and hopefully, you'll have a better understand of how you can kickstart your future career.
What are career pathway programs?
Penn Foster's career pathway programs allow students to start exploring careers while earning a high school diploma. Students can select a concentration from several in-demand fields - including healthcare, automotive repair, or child care - and take elective courses to learn the fundamentals of their industry of choice. This allow students to test the waters and see if that career choice is for them. Many of our programs also have credits that transfer into Penn Foster Career School and College courses for those students interested in furthering their education before joining the workforce!
What career pathway programs are available to Penn Foster High School students?
We currently offer ten career pathway programs in a variety of industries for students to choose. They are:
Automotive
Carpentry
Child Care Professional
Culinary Arts
Early College
Electrical
Healthcare
Information Technology
Pharmacy Technician
Plumbing
Each career pathway will help students learn fundamentals in each field, while the Early College pathway is intended to help ease the transition between high school and college while getting a head start on their college credits.
Where can I learn more about a specific career pathway?
Head to our Pathways page and click on any career pathway to learn about course material, transfer credits, and information about your industry of choice.
Still looking for more career prep advice? Here are a few articles that might help you gain career confidence: